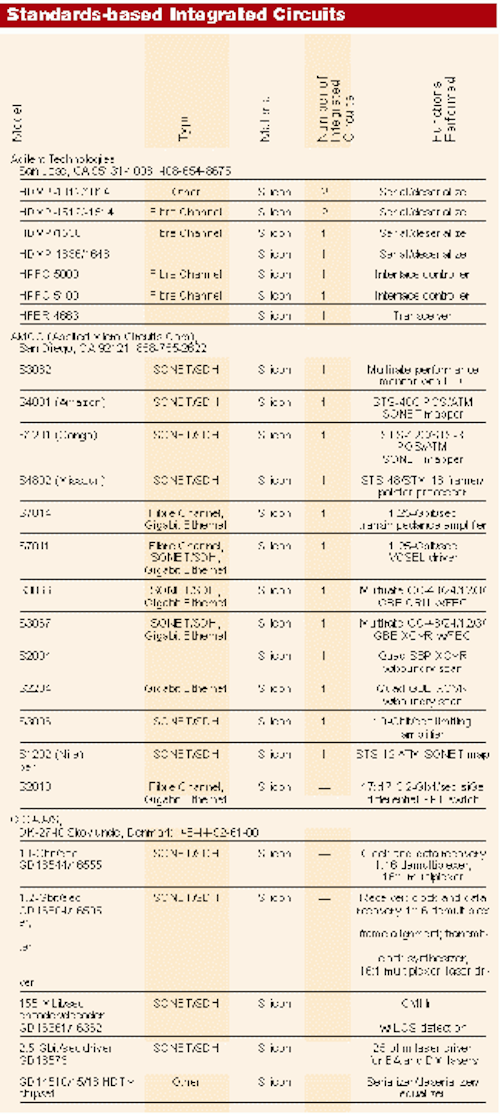 By Robert Pease
Standards-based integrated circuits (ICs) for optoelectronic applications have been the subject of major worldwide research and development over the past 15 years, and high-volume production has been achieved in lower-performance light-emitting diode (LED)-based products. But with a huge push toward moving lightwave communication into homes, desktops, and small businesses through high-volume interconnections, the potential of producing large quantities of high-performance optoelectronic integrated circuits (OEICs) is being realized. Major component producers, joined by a growing number of smaller companies and startups, are tooling to produce more OEICs.
OEICs provide a number of functions for the optical-networking world, including grooming, transmitting, receiving, amplifying, error correcting, performance monitoring, and encoding/decoding. Perhaps one of the most interesting functions these components provide is in the area of optical-electrical-optical (OEO) conversion, a subject near and dear to the hearts of optical-networking equipment vendors. Today's carriers are seeking fast optical-switching solutions to manage the ever-increasing bandwidth of their networks. Most of the switching is still done with OEO conversion. As the optical and electrical realms meet, standards-based ICs will play a necessary role in bridging the two.
"The communications world today is still primarily electrical, while DWDM [dense wavelength-division multiplexing] is the emerging optical technology," says Steve Perna, vice president and general manager of PMC-Sierra's transmission-switching division. "Standards-based ICs must merge the existing electrical-based communications protocols, such as ATM [Asynchronous Transfer Mode], SONET/SDH [Synchronous Optical Network/Synchronous Digital Hier archy], Internet protocol [IP] and Gigabit Ethernet, with new optical-based protocols. Efforts like Sycamore Network's Optical Domain Service Interconnect (ODSI) industry-wide consortium-with over 100 service providers and networking vendors-are attempting to drive a standards-based approach for the electrical-to-optical convergence."
Bill Woodruff, vice president of GiGA North America Inc. says that with so many varieties and functions of ICs, trying to determine their main functions is tough. But he believes when all is said and done, the bottom line for vendors is still "time-to-market."
"SONET is tough, and good ICs will simplify design and permit the design to be done by mere mortals," says Woodruff. "The first implementations of higher speeds are done by teams of PhDs on the bleeding edge. Picture a graph showing 40 Gbits/sec as bleeding edge, 10 Gbits/sec as very difficult, 2.5 Gbits/sec as multisourced, and down to 155 Mbits/sec, which has become commonly integrated into logic chips. The further out you are on the bleeding-edge curve, the more specialization in the chips, and the more chips."
The market for OEICs appears healthy for standardized devices, in particular. Optical transport networking may currently prefer ICs that provide multiservice capabilities for ATM, IP, Gigabit Ethernet, and SONET/SDH framing, processing, and crossconnect functions. In the next few years, however, emerging technologies such as optical switching and routing protocols will become increasingly important.
The global consumption of high-performance OEICs will expand dramatically, from $28.1 million in 1997 to $3.2 billion in 2007, according to ElectroniCast (San Mateo, CA). This usage will be led by North American customers with a 71% share in 1997, declining to 45% by 2002, and regaining momentum to reach 71% by 2007. Japan and the Pacific Rim will increase consumption to about 41% in 2002, declining to 22% by 2007. Europe will account for just below 20% of the global market throughout the same period.
"The trend toward increased integration of optical, photonic, and electronic devices is driven almost entirely by the expectation of achieving lower-cost component production, thus, a competitive market advantage," says Stephen Montgomery, president of ElectroniCast.
Although North America takes the lead in consumption of OEICs, Japan and the Pacific Rim are expected to achieve strong growth, initially in Japan, with Korea, Taiwan, and China gaining significant shares by 2007. By 2002, this region will lead production with 53%, or nearly $4.8 billion.
As the market surges, companies are seeing competition move in as well. To remain competitive, the needs of customers must be addressed quickly and efficiently. Power and performance are critical factors as the market becomes segmented into the long haul and high end versus the short-haul, low-price/power end. Sufficient levels of integration, increased density, on-board clock/data recovery, and other functions must be honed within product offerings.
"In order to stay ahead of the competition, companies must abide by three key tenets," says Ken Prentiss, director of marketing for telecommunications products for Applied Micro Circuits Corp. (AMCC). "They must lead with design innovation; apply cutting-edge process, packaging, and manufacturing technology; and provide a solid support infrastructure that includes offering reference designs and reference testing to help customers quickly meet their time-to-market needs."
Along with a healthy, competitive market come startup companies wanting to grab a share of the turf. According to PMC-Sierra's Perna, a tremendous opportunity exists for startups in the optical multiservice arena. He believes hot initial public offerings (IPOs) and acquisitions are the indicators of a startup's success in the market.
"Sycamore's recent $20-billion IPO is a good example," says Perna. "Cisco's $7-billion acquisition of Cerent and Redback's bid of $4 billion for Siara all indicate the extremely high valuations for new optical multiservice equipment. Startups offer the innovation, time-to-market, and new technology to rapidly enable the upgrade from the existing circuit-based network to the emerging optical multiservice network."
Not everyone agrees. GiGA's Woodruff says the major hurdle for a startup is the ability to deliver. With time-to-market shrinking, the stakes are increasing to get it right quickly. AMCC's Prentiss concurs, adding there is a distinct difference between what it takes to be a successful design house in the optical space and what it requires to be a successful, fully functioning IC provider.
The critical difference, says Prentiss, emerges after the chip has been designed. While a design house can sell the solution or technology to the highest bidder, a startup committed to the customer will have to bear the full weight of this rapidly growing market. That means, in addition to providing advanced technology, they must develop, test, and manufacture at a pace and volume that can keep up with their customer demands.
"Leading, well-established IC vendors offer a robust customer-support infrastructure to assist customers during all stages of implementation," says Prentiss. "They also have the capabilities to bring to market high-volume quantities of very complex solutions, where the proven ability to manufacture high-end solutions shifts from a competitive advantage to a necessity."
Several trends are noticeably taking place in the marketplace for standards-based ICs. One trend having a profoundly positive effect on the demand for ICs is the emerging lower-cost DWDM deployments appearing for the metropolitan area consisting of fiber-based ring-access solutions. Initially deployed mainly for long-haul core transport, these new solutions are optimizing data and multiservice transmission technologies over SONET/SDH, enabling the deployment of wavelength-based services by carriers and service providers.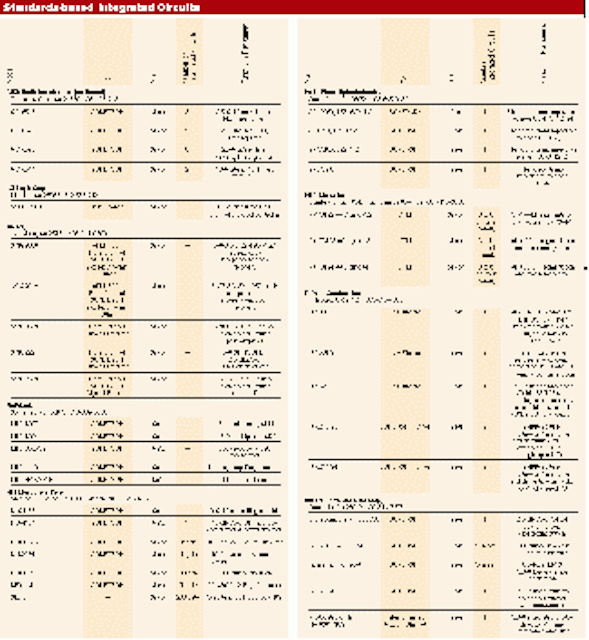 Significant advancements are also being made toward maximizing speed, integration, and multichannel functionality, while adapting to meet the protocol-independent needs of the evolving optical network. New technologies are emerging in the optical arena that could redefine the limits of what can be accomplished in silicon, as the industry contemplates the benefits and challenges of transitioning into an all-optical domain. Additionally, standards don't stand still. As new technology moves toward standardization, involvement in the process is critical for IC manufacturers.
"The goal has been set to develop a standards-based optical network, driven by Internet ubiquity," says Perna. "That goal effectively converges existing and future services, protocols, and management into IP-based packets running on wavelength."
Process and material technologies have also evolved. While gallium arsenide has generally ruled for telecommunications applications, companies are now investigating such materials as silicon germanium to address OC-192 requirements. Meanwhile, manufacturers are working with a variety of manufacturing processes, from CMOS to heterojunction bipolar technology, in an effort to combine high performance with manufacturability to speed time-to-market.
Add it all up, and it appears the global standards-based IC market will continue to grow in terms of both production and consumption, evolving with new technologies geared toward all-optical networking.
"Whether it's OC-192 now or OC-768 tomorrow, the companies that will succeed and reap the benefits of this hot market will be those who can solve critical customer-design challenges during the development and implementation phases of the customer relationship, says Prentiss. "And they must also effectively manufacture and bring those solutions to the mainstream market at very high volumes."
For more details on these and other fiber-optic products, see Lightwave's Worldwide Directory of Fiber-optic Communications Products and Services or visit www.light-wave.com.