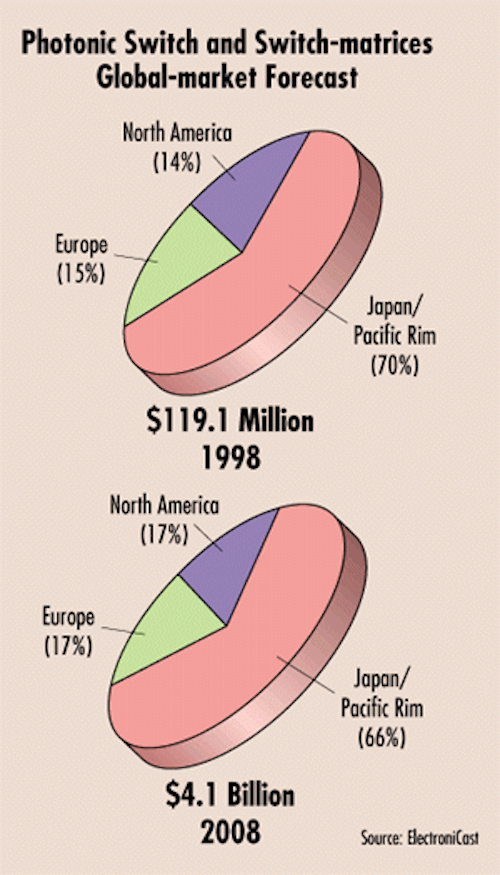 Conventional switches, such as 1x2, 2x2, and 1xN configurations, composed most of the 1998 photonic switch market in 1998, according to a report from ElectroniCast Corp., a market-forecast consultancy based in San Mateo, CA. However, the future of photonic switching will be dominated in dollars by complex switch-matrix systems, with conventional switches maintaining the lead in terms of quantity.
According to the report, "Photonic Switch & Switch Matrices Global Market Forecast," the global consumption of photonic switches and switch matrices will rise dramatically from $119.1 million in 1998 to $4.11 billion in 2008. The primary driver will be the rapid expansion of fiber-optic transport and access networks, mainly in telecommunications. The military and aerospace market as well as the specialty and instrumentation market segments will also continue to be major switch users.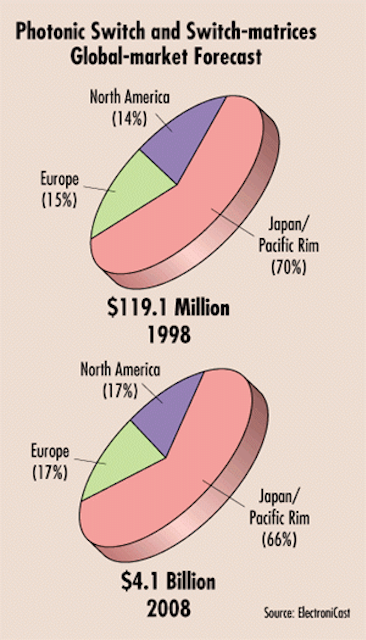 An ongoing competition exists between performing switching functions in the optical regime and, through optical-to-electrical-to-optical (OEO) conversion, performing the switching function in the electrical regime. All-optical photonic switching is still an immature technology, with its production infrastructure and application experience base still in the beginning of its development cycles. OEO switching, on the other hand, draws upon the technology, application experience, and production capabilities of a mature technology.
ElectroniCast says it's clear that, in the long term, photonic switching will be one of the dominant switching technologies in high-speed fiber-optic-based telecommunications systems. In the interim, the speed of development in each market will be determined by the ability of one technology or the other to provide the lowest-cost solution to specific application requirements.
The major cause of a rapid acceleration in the adoption of photonic switching is that the bottleneck in telecommunications has moved from the ability to transport information to the ability to route that information. While dense wavelength-division multiplexing (DWDM) has decreased the data-transport bottleneck problem, it has not made the routing requirements easier. If anything, says the report, single fibers carrying multiple data streams have made the routing functions in the voice and data networks more difficult. Switching is a crucial element of information routing capability.
While OEO-based switching has managed to stave off pressure in dealing with the looming routing bottleneck problem, it's unlikely to have continued success. As data rates increase, the economics and the performance of OEO techniques will force the adoption of photonic-switching solutions in many applications.
For more information on this and other reports available from ElectroniCast, contact Theresa Hosking at (650) 343-1398, fax (650) 343-1698 or e-mail: electronicast@msn.com.