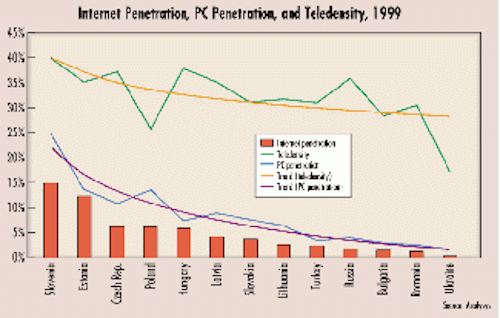 Alternative Internet service providers (ISPs) are outperforming incumbents in the Central and Eastern European markets, capturing 70% of the market share this year, according to a new market-trends commentary from global telecommunications and media advisor Analysys (Cambridge, UK). The incumbent operators' market share will slip an additional 6% since 1998, to just 30%.
"While they have substantial barriers to overcome, the alternative players are putting market-share growth ahead of near-term revenue gains because they believe that significant longer-term benefits will accrue from direct access to the customers," asserts Analysys analyst Tamsin Pert. In addition, many of the alternative ISPs enjoy the backing of international players with significant market experience and commercial skills.
The overall Internet market in Central and Eastern Europe grew by 60% in 1999, to $630 million, and is expected to reach $1 billion this year. This growth has occurred despite low PC penetration, high Internet-access charges, lack of a clear regulatory framework-particularly in relation to interconnection-and an underdeveloped fixed-telecommunications infrastructure, says Analysys. And despite fragmentation in the market, merger and acquisition activity has increased among domestic ISPs.
The Analysys report also found a strong correlation between Internet penetration and PC penetration, which is stronger than the correlation between Internet penetration and teledensity (see Figure). For example, while Poland had a 26% teledensity in 1999, lower than both the Czech Republic and Hungary, its Internet penetration, at 6.2%, was similar to both countries, brought about by a 13.7% PC penetration.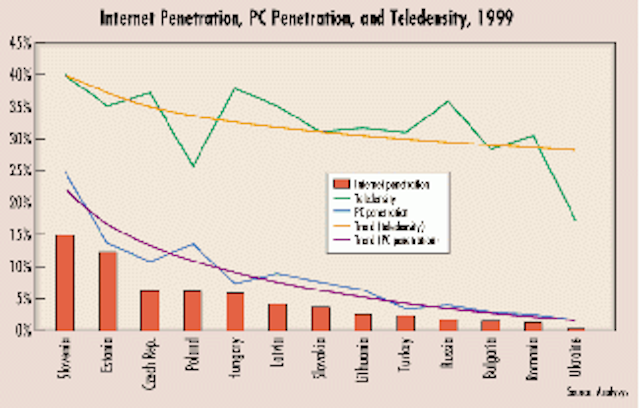 Conversely, the much higher teledensity rates in Russia, Bulgaria, and Romania mask the poor state of development of these countries' fixed networks, which has curtailed the spread of Internet access there, says Analysys.
The market-trends commentary is the first release from Analysys's Web-based subscription service, "Internet Service Providers: Central & Eastern Europe," which tracks the evolving Internet-services market and examines its new entrants. It is updated on a quarterly basis and includes an analysis of the ISP markets in Bulgaria, the Czech Republic, Estonia, Hungary, Latvia, Lithuania, Poland, Romania, Russia, Slovakia, Slovenia, Turkey, and Ukraine. For more information or a guided demonstration, call +44 (0) 1223 341300 or visit the following Website for a free demonstration: www.ispmarkets.analysy.com.