Continued growth for MSPPs
Dec 1st, 2003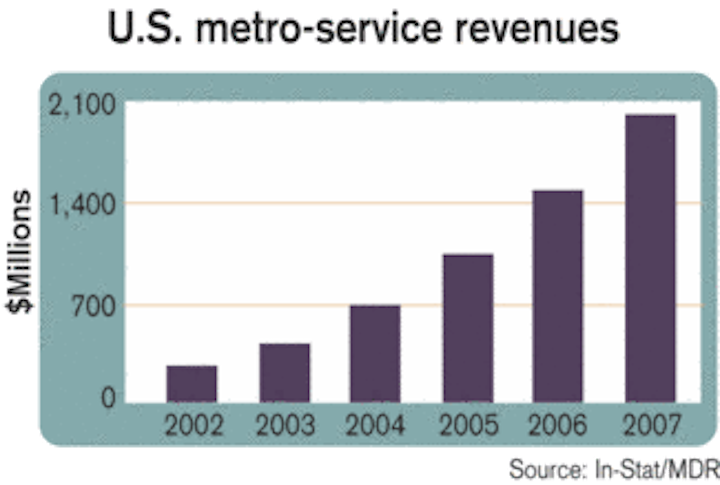 With their ability to add data-centric protocols to the network without disturbing ongoing high-margin voice circuits, multiservice provisioning platforms (MSPPs) will prove to be the best mode by which service providers can provision metro Ethernet, reveals a new report from In-Stat/MDR (Scottsdale, AZ).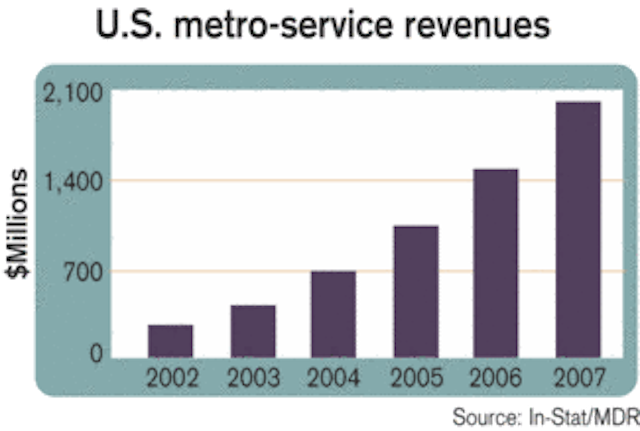 By encapsulating Ethernet packets within SONET payload envelopes to create packet over SONET connections across the MAN or by sending optical Ethernet directly over DWDM-enabled optical fibers, MSPPs enable carriers to meet the growing demand for data services without disturbing high-value circuits and allowing for more revenue potentials over the same fiber. As a result, the MSPP market has been growing for the last four years and will continue to do so over the next five years, with a double-digit revenue CAGR starting from $1.2 billion in 2002.
The RBOCs will be in the best overall position to capitalize on the metro Ethernet market growth, since they own the largest percentage of fiber-optic lines in use today, reports In-Stat/MDR. The recent Federal Communications Commission's Triennial Review also should encourage more RBOC deployments.
Protocol-agnostic MSPPs help carriers manage clumsy SONET-based circuits more easily than before—and often remotely. That helps carriers reduce optical expenditures, which, in turn, helps them improve their margins. MSPPs also enable the easy addition of Gigabit Ethernet (GbE) to existing legacy networks. The rollout of MSPPs in a service provider's network is likely to bring with it of GbE-service offerings as well as other possible services such as storage.
The report, "MSPPs: Evolution Beats Revolution," examines why MSPPs are one of the few bright spots in the optical-networking market. For more details, visit the firm's Website, www.instat.com.