Transpacific market to spur submarine cable construction
Jun 1st, 2003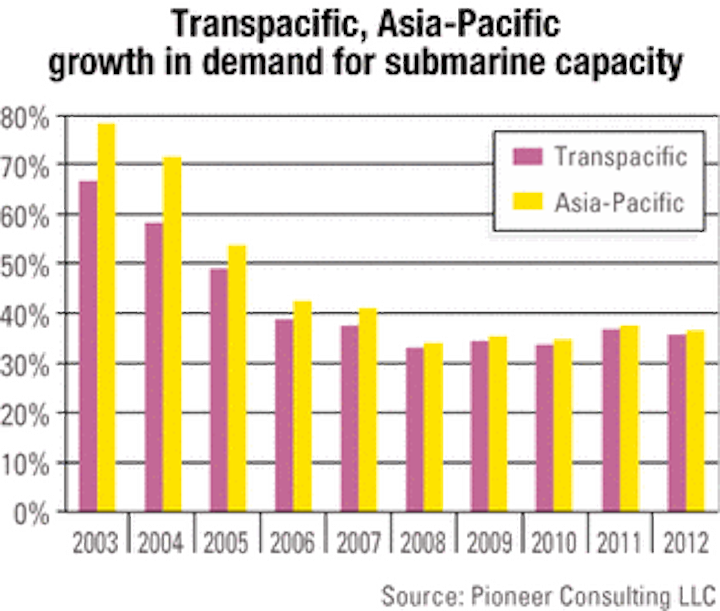 Cumulative demand for transpacific submarine capacity is expected to grow 42% per year between 2002 and 2012, topping nearly 16 Tbits/sec by 2012, reveals a new report from Boston-based Pioneer Consulting LLC. Asia-Pacific submarine cable capacity demand should exhibit a similar CAGR of 46%, with cumulative demand increasing to nearly 21 Tbits/sec by the end of the forecast period.
Internet traffic is expected to "all but obliterate" corporate data traffic and voice traffic in both markets by 2012, according to the report. Corporate data will continue to grow modestly during the forecast period, while voice traffic growth will remain flat.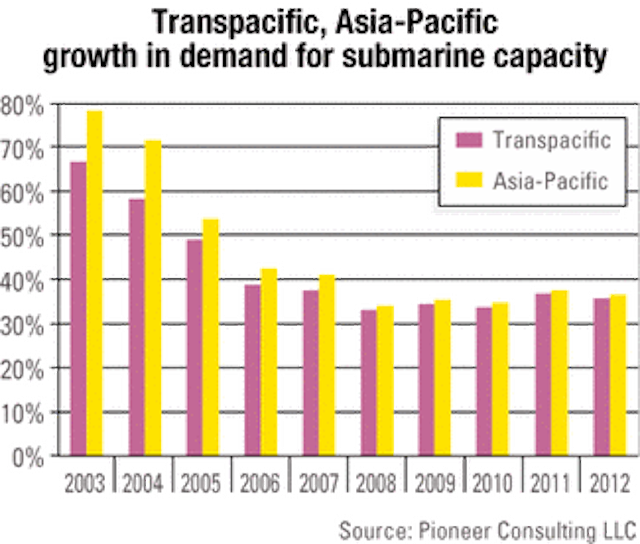 Japan will remain the main driver of demand for both transpacific and Asia-Pacific intra-regional capacity. However, a second echelon of countries in both markets will play a major role in determining where and when capacity upgrades and new installations will take place.
Relative to the coming deficit, current surpluses in transpacific and Asia-Pacific capacity are small. Pioneer estimates there is approximately 60% utilization on the transpacific route and 58% utilization of Asia-Pacific regional capacity. Neither market will see actual deficit growth rates, because new systems will be introduced well in advance of any capacity deficits appearing, says Pioneer.
Opportunities to construct new submarine fiber-optic systems will first appear on the transpacific route—perhaps as early as 2005—with the Asia-Pacific market following shortly thereafter.
For more details on the report, "New Business Models for the Transpacific & Asia Pacific Submarine Cable Industry and Revival," call 617-424-5200 or visit the company's Website, www.pioneerconsulting.com.