MEMS market 'down but not out'; strong CAGR seen into '07
Jul 1st, 2003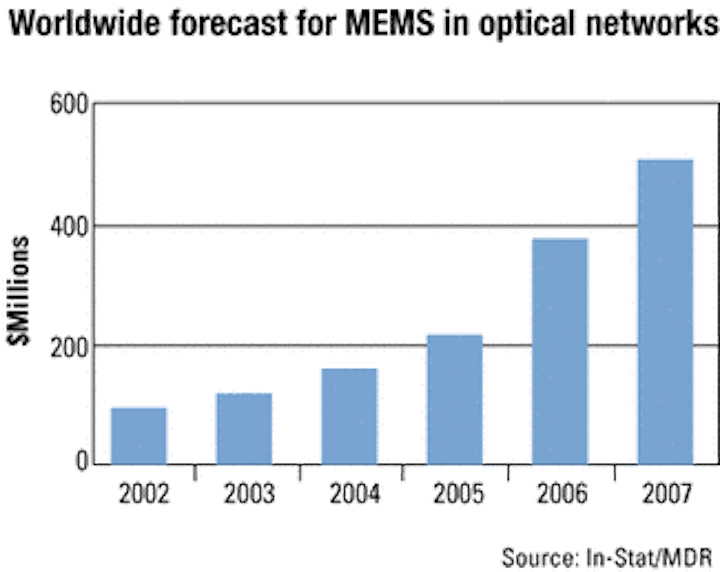 Despite tough near-term market conditions, the long-term pro-spects for suppliers of micro-electromechanical systems (MEMS) to the optical-networking market remain strong; revenues should see a 41.8% CAGR through 2007, contends a new report from Instat/MDR (Scottsdale, AZ). Many of the devices have now passed Telcordia standards, giving them increased respectability in the market. Several suppliers saw their shipments move beyond sampling into volume production in 2002.
Senior analyst Marlene Bourne says, "Reliability is no longer the issue—company stability is. Fully 50% of the companies known to be developing MEMS solutions for optical networking have closed their doors, and the question lingers as to who will be next." That said, those remaining in the market were still able to raise more than $55 million in venture capital in 2002, she notes.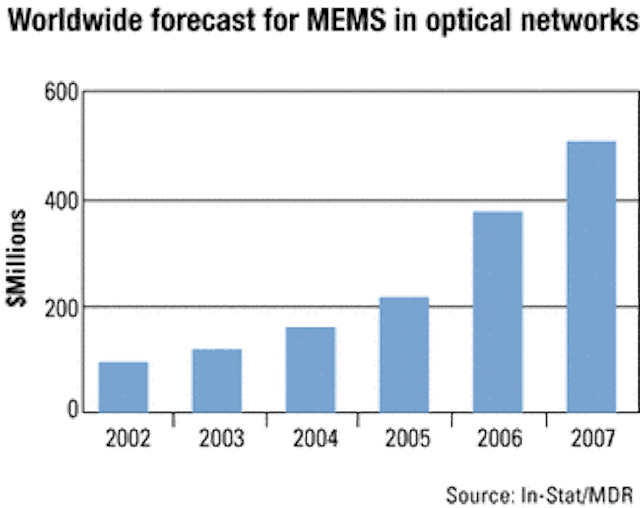 Bourne has seen a noticeable change in the types of devices that have gone into volume production. More vendors are now offering variable optical attenuators and tunable filters, and there has been a discernable shift to small and three-dimensional switches. The latter, in particular, have high price points, generating significant levels of revenue.
MEMS suppliers should look for a strong increase in customer demand and design wins in the 2004-05 time frame, says the report, which will translate into real revenue growth in 2006 and 2007. Until then, the market will slowly move forward with increased sampling and unit shipments to a greater number of customers.
For more information about the report, "MEMS and Optical Networks: Down but not Out," call 480-609-4533 or visit www.instat.com.