Triple play is work: Cable nets beyond analog too complex
Jul 1st, 2003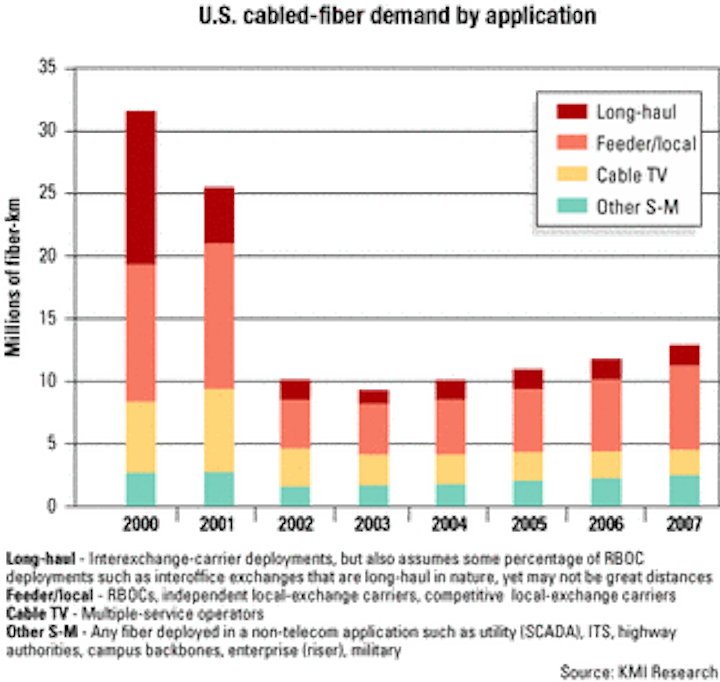 With the first wave of upgrades that will enable cable networks to support services beyond analog video nearly completed, multiple-system operators (MSOs) find themselves with multiple infrastructures that have grown too complex. After investing billions to support two-way digital transmissions, the next challenge for many MSOs is to converge dedicated service networks onto a multiservice platform, ideally based on IP—the Holy Grail for today's communications networks.
Some MSOs have taken the first steps on this quest—and vendors are rushing to support them. Despite optimism in some quarters, however, questions remain whether a combination of tightened budgets and technological immaturity will slow the march toward a single network that supports voice, video, and data.
By the end of this year, 77% of the cable networks in the United States—about 1.54 million plant miles—will support 750-MHz capacities and 82% will offer two-way transmission, according to industry researcher Kagan World Media (Carmel, CA). Several operators—Cox Communications, Time Warner Cable, and Cablevision—have upgraded more than 90% of their networks to 750-MHz two-way transmission, and it's likely that the remaining 5-7% won't be upgraded because the infrastructure is considered "marginal" or in rural areas.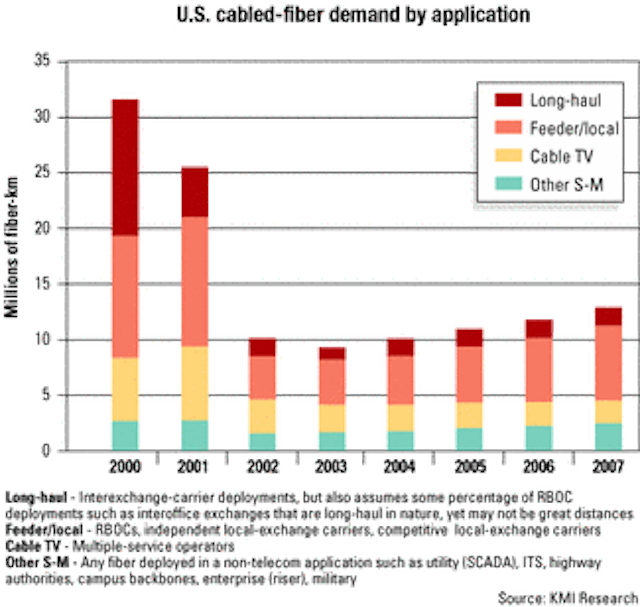 Multiple-system-operator optical-fiber deployment in the United States peaked in 2001, reaching 6.7 million fiber-km, as operators upgraded their networks to support the two-way transmission required by digital services.
The exception among the top U.S. operators is AT&T Broadband, which merged with Comcast last November, to form the new Comcast Corp. (Philadelphia), creating the U.S.'s largest operator with about 22 million subscribers in 41 states. "AT&T Broadband had a lot less plant upgraded, and they also had some early upgrade models that didn't put enough fiber in," observes Don Gall, consultant at broadband networking firm Pangrac & Associates (Port Aransas, TX). "There is still quite a bit that needs to be done both in upgrading and adding fiber and dividing node service areas into smaller service groups."
For MSOs such as Cox (Atlanta), the fourth largest U.S. cable company, the next step is to converge overlay networks with dedicated equipment for each service type: video, telephony, and high-speed data. Cox built an OC-48 IP-based national fiber-optic backbone to support its high-speed Internet and business Internet services in 2001, which it operates and manages in addition to the fiber-based metro transport and hybrid fiber/coax (HFC) access networks used to reach end customers. Cox is one of two cable MSOs (the other is Comcast) with success selling switched-circuit voice services to business and residential customers. Cox reported 718,000 telephone subscribers at the end of last year.
"We use optical for video on demand or entertainment on demand service," explains Cox director of network architecture Darryl Ladd. "We use it for IP transport for our backbone data and high-speed Internet. We use optical over SONET and ATM for our business services, and when we do that, we end up deploying multiple boxes and having parallel optical networks to do four or five different services.
"Recently, we started looking at ways to start converging some of these platforms to a common network using common network elements. So we've deployed DWDM throughout our network, and that allowed us to take SONET, ATM, and IP where we could, and use lambdas instead of fibers. We get to reduce the amount of investment that it takes to provide these services."
Cox is also working with its three SONET suppliers to look at next-generation platforms that offer more than traditional TDM. The cable operator wants to start using Gigabit Ethernet transport over SONET as well as IP interfaces. In part of its network, Cox has deployed resilient-packet-ring (RPR) technology, supplied by one of its current SONET vendors, but a delay in the RPR standard until the first quarter of next year is holding up further implementation.
"We like it, and we're getting great results from it," notes Ladd. "But it is very important for Cox to make sure that we limit the amount of proprietary technology in the network. If something is not standard, it is going to have a very difficult time getting deployed."
When Cox evaluates new technology, reliability, ease of use, feature sets, and the development roadmap are all important. "We have all these people in the field operating this gear; it has to be simple enough and reliable," says Ladd. "Then we look at features, what's on their roadmap as far as technology development. Today, a lot of vendors are doing the same thing, but their roadmaps are a lot different for future services, so we want the ones who are more visionary looking down the road and saying these are the services that will be important three years from now or five years from now and this platform is built for that, so you don't have to start replacing chassis and that type of thing—we are trying to futureproof our network as much as possible."
Cox entertains more startups than established companies when evaluating next-generation optical technologies. "What I've seen so far is that some startups are very responsive," reports Ladd. "I look at the technology and I say, 'This would be nice if you had these interfaces and you make these cards a little denser,' and they can go turn on a dime. Some of the larger companies say, 'That feature is going to be available in the second quarter of 2005'; they are bit more sluggish. I do like startups from that standpoint. Obviously, there are issues like, will they be around or who are their partners? But sooner or later, you find one with the silver bullet and say, 'This is great!'"
Ideally, Cox would like all of its measurable traffic services—voice, video on demand, and data—to run over a common platform. That does not include the regular broadcast video, which is always on. "We have made significant progress in collapsing our voice and data platforms to a common platform for transport. The next step is to find an economical way to bring the video onto that platform," says Ladd. "That may or may not happen anytime in the future. I don't think it will happen soon."
Ultimately, Cox would like to integrate its backbone, metro transport, and access networks, according to Ladd. "There has to be a technology that will allow me to take my IP backbone to my ATM/IP/SONET metro space and then also integrate seamlessly to my HFC, SONET, and ATM in my access space," he says. "I don't know how that is going to happen, but our view is that it has got to move towards IP. I'm looking for services and technology that will allow me to really leverage my IP backbone and move me closer and closer to IP. If I can take all my SONET and ATM services today and put them on an IP platform with the same reliability that I am getting from SONET and the same quality of service that I get from ATM, and the same capacity that I get through a large switch-router, then it's a nice application for me."
Naturally, vendors have lined up to meet such MSO requirements. As part of this trend, optical companies have partnered with traditional cable vendors or upgraded their carrier gear to try to offer convergence solutions. For example, SONET powerhouse Fujitsu Network Communications (Richardson, TX) made public its plans to target the cable MSO market in May, when the company announced a digital video broadcasting (DVB-ASI) card for its Flashwave 4500 SONET add/drop multiplexer, which supports up to eight coaxial-cable ports per card. A separate announcement touted the availability of Fujitsu's metro Flashwave 7500 DWDM platform for the same market.
"Cable operators have spent a lot of time in the last few years building-out that so-called last mile, and now there's all sorts of new opportunities to provide other services that actually fill the pipe," says Bob Laurent, technical public relations manager for Fujitsu. "We see that as a great opportunity for us, because as these new services get rolled out, that is going to lead to increased demand for capacity in the core of their networks, which is really the place where we have played very successfully on the telecom side. From different estimates, we expect to see anywhere from $375 to $500 million being spent just on the core of the network annually in the 2004 and 2005 time frame."
Traditional telecom suppliers will face some all-too-familiar hurdles in the cable space, however. The cable industry is under close scrutiny because of a saturated television services market, which still accounts for the bulk of cable revenues; high-profile accounting scandals; misleading subscriber numbers; and billion-dollar infrastructure investments that have cut into profits. This year, capital expenditures (capex) for the U.S. cable industry are expected to decrease to $11.7 billion from $13.3 billion in 2002, according to market researcher Instat/MDR (Scottsdale, AZ).
"The days of wondering whether there is going to be fiber to the curb or fiber to the home have apparently been shelved, and now what you hear about is sort of a slow, incremental push to take the fiber slightly deeper into the network and maybe do smaller node sizes," says Ian Olgeirson, senior analyst at Kagan World Media.
Many cable MSOs also are looking at ways of centralizing their video on demand infrastructure, putting the servers in a single place or in a centralized headend. Voice over IP is also expected to emerge in some networks late this year, although the technology is not yet
viable as a primary, lifeline phone service. Unlike switched-circuit voice, which few MSOs remain active in, most operators are expected to at least evaluate technologies that will support voice over IP services.
"IP-based voice, which doesn't require a tremendous amount of bandwidth, does put a little bit more strain on the upstream," says Olgeirson. "And there will be some redundancy issues with that, so you may see some operators making sure that they've got proper redundancy in their rings, trying to prepare for the latter half of 2003 and 2004."