Despite long-haul fiber decline, India remains strong market
Apr 1st, 2003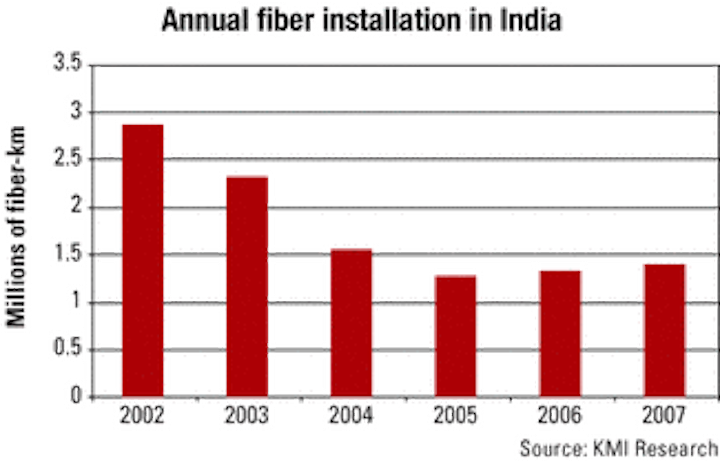 India has emerged as the world's fourth largest fiber market behind Japan, the United States, and China, and despite a decline in long-haul (LH) fiber deployment beginning this year, the country will remain an important market for fiber and equipment vendors in the foreseeable future, contends a new report by KMI Research (Providence). There is certainly room for growth; the country's teledensity is among the lowest in the world at 4.2 telephones per 100 people.
In 1999, the Indian government established the New Telecom Policy to improve nationwide teledensity to 15 telephones per 100 people by 2010. A key goal of the policy is to "make India a top competitive player in international markets, and bringing access to the Internet is a key factor in that," explains Neil Dunay, KMI senior analyst. Wireless has also been a driver, he says, as many of the country's wireless providers have fiber-optic backbones.
Deregulation is a critical component of the New Telecom Policy and has spurred competition in the market. The government-owned operator, Bharat Sanchar Nigam Ltd. (BSNL), still accounts for the bulk of fiber deployment—an average of three-fourths of India's long-distance cable deployments over the past three years. By the end of 2002, BSNL's network stretched 384,000 route-km.
The new entrants, including Reliance, Bharti, RailTel, PowerGrid, and GAILTel, have been just as aggressive. At the end of 1995, India had cumulatively installed 283,600 fiber-km. By the end of 2000, fiber installation topped 2.5 million km. Annual installation doubled from 1.36 million fiber-km in 2001 to more than 3 million by 2002.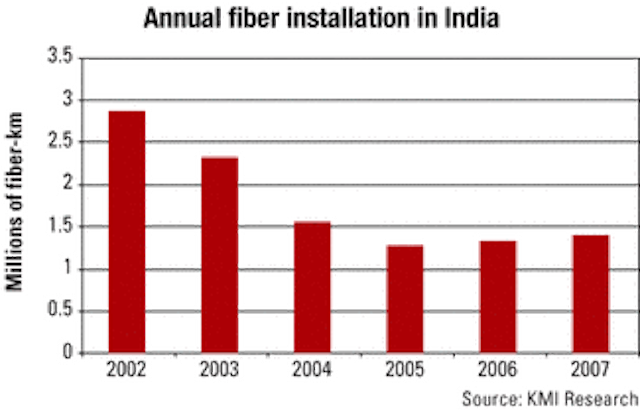 Although annual fiber deployment is expected to fall from its peak of more than 2.8 million fiber-km in 2002 to 1.4 million by 2007, India will continue to be a key market for equipment manufacturers throughout the forecast period.
By the end of this year, most of these LH networks—many of which are duplicative—will be completed, resulting in a saturation of the market, says Dunay. Indian operators will deploy about 125,000 route-km of fiber-optic cable in 2003, down 32% from an estimated 182,400 last year.
Though India imports and exports fiber and fiber-optic cable, domestic production is and has been close to internal demand, reveals KMI's report, "Single-Mode Optical Fiber & Cable in India." Sterlite Optical Technologies and Aksh Optifibre, India's main suppliers of bare optical fiber, together produced 2.65 million fiber-km last year alone. The other manufacturers produced less than 10% of that total.
With the saturation in the market, India's fiber manufacturers will be looking elsewhere to supplement domestic purchases, but given the state of the global telecom industry, their options are limited. Some manufacturers have mothballed plans for new facilities and will most likely begin to cut production, reports Dunay. "They may not be successful in international markets. They may try it but find they are really not able to export sufficient amounts to keep their current manufacturing going," he admits.
Despite the decline in fiber deployment, equipment will be needed to light those networks and add capacity, says Dunay. "There is going to be strong demand over the next five years or so." Nortel Networks is among those international vendors that has already cashed in on the market demand, inking deals with Bharti Tele-Ventures and more recently Reliance. BSNL, meanwhile, has tapped Juniper Networks' M-Series routers for deployment in India's first nationwide IP/MPLS network. Cisco Systems and Sycamore Networks have also earned contracts in India, and Atrica is rumored to be close to a deal.
An increased emphasis on the metro and access space may provide additional opportunities as well, although that segment will remain comparatively small throughout the forecast period. The cumulative deployment of 26,500 route-km of cable in metro and access applications by 2007 will represent just 3.2% of the 810,000 route-km deployed, according to the report.
Still, KMI remains optimistic. "Even though we're seeing a decline in the Indian market, it's still an incredibly large market worldwide, and it will continue to be so," asserts Dunay. "The Indian government's plan for increasing teledensity is so aggressive that both the fiber vendors and the equipment vendors should continue to view it as a strong opportunity."