Independents' day: A local market beyond the Bells
Apr 1st, 2003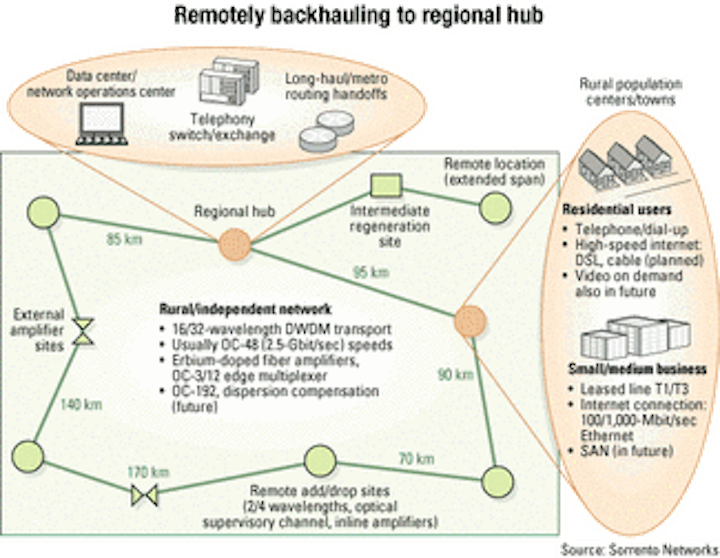 Who moved our cheese? Adapting to change is more than a platitude for today's beleaguered optical communications equipment vendors.
The customer base in the local-exchange market has changed drastically in two years. As reductions in wireline capital expenditures deepen among RBOCs, long-distance providers now entering some local markets, and the remaining competitive local-exchange carriers (CLECs), many vendors are taking a closer look at independent operating companies (IOCs). Some suppliers targeted this diverse market early on to build their credibility through reference accounts and move up the food chain into the networks of the big cheeses—Verizon, SBC Communications, Qwest Communications, and BellSouth.
The IOCs are usually incumbent local providers operating outside of the regional Bell system, primarily in rural markets. According to the National Telecommunications Cooperative Association (NTCA), an Arlington, VA-based nonprofit group representing 545 telephone companies, independents serve less than 5% of all local telephone subscribers in the United States—but their customers inhabit more than 40% of the country's land mass. The U.S. government offers low-interest federal loans and other subsidies to carriers that qualify for these programs, so rural customers can have access to the same advanced services as people in more densely populated areas.
There are about 1,300 IOCs in the United States, according to Probe Research (Cedar Knolls, NJ). Despite a range of business models, these carriers are generally financially stable and historically have been very proactive in driving fiber as close to the customer as possible. Many independents also own Internet-service-provider (ISP), cable, and wireless subsidiaries. "Roughly 30-40% may also own a cable company," says A. Bernardin Arnason, vice president of business and technology at the NTCA. Partnerships among IOCs—such as consortiums that share fiber transport—or with local utility companies to form ISPs or CLECs in other markets are common.
"Most independents are using fiber to feed their remote cabinets, digital-loop carriers, and remote switches," says Arnason. "The most common deployment is fiber-fit digital-loop carriers, which in turn feed their subscribers with copper. I am aware of several companies that have deployed fiber-to-the-home, but they are in the minority."
"Independent operating companies range in size from small players with 5,000 access lines to big players like AllTel with 2.5 million access lines," says Lynda Starr, Probe's vice president of carrier research. "The main difference between the independents and the ILECs [incumbent local-exchange carriers] is teledensity. If you are running fiber, it is less cost-effective, because instead of being able to serve 100 homes within a mile of the central office, you may be serving three homes. The same thing is true for DSL deployment, where distance is an issue."
Starr says that Verizon and Qwest are selling rural lines because of the higher cost to serve them. She estimates that 10 million RBOC lines will be divested to the IOCs in the next several years. While IOCs generally face little to no competition in their markets and fewer regulations, these carriers are grappling with some of the same issues as the RBOCs: demand for advanced services, a poor economy, and wireless substitution.
"The current market has been particularly hard on the RBOCs and the long-distance providers, but the IOCs have not been affected as dramatically," says Terrell Moorer, product marketing manager, independent operating companies, at Advanced Fibre Communications (AFC—Petaluma, CA). "IOCs have been careful in their spending, but they are still running their businesses as usual with steady investment. As the RBOCs continue to reduce capital expenditures, they are also looking to sell off lines in their more rural areas, and therefore IOCs have seen growth through purchasing those RBOC reductions. That trend will probably continue as well as growth through CLEC activities."
AFC counts more than half of the IOCs among its customers. One customer, Volcano Telephone (Pine Grove, CA), is deploying AFC's coarse WDM (CWDM) platform, the TransMAX 1500 optical add/drop multiplexer, in a field trial on its fiber ring to create bandwidth for additional services: voice, DSL, and cable TV. Volcano serves 11,400 voice access lines, 4,500 television customers, and about 450 DSL users, using its OC-12 fiber network.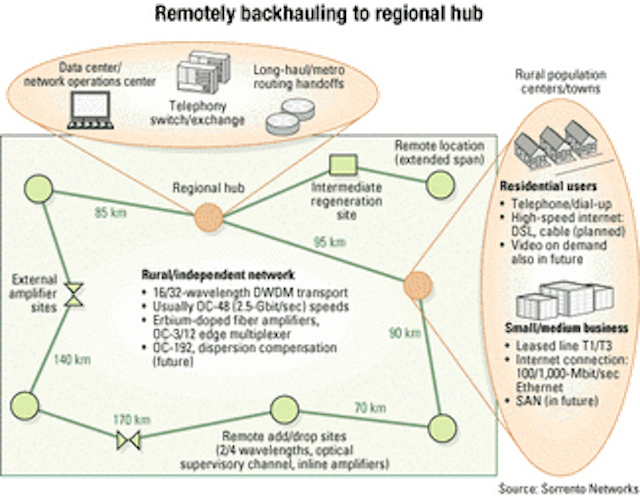 Sorrento Networks add/drop multiplexers at remote sites aggregate local access traffic onto wavelengths and backhaul it to a regional hub.
"Many of the fiber rings were built with OC-3 and OC-12 traditional SONET for voice services," says Dan Parsons, AFC's senior manager of product planning and management. "As ADSL is deployed, these networks start to run out of capacity quickly, especially when video is deployed over ADSL. Video doesn't have the same bandwidth dynamics as Internet traffic. It is more constant—not as bursty as Internet data—takes more bandwidth, and it is typically on longer—for example, people watching TV. Upgrading the network to the next level of SONET requires a time-consuming, expensive forklift upgrade. A CWDM platform gives operators a single platform to deploy new services along with legacy services. They can do it quickly and cheaply, without disrupting existing service."
Like Volcano, many IOCs view video as a promising future service. "We see it as a real opportunity for us," says Stu Kirkwood, vice president of engineering and outside plant at D&E Communications (Ephrata, PA). "However, there are limitations with the current ADSL+, that really chews up the fiber, and VDSL is a little cost-prohibitive to do a massive launch, so we are looking to see some major breakthroughs. We are seeing this coarse wavelength-division multiplexing hit the market, and the price points there are fairly attractive compared to DWDM for us, so we are looking at it now that we have seen a couple of vendors come out with it and it becoming more available in the market."
D&E Communications offers local access service to more than 50,000 subscribers in central Pennsylvania. The IOC owns a CLEC, CI Networks, which serves 125,000 customers. In addition to local access, D&E offers long-distance, high-speed Internet access and network integration services. The IOC's transport network is primarily OC-48 fiber rings with OC-3 spurs. D&E is in the process of overlaying the rings with a mesh network that will eventually support OC-192 transport.
"IP is where we see the future being for us so we are looking at these multiplatform switches—technology with MPLS, ATM, and IP," says Kirkwood. "We are trialing some of those now, so we will have a little more flexibility—this is especially important for our CLEC arm, which serves commercially focused customers."
So far, Kirkwood has liked what he's seen. "In general, the technology is there, it is probably more of a price/performance issue," he explains. "So like most other people, we are doing a lot of tire-kicking to see, how do we get more performance from a vendor that we already deal with? On the transport side, that's Cisco Systems with Cerent and Nortel's Optera platform. What are they doing? How can we enhance the investments we've made? Instead of having a box in front of a box, how do we integrate these into one more efficient platform?"
Despite the fact that several IOCs have aggressively pushed fiber into their networks, Kirkwood says that as a group, "we are very conservative by nature." They may also become more conservative in the future. "I don't think that we are going to be pushing the technology as an industry as aggressively as happened in years past. I think more and more in the industry, there seems to be more of a wait-and-see attitude," he predicts.
D&E tests its network equipment in its own labs, but most of the smaller IOCs rely on outside consultants and systems integrators to recommend technology and engineer it into their networks. Reaching these potential customers involves educating these consultants about your company's technology on a regional basis through association and state-run trade shows as well as vendor showcases.
While CWDM offers a more affordable solution for short hops, IOCs needing to cover longer distances—for example, in shared interstate transport networks—may opt for DWDM. Sorrento Networks (San Diego) recently announced a DWDM contract with FiberNet Communications, an Iowa-based consortium of IOCs that includes CML Telephone Cooperative, Hills Telephone, Hospers Telephone, Mutual Telephone, Northern Iowa Telephone, and West Iowa Telephone. The vendor is supplying its GigaMux DWDM equipment for a high-capacity interstate network in Iowa and South Dakota.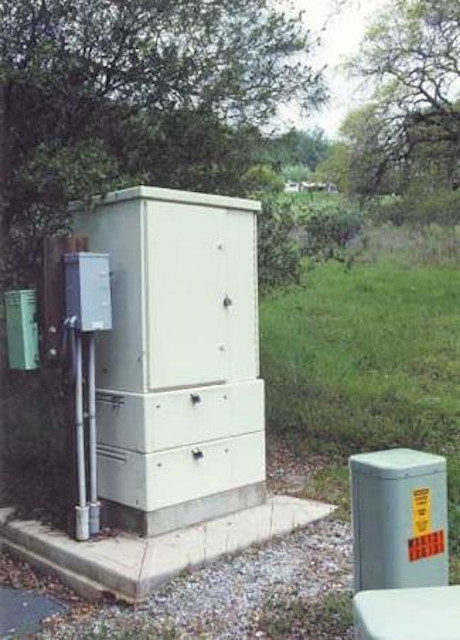 The ability to operate outside of central offices is essential for optical equipment in independent-operating-company networks. Volcano Telephone plans to add TransMAX 1500 optical add/drop multiplexers from Advanced Fibre Communications (AFC) to remote cabinets like this one as part of a network upgrade. Photo courtesy of AFC
"FiberNet has a lot of remote sites, little towns and cities with fiber running between them, and what we offer is a means of aggregating all the traffic from those sites," explains Nasir Ghani, senior architect of engineering at Sorrento.
Many IOCs rely on loans from the U.S. Department of Agriculture's Rural Utilities Service (RUS) to support infrastructure expansion. The RUS loan portfolio contains over $42 billion in investments in rural utility infrastructure. The Rural Telephone Bank is a public/private lending institution that promotes rural telecommunications infrastructure. Vendors' equipment must qualify for "RUS acceptance" before rural carriers can use this funding to purchase it. The evaluation process for RUS acceptance requires that applicants fill out forms explaining the technology and its functionality.
"I think one of the key things from a quality perspective is that you have to have 'referenceable' accounts that would qualify as RUS accounts—these types of carriers that are currently using your product," says Burnie Atterbury, senior director of product marketing and business development at Alloptic (Livermore, CA), a fiber-to-the-x vendor that offers a line of Gigabit Ethernet access routers that received RUS technical acceptance in December. "And then they ask [those customers] questions about the product and about how it has performed."
Turin Networks (Petaluma, CA), which offers next-generation SONET and Ethernet over SONET equipment, gained RUS technical acceptance in November. The vendor counts more than a dozen IOCs as customers and is participating in several field trials. AFC is an investor in the company.
"We are now seeing that a lot of the other startups have begun to focus on the independent market," says Kevin Wade, Turin's senior manager of product marketing. "While there is certainly a willingness to adopt new vendors, IOCs like to feel comfortable about the company and that the company isn't just focusing on them on a short-term basis."
Like many other suppliers with RUS acceptance under their belts, Turin is in the process of getting its technology certified for Telcordia OSMINE (operations systems modification for the integration of network elements) compliance. "We can't make our market purely on independent telcos," says Wade. "By developing a revenue stream and a large customer base, it makes us that much more attractive to an RBOC. The gear is field-proven, and an independent's network is virtually identical but on a much smaller scale."