Alcatel improves IP core router
Feb 1st, 2003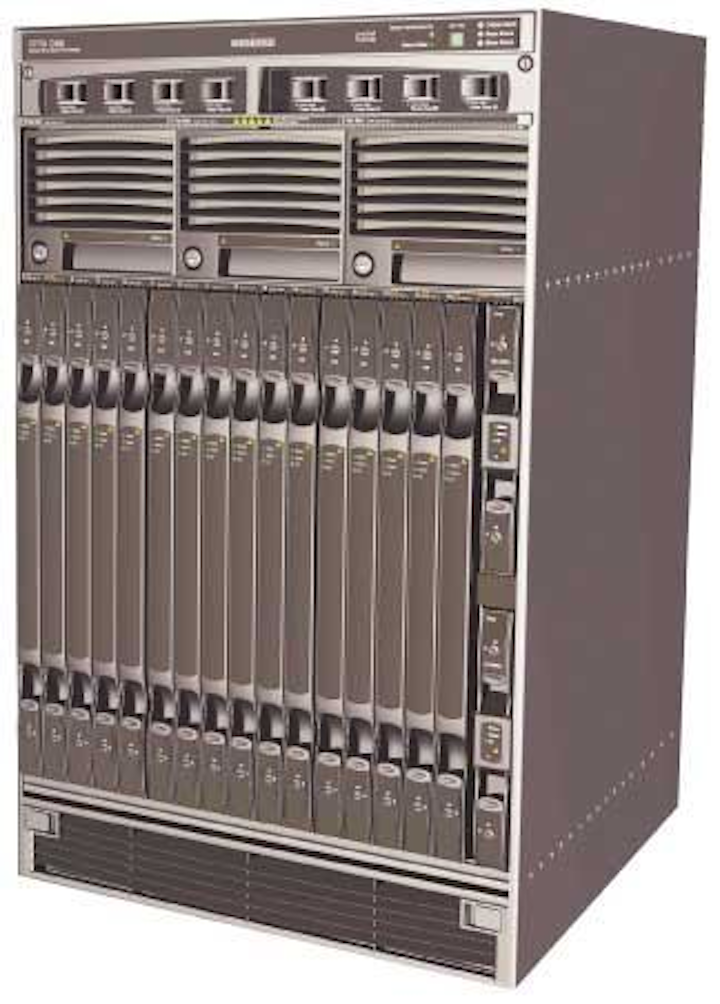 Last April, Alcatel (Paris) introduced a nonstop IP routing technology. The Alcatel Carrier Environment Internet System (ACEIS) was designed to overcome the limitations of current-generation IP routers—its 7770 Routing Core Platform (RCP) included. The company recently unveiled its latest-generation IP/MPLS core platform based on the technology, the 7770 Optical Broadband Exchange (OBX). On paper, the OBX seems to offer significant improvements over the RCP, but will it be enough to compete with market heavyweights Cisco Systems and Juniper Networks?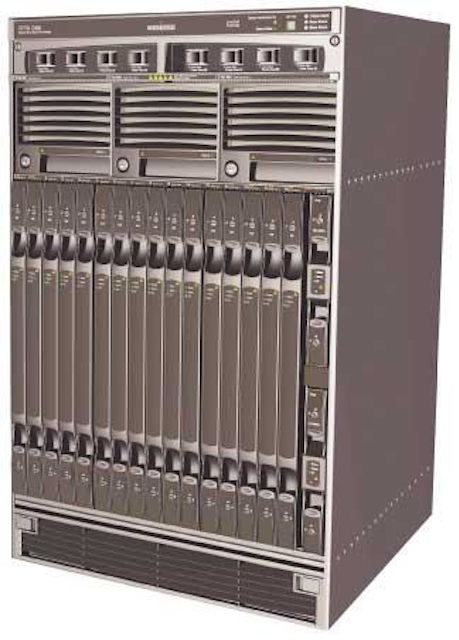 Alcatel 7770 OBX promises five-nines reliability, eliminating the need for dual-routers in the carriers' points of presence.
Most IP routing equipment currently available is enterprise-grade and therefore unable to provide carrier-grade reliability, contends Vinay Rathore, director of strategic marketing for Alcatel's Broadband Network Division. "The predominant architecture today for a core location requires that you have two core routers in order to achieve the level of reliability that's acceptable to the market—and that right there doubles your cost of equipment," he surmises. The reliability of the 7770 OBX ostensibly renders dual-router points of presence (PoPs) obsolete.
"If you have a catastrophic failure on a competing router, the network goes down; the customers and peers lose their connections," Rathore illustrates. "If you do this on an Alcatel router, nothing happens. Even in the event of a catastrophic failure and even while you're running this network on a maximum configuration, we can fail this network and nothing will happen. And we don't need two routers to make that network any more reliable than it is. We can do it with one router."
Alcatel's new router can provide greater flexibility because each line card features its own network processor that can filter and process while still maintaining wire-speed connectivity. Moreover, the architecture is modular and fully distributed, including the switching elements, which can be found in four separate line cards.
"The reason why we distributed the switching elements over four cards is for redundancy reasons," explains Luc Absillis, senior director of product and technology marketing for the Broadband Network Division. "You can pull out one of the switching cards, and there is no impact on any of the traffic. If you pull out more switching cards, you would see a small degradation of service, but there is still full connectivity between all the line cards."
The forwarding function is also distributed; each line card can forward both IP and MPLS packets as well as provide full classification, metering, and policing functions when deployed as a high-speed edge box. The line cards can perform both fast path and low path forwarding for increased scalability.
Most of the equipment deployed today stays in the network an average of 12-18 months before a forklift upgrade is necessary, states Rathore. Alcatel has decided to adopt a philosophy more akin to the pay-as-you-grow mentality of voice networks. As the technology changes, you add software. As standards evolve, you make changes to the system itself. "We're putting in a router that can scale not only in terms of physical ports, but also in terms of technology steps and hardware," notes Rathore. "We can add new technology down the road. And that gives us a lifecycle of anywhere from 15 to 20 years, which is unheard of in the industry today."
The 7770 OBX features 100-Gbit/sec to 1.9-Tbit/sec line capacity and supports packet over SONET/SDH interfaces from 155 Mbits/sec to 10 Gbits/sec as well as 1-Gigabit Ethernet (GbE). Support for 10-GbE is forthcoming.
"If deployments were to begin today, the 7770 OBX would have to be considered one of the top contenders, with its blend of reliability features and extended useful life through scalability," asserts Brent Wilson, analyst with Current Analysis (Sterling, VA). "But the deployments are not underway, and the majority will likely be delayed for most, if not all, of 2003."
This market environment favors the incumbents, Cisco and Juniper, which together account for more than 95% of the IP core-router market, says Wilson. Neither company has fully unveiled its next-generation platform, which buys both companies time to respond to Alcatel's offering.
"The key to Alcatel's ability to penetrate the market is likely to be how well it convinces service providers that 'best effort' reliability being proposed by Cisco and Juniper is not sufficient for collapsing existing high-margin, guaranteed-service types of infrastructures onto an IP/MPLS backbone," Wilson contends.