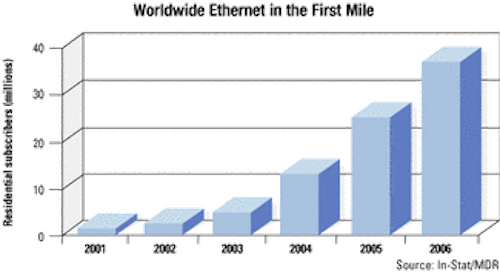 The formation of industry groups and standards bodies and an anticipated reduction in costs for end users will increase the number of residential Ethernet in the first mile (EFM) subscribers over the next four years, reveals new research from In-Stat/MDR (Scottsdale, AZ). The number of EFM subscribers is expected to jump from 1.3 million in 2001 to 36.8 million by 2006.
EFM for residential access is mostly an Asia-Pacific phenomenon and will largely remain so through the forecast period, says the report. Reasons include heavy reliance on multiple dwelling units (MDUs), short local loop lengths, low labor costs, government support, and particularly in the case of China, the need to deploy new infrastructure.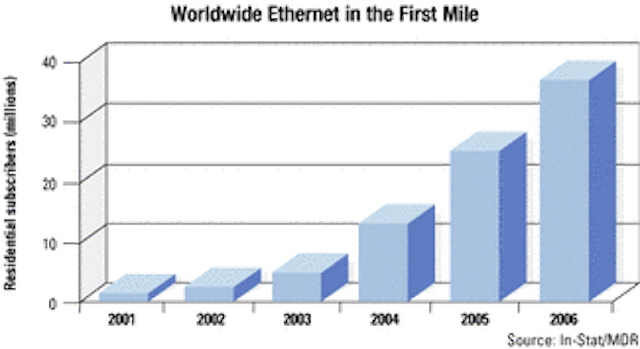 On a subscriber basis, Western Europe will be the largest market for EFM, with Scandinavia experiencing particularly large deployments through 2006. EFM will continue to be deployed in the United States on a fairly limited basis; nonstandard service providers like public utilities and property developers will account for the majority of deployments, though this will begin to change by the end of the forecast period.
EFM to the subscriber will continue to be a copper phenomenon through 2006, say analysts. Although it is nearly as cheap to deploy fiber in greenfield developments as it is to deploy copper, the cost to overbuild fiber is still prohibitively expensive, and there is too much copper already in the access network for the incumbent local-exchange carriers to ignore. While it will be at least 20 years before direct fiber-to-the-home becomes a mainstream means of residential connection, say In-Stat analysts, Ethernet, not ATM, will be the communications protocol of choice.
For more information about the report, "Ethernet in the First Mile: Like a Bridge over Troubled Water," call 480-609-4533 or visit the company's Website, www.instat.com.