Cisco launches ONS 15600 for metro aggregation, switching
Jan 1st, 2003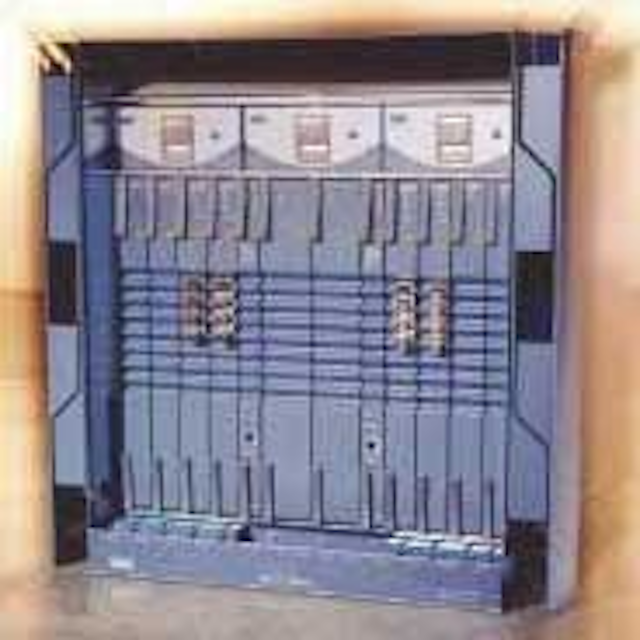 Cisco's ONS 15600 multiservice switching platform integrates optical switching with SONET add/drop multiplexing.
Cisco Systems (San Jose, CA) recently unveiled the ONS 15600, a multiservice switching platform (MSSP) for metro networks that integrates SONET/SDH add/drop multiplexing (ADM) with optical switching in a single platform. The 15600 eliminates the number of network elements needed in the central office (CO) and can lower both initial and operating expenditures, says the company. The 15600 sounds great on paper, but will the carriers actually buy it?
The ONS 15600 complements Cisco's widely deployed ONS 15454; the latter is used for service provisioning, while the former is designed to aggregate and switch those services. "You can directly interconnect [15]454s that are out there onto the [15]600, because the ADM functionality is integrated along with the optical switching at the STS level," explains Rob Koslowsky, director of marketing for Cisco's Optical Technology Group. "At the central office where you have a lot of rings terminating, you don't need to have a 454 terminal and a 600. You can just terminate the rings directly on a 600."
While the 15454 is ideal for customer locations and smaller offices, the 15600 makes sense in the larger service points-of-presence (PoPs) "where you'd have a lot of the Class 5 switches, ATM switches, and core routers, and you need something with larger bandwidth, larger switching capacity," adds Koslowsky.
The 15600 supports all metro configurations, including point-to-point, linear add/drop, ring, and mesh. Each 15600 provides 320 Gbits of capacity per shelf. Three shelves fit into a 7-ft NEBS-compliant rack for a total capacity of 960 Gbits or almost a terabit of capacity.
Market researcher CIR (Charlottesville, VA) estimates that about 100 of the more than 900 customers of the Cisco 15454 will be potential customers for the 15600. Moreover, the incumbent-local-exchange-carrier community Cisco hopes to target may be leery of the 15600 for several reasons, including their well-known hesitation to replace any equipment without a very compelling reason. Any replacement of an add/drop multiplexer with a new 15600 in the CO is highly unlikely until well into 2003, says CIR, when the RBOCs might potentially begin to deploy new rings.
"In retrospect," says Mark Lutkowitz, vice president of optical-networking research at CIR, "what they should have done was just come out with a new SONET ADM and a new crossconnect. For the companies that just want a better SONET ADM and don't want to pay for the extra crossconnect functionality, they really need to come out with a 'Cerent 2.'" (Cerent developed the system that became the 15454 when Cisco bought the company.)
The new SONET box should not be simply a 15454 with band-aids, however. "If they really want to maintain their position as a next-generation SONET ADM box leader, they have to come out with a brand new ADM device or perhaps buy one of the companies that might be available that does have a newer type system," Lutkowitz adds.
The ONS 15600 is generating interest nonetheless. US Signal is currently evaluating the 15600, while Looking Glass Networks has already purchased the platform.