Vendors eye utility telecom market
Jan 1st, 2003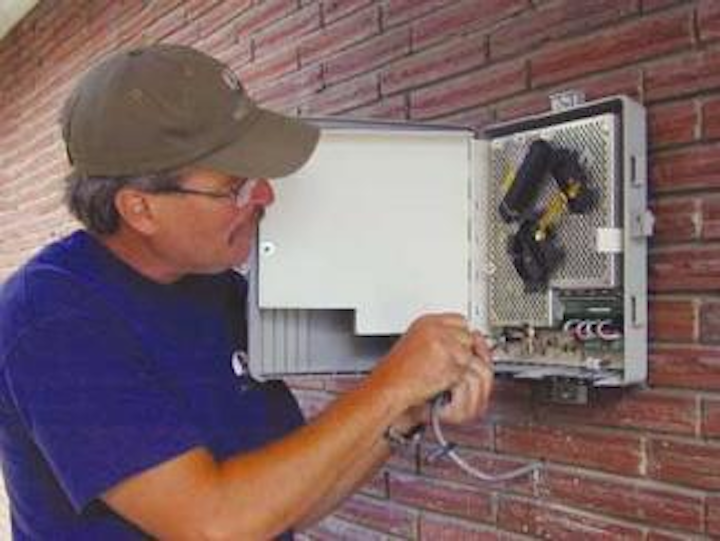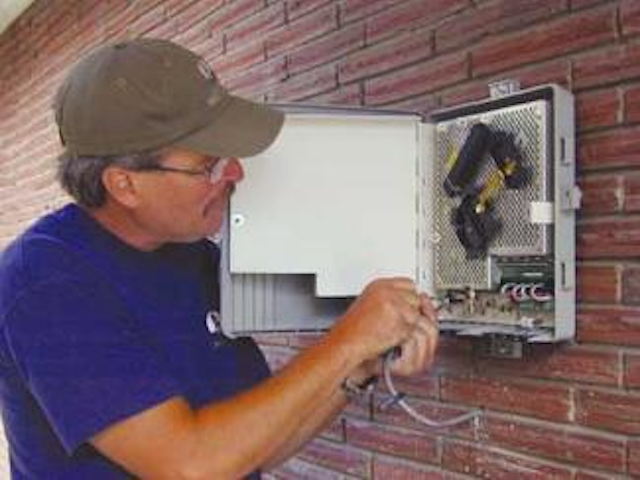 A Chelan County Public Utility District fiber installer connects a home via an Alcatel fiber-to-the-user premises device. Photo courtesy of the Chelan County PUD
When the Chelan County Public Utility District (PUD) in central Washington State needed to upgrade the copper and microwave network between its substations, switch towers, and hydroelectric facilities, fiber was the obvious choice. The big question was how to use the additional capacity on this fiber network to better serve the community—a question many utility companies have begun asking themselves over the last several years. And many are coming up with the same answer: The addition of broadband telecommunications to the traditional service roster makes sense.
Electric and gas utilities are expected to spend more than $3.5 billion on telecom equipment this year, making them the second-largest owners of telecom networks in the United States—second only to the service providers themselves, claims a recent report from the United Telecom Council (UTC—Washington, DC). "Utilities have been in telecom for quite a while—internally for the last 50 years and competitively for the last five—and in both cases, they have made a pretty significant impact on the industry," contends Beth Griffiths, director of research at the UTC and author of the report "What Utilities Buy: Evaluating the Market for Telecom Equipment and Services Sold to Utilities."
Utility companies are often driven to provide broadband services for economic reasons, notes Mark Klimek, senior director of marketing and business development at Alcatel's (Paris) Fiber-to-the-User (FTTU) division. "They worry that if they don't have the state-of-the-art telecommunications services that maybe some other more urban areas have, they will lose business," he reasons. Alcatel was recently awarded FTTU contracts from the Chelan County PUD and Bristol Virginia Utilities (BVU).
"Culturally, utilities buy in very different ways," compared to classic telecom companies, says Griffiths. First and foremost, they must ensure their networks are secure. They are also looking for a high level of reliability and the guarantee that networks will remain in operation during an emergency. "That's the basis for their buying decisions," she maintains, "and then price comes next."
In many cases, the utilities are monopolies in their state or city with very bureaucratic organizations and a very slow decision process. These companies usually are risk-averse as well. So most utility companies approach telecom equipment purchases via a thorough step-by-step process. The Chelan County PUD, for example, first chose a passive-optical-networking architecture, which dictated which suppliers it would need to evaluate. "We interviewed the senior managers of these suppliers, we talked to board members, and if they were startups, we talked to some of their venture capitalists," explains Ron Yenney, network manager of the Chelan County PUD. "We looked at their research and development, and we visited with other customers."
Chelan County took a parallel approach to the selection process; one team evaluated the business aspects of the supplier, while another team examined the technical aspects. "We kept those two teams separate so that one team couldn't really persuade the other until it got down to a decision point," adds Yenney. "And then we had evaluation matrixes, and we compared them."
"It's a lot more like selling into the federal government," muses Griffiths. "These relationships are often slow in coming. You have to get a utility to trust you. You have to prove to them that your solution is the best solution, but if you can do that, then they will probably be your customer for life."
Developing this close relationship is critical for success, agrees Emanuel Nachum, president of Lightscape Networks North America (Herndon, VA), which recently announced a contract from JEA (Jacksonville, FL), the eighth-largest municipal utility in the United States. "The vendor must work closely with the utilities, hand-in-hand, to help them build their networks," he says. "We've seen a few projects where the utilities have asked for a turnkey project, including the whole planning, installation, turn-up, and testing—the whole project, A to Z."
Bolstering the utility telecom market is the recent availability of improved technology and better equipment. "There have been a dozen or so utilities that have done this in the last couple of years," says Alcatel's Klimek. "But when they started doing it, they used hybrid fiber/coax [HFC] technology. The technology is now available to do it optically. That's with the FTTU and FTTH [fiber-to-the-home] technology, which is pretty much displacing HFC in the utility-market space."
BVU, for example, selected a passive-optical-networking architecture partly because the cost differential between fiber and HFC is less than 20%. "Actually, we're seeing figures of less than 8% right now," reports BVU telecom manager Jim Kelley.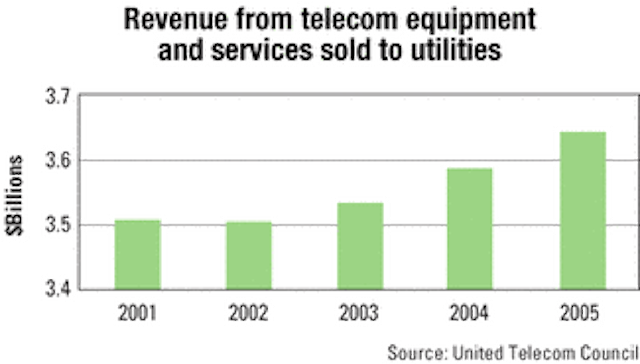 Though the utility telecom market is projected to grow very slowly over the next four years, its stability makes it attractive to the vendor segment.
The recent interest and activity surrounding the utility telecom market does not necessarily mean it is set to skyrocket, however. The UTC predicts only marginal growth—from $3.51 billion in 2002 to $3.65 billion by 2005—thanks to utility deregulation throughout the country and the overall economic malaise. But slow growth is better than no growth. Given the capital-expenditure cutbacks currently plaguing the service-provider industry, the utility market looks very stable in comparison.
"Utility telecom is really defined by reliability, by security, and by strong business fundamentals," says Griffiths. "It becomes a profit and loss equation as opposed to lines and service and EBITDA [earnings before interest, tax, depreciation, and amortization]. In telecom, that's never been a good thing until now, but that's what happens when you see who the last man standing is. That's where utility telecom comes into play. Utility telecom will still be a business in a year. It's staying the course, and that's what makes it attractive to the vendor segment."