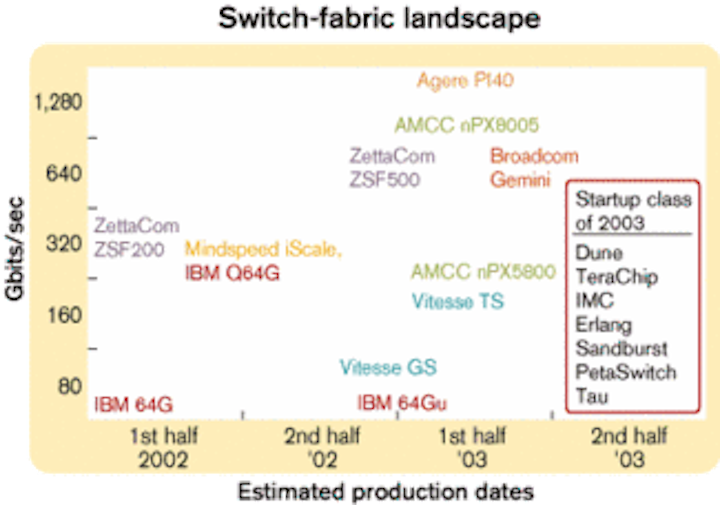 The networking and communications business can be a tough place to sell chips. Just as an 18-month development cycle is completed, the target market has changed dramatically. Such is the case for the latest crop of merchant switch fabrics. A plethora of new packet- and cell-switching fabrics reached the market in 2002, supporting line-card densities up to 40 Gbits/sec (remember OC-768?). But not only are 40-Gbit/sec line cards rare, few systems have even aggregate bandwidth requirements exceeding 40 Gbits/sec.
The problems for merchant fabrics go well beyond slow OC-192 and OC-768 deployment rates; new platform designs have reached perhaps a five-year low. Switch-fabric designs are tied to new chassis, and design-win opportunities are few in the near-term.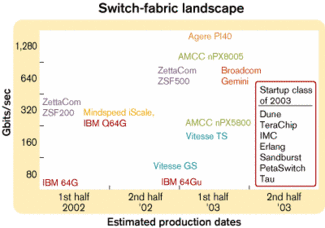 As carriers extend the life of existing systems, incumbent fabric vendors adjust their product strategies and startups try to manage their cash to hold out until the market revives.
All of that has the big incumbent fabric vendors adjusting their strategies. Agere Systems, IBM, and Vitesse are sampling multiservice fabrics that support 10-Gbit/sec line cards. Agere tops the heap in performance, with its PI40 fabric scaling to 2.5 Tbits/sec and 40-Gbit/sec port rates. But rather than worry about how it will get to 5 Tbits/sec, Agere is selling its line-card device as a standalone 40-Gbit/sec switch. IBM, meanwhile, is updating its PowerPRS line by optimizing its OC-48 solution, while metering its investment in higher-capacity fabrics. Vitesse is moving its TeraStream 160-Gbit/sec fabric to production, while shelving its 320-Gbit/sec fabric until a customer appears.
AMCC, Broadcom, and Mindspeed also play here but lack the momentum of the incumbent fabric vendors. AMCC offers a 1.28-Tbit/sec fabric that handles TDM traffic in addition to packet or cell traffic, but it has found few customers looking for this hybrid capability. Broadcom is a new entrant in this segment, and the company's timing couldn't be worse. But Broadcom's Gemini fabric looks competitive, and the aggressive company will try to use price as a weapon against entrenched competitors. Mindspeed, through its acquisition of HotRail, has deployed a solid product. However, Mindspeed has been unable to secure many wins for its iScale fabric.
With long design cycles and a stalled market, how does a startup survive? Most are staying small and managing their cash to hold out until 2005, after the optical market thaws. Some are scouring for applications outside of optical networking, including SANs and even enterprise networks. And a few have already vanished. Multiservice switch fabrics are protocol-agnostic by design, making them relatively market-agile. That's a case where later may be better—the more recent startups can better adjust to the changing market.
Although this market is not fun for chip vendors, OEMs should benefit in the long run. In the near-term, equipment vendors must be careful to choose vendors that have staying power. But when it comes time to choosing a merchant fabric, OEMs will find a selection of proven products ready for volume production. They will also find that these products far exceed the capabilities of their old in-house ASIC designs and reduce cost, making the make versus buy decision easy.
Bob Wheeler is a senior analyst at the Linley Group (Mountain View, CA), which provides independent technology analysis and strategic consulting for the networking-silicon industry. He can be reached via the company's Website, www.linleygroup.com.