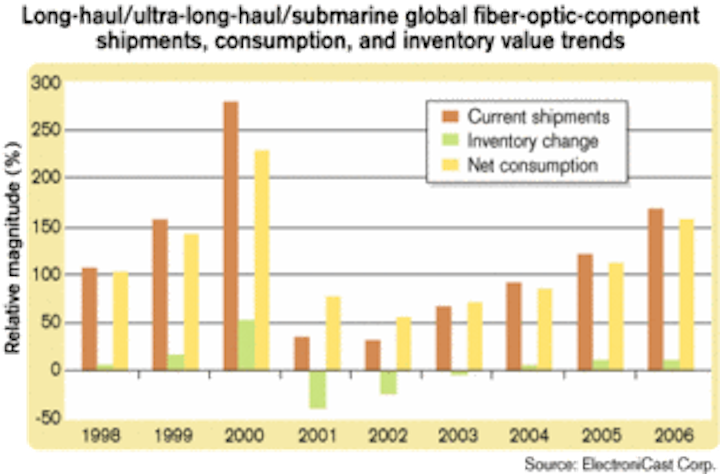 Global consumption of fiber-optic components increased steadily over the last quarter-century from $2.5 million in 1975 to $15.8 billion in 2000, and impressive growth is forecast over the next quarter-century.
The years 1999-2003 represent an aberration in this long-term trend. The magnitudes, and the specific timong of growth and decline cycles varied widely among component applications. This tumultuous period is setting the stage for a return to strong growth in fiber-optic-component consumption in 2004 and beyond.
Expectations of strong long-term growth in communications networks, coupled with an abundance of funds, fueled telecom investment during the 1999-2000 fiber-optics boom. The simultaneous build-out of numerous networks threatened the production capacities of component vendors, leading to excess ordering by equipment vendors as a hedge against shortages.
The collapse of the dot-coms and other "hot" investments foreshadowed the softening in telecom funding in mid-2000. As investments evaporated, the production of equipment for fiber-optic networks slowed and a large share of the component demand in 2001-02 was filled from excess inventories (see Figure).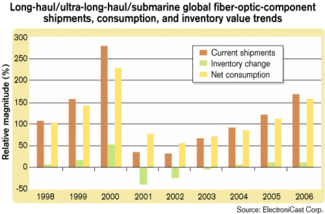 Component orders collapsed in 2001, dropping by as much as 65-75% for long-haul (LH) applications. The fall continued 15-20% more during the first half of 2002, before leveling off. During this 18- to 24-month stretch, components used in most LH equipment production were drawn from excess inventories.
During the 1999-2000 buildup, component and parts prices were firm, fixed, or even increasing, rather than in the normal decline. By 2001-02, however, prices started falling faster than normal, by more than 20% in some cases. These price drops, combined with the need to continue to draw down excess inventories, contributed to the disastrous decline in long-haul (LH) component shipment values.
LH applications, particularly new Internet and submarine networks, drove the most dramatic cycles in component and parts consumption and shipments during 1999-2003. Components for equipment used in SONET/SDH networks experienced a substantially smaller growth and decline cycle, compared to the products used in the systems populating new networks. Least affected were components for metro/access, enterprise, and SAN applications.
Looking ahead, conditions are encouraging. The growth-and-decline cycles in component shipment values were less severe in Europe and the Japan/Pacific Rim regions than in North America, which accounts for about half of the global market. By early 2003, usable components from excess inventories were exhausted for most applications. Prices were leveling off. And serious conversations with customers are resuming as vendors respond to requests for firm price and delivery quotes. The end of 2002 and early 2003 ushered in an increase in component orders. Commercially viable component startups are receiving next-round financing and less advanced companies are starting to be viewed again as viable acquisitions or partners in mergers.
Mature components designed into new equipment before 2000 still dominate the market, however. The market for newer technologies that do not plug into existing equipment or replace original components is primarily next-generation equipment. These systems will not move into commercial production until the fourth quarter, with most of the activity taking place in 2004. But with customer evaluations completed, several major vendors only await the market's revival for introductions of their next-generation systems.
The market revival will bring forth an emphasis on reduction of cost-per-function and on miniaturization. This price reduction is achieved by evolutions in component designs, such as increased integration, new concepts in packaging, size reductions, and designs-for-automation. Contract manufacturing is expected to become an increasing factor in cost-per-function reduction, with its greatest impact on producing high-volume, access or enterprise, intra-enclosure interconnect components. The highest component growth in quantity is forecast in access, subscriber premises, and intra-equipment interconnects.
Consumption of components used in LH equipment—the first market to collapse—will be the last segment to recover. Many networks face bankruptcy and the distractions of related mergers and consolidations. Although traffic on these networks is expected to increase, it will only require relatively modest build-outs of some network segments or lighting more wavelengths on existing equipment.
Overall, component global-shipment value in 2003 is expected to increase 10-15% above 2002, followed by 25-30% growth in 2004, and 30-35% growth in 2005 and beyond. Parts and device shipments will lag about two quarters behind because excess inventories remain. Within these growth percentages, individual component trends will vary substantially, depending on their application.
Jeff Montgomery is chairman and founder of ElectroniCast Corp. (San Mateo, CA), an optical technology market research and analysis firm.