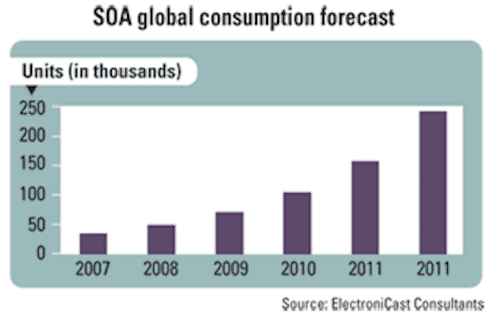 ElectroniCast Consultants (www.electronicastconsultants.com) has released a new market forecast and analysis of the global market consumption and technology trends of semiconductor optical amplifiers (SOAs). The study reports that more than 35,000 semiconductor optical amplifiers were consumed in selected communication applications in 2007. The study, Semiconductor Optical Amplifier Global Market Forecast & Analysis 2007–2012, also reveals that the worldwide consumption of SOAs will reach 240,000 units in 2012.
"The primary near–term use of these devices will be as optical switch elements in telecommunication photonic switches, for optical crossconnect and in wavelength–division multiplex links and other digital fiber–optic transmission applications," says Stephen Montgomery, president of ElectroniCast Consultants– APAC and the director of the research project.
This 281–page market forecast report, plus 164 database spreadsheet pages, is available immediately from ElectroniCast Consultants for $7,200.