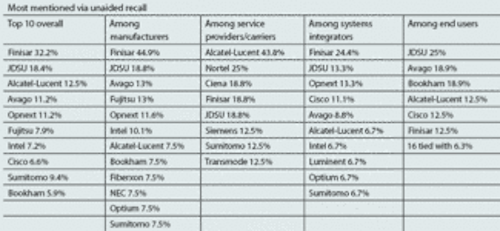 For the second year in a row, Lightwave asked those of you involved in the purchase of transceivers and transponders to tell us about the factors that go into selecting the right device for your application. Last month's "Analyst Corner" column (see "Readers renew transceiver/transponder purchase discussions,") covered the product attributes that you said most influence the purchase decision and how likely you are to switch vendors once you make a choice. This month we'll look at your opinions about the various device vendors. Naturally, for some suppliers the news is good—and for others, not so much.
Lightwave conducted the reader survey this past February with the help of market and media research company iiON Corp. (formerly Advantage Business Research; www.iion.com). Unlike last year, we included not only Lightwave subscribers but qualified readers of Lightwave Europe as well. The response rate provided us with results that bore a margin of error no greater than ±6.4 percentage points at a confidence rate of 95%, according to iiON.
Not surprisingly, the addition of the Lightwave Europe subscribers boosted the significance of the Europe, Middle East, and Africa market in the overall numbers (see last October's issue for the complete breakdown). In terms of what they do for a living, almost 44% of our respondents said they work at a systems house; 28.5% said they are employed with systems integrators, distributors, or consulting firms; 12.6% work for a carrier or service provider; and 11.8% purchase transceivers/transponders within an end-user context.
Consolidation within the components/subsystems space may not be happening as fast as many would desire, but M&A-induced erosion has worn at the roster of major transceiver/transponder vendors. Last year, we inquired specifically about 30 suppliers; this year, that number dropped to 27—and it might have been 26 had we waited long enough for Intel to finish divesting itself of its transceiver product lines. The box lists the vendors about whom we asked specific questions.
But before we introduced that roster of 27, we attempted to measure mindshare among purchasers by asking each respondent to list the first-five transceiver/transponder vendors that came to mind. The table reveals that the top-three vendors from last year retained their comparative levels of brand awareness. Our fourth company, Avago Technologies, should be commended for successfully addressing a brand-awareness problem we uncovered last year—that significantly more people thought of them by their old name, Agilent, than their current one.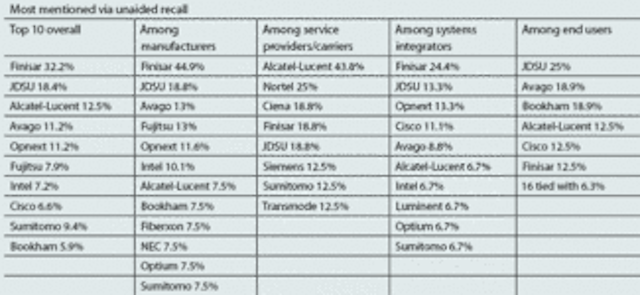 It may seem odd that systems companies such as Alcatel-Lucent, Cisco, and Fujitsu enjoy more mindshare than major component companies such as Bookham and Avanex that actually make transceivers and transponders. Fujitsu, of course, operates at both the systems and components level. However, the more likely explanation for the three companies' popularity involves the demographics of the respondents. Carriers and service providers frequently purchase transceivers and transponders from their systems supplier. The strength of this factor on brand recognition can be seen in the table, where the top-three vendors in the carrier/service provider column (and five of the top eight) are platform suppliers.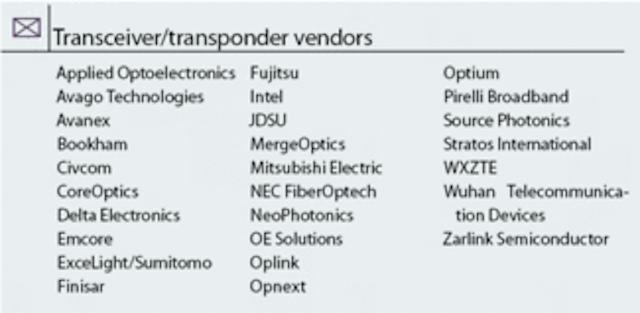 More cynical observers might suggest that our results merely show that engineers really don't know much about which companies produce what products. The survey results, in a way, support such assertions. We reported last year that our readers didn't believe they were very familiar with the product lines of their potential suppliers. This year's survey indicates this marketer's nightmare isn't over.
We provided our respondents with the list of vendors in the box and asked how familiar they were with the product lines of each company on a scale of 1 to 10, with the former representing "Not at all familiar" and the latter, "Extremely familiar." As was the case last year, only one company earned a mean score better than 6.00. Fujitsu repeated last year's feat with a score of 6.2, about the same as in our first survey. Only five other companies—Finisar, Intel, JDSU, Mitsubishi Electric, and NEC FiberOptech—did as well as a 5.00.
How could this be? As we suggested last year, there are well more than 27 suppliers in the world, and between M&A and new entrants, it's tough to keep track. Even if you have worked with a particular supplier, that vendor undoubtedly has dozens of different devices based on both ITU and IEEE standards that follow a multitude of multi-source agreements. Meanwhile, different suppliers dominate different market niches, so while a respondent might know the leading players in his/her area, that doesn't mean they would be familiar with what's available for other applications.
Despite the fact that they admit they're not very familiar overall with anyone's product line, our respondents were more than willing to offer opinions about the 27 vendors on our list.
To provide a baseline, we first asked our respondents to list the vendors who supplied them with devices in 2007. Perhaps not coincidentally considering the familiarity ratings, Fujitsu topped the list at 26%, followed by Finisar at 21.5%, Intel 19.1%, JDSU 19.1%, and NEC FiberOptech 15.4% among the top-five suppliers. All 27 suppliers had clients represented among the respondents.
We then asked our survey participants to tell us whether they viewed each supplier as "top tier," "middle tier," or "bottom tier" based on such factors as reputation, performance/reliability, and product value relative to price. Perhaps it's been a bad year for customer relations; whereas last year six vendors were called "top tier" by at least 50% of device buyers, only Fujitsu made the cut this year, and then just barely by garnering that accolade from exactly 50% of our respondents. Of the remaining companies, JDSU (43.1%) and Intel (41.1%) came closest to the mark, with Mitsubishi Electric (38.6%), Finisar (33.3%), and NEC FiberOptech (32.5%) within range. No company was labeled "bottom tier" by half of respondents—or even 40% of them.
Not surprisingly, when we asked our respondents which five companies were on their short list for more purchases this year, the roster includes the highest-rated companies. Fujitsu led with 41.9%, followed by Intel with 32.1% (which is good news for Emcore, since it purchased the telecom, enterprise, and storage assets from Intel's Optical Platform Division), JDSU 30.5%, NEC FiberOptech 30.5%, Mitsubishi Electronic 29.7%, and Finisar 24.4%.
Stephen Hardy is the editorial director and associate publisher of Lightwave.