Undersea network planning improves time-to-market
Sep 1st, 2006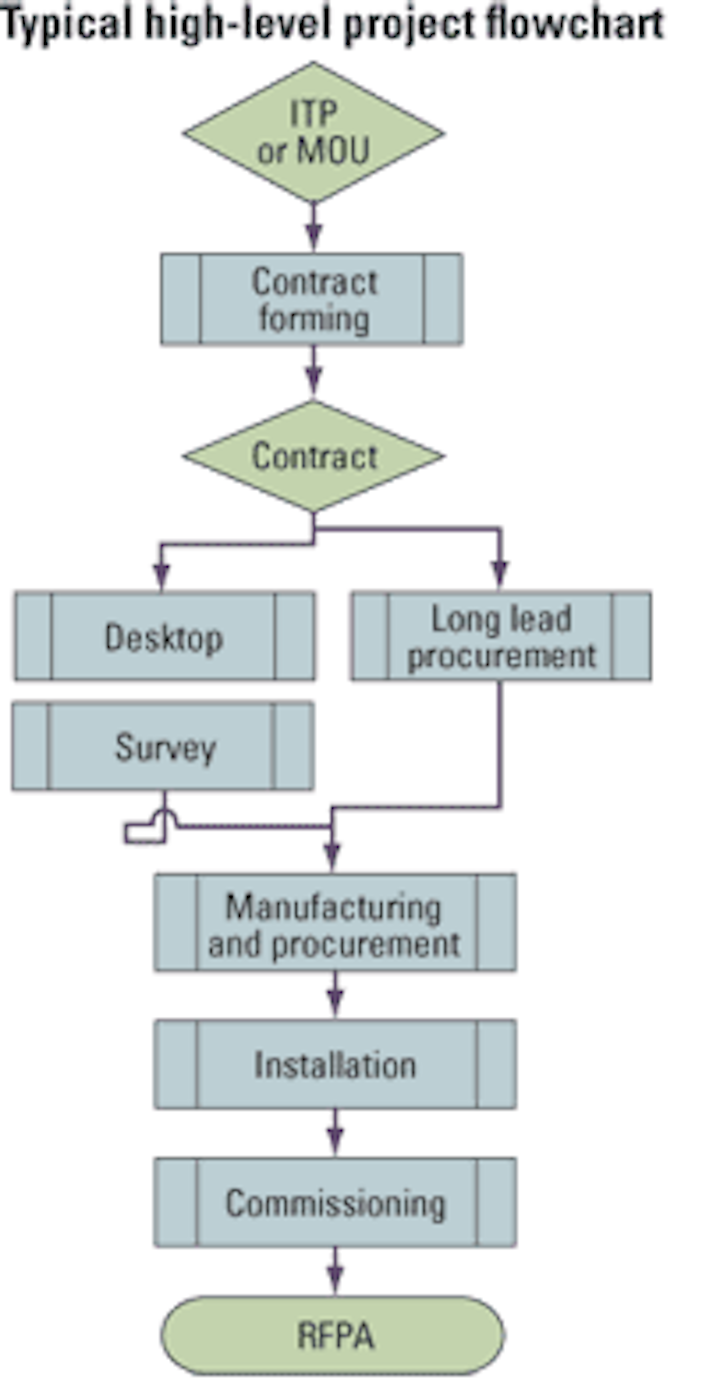 Undersea fiber-optic systems offer unmatched reliability and capacity for all manner of communications networks. Whether it's a transoceanic system or a connection between an island region and the networked mainland, there is tremendous upside to installing subsea network systems.
It is critical to provide capacity on newly constructed systems in the shortest time possible for system owners to meet or exceed business case expectations. Therefore, undersea projects must be managed in the most efficient and effective way possible-minimizing risk and speeding time-to-market.
The critical factors in reducing project implementation time and risk are:
• The manufacturing backlog of the suppliers.
• Preliminary planning of the project.
• Project implementation methodologies and quality.
• Initial capacity needed to meet business plan objectives.
• The cooperation between the supplier and owner during the construction.
These factors should be major points of discussion when a system owner chooses a solutions provider. An open and honest dialogue among all parties is critical to setting realistic expectations and goals and to ensuring a smooth implementation.
Important points to consider when beginning a subsea project are preliminary, precontract planning and project implementation methodologies and quality control. There are approaches that can be used during the planning and implementation phases of submarine projects that can reduce traditional time-to-market intervals by as much as 4 to 6 months.
Local and regional laws governing permitting, licensing, and construction permits can hold up a project by months and even years without proper advance planning. Further, an understanding of weather windows within which construction and landing are feasible is critical to realistic and rapid project implementation. Spending time in the beginning to plan well will save money, time, and resources.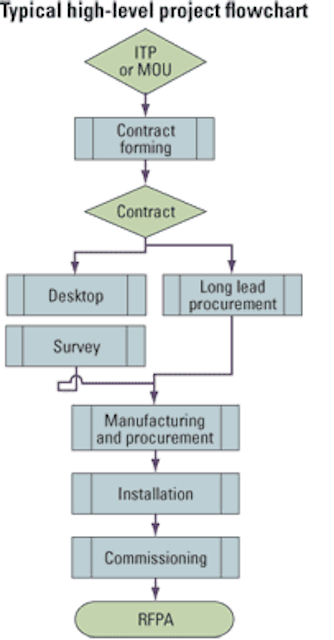 Figure 1. The standard method of launching and implementing an undersea network project leaves significant room for improvement.
One option to consider as a component of preliminary planning is the use of a desktop study. Such a study provides a direct way to obtain, for example, the required permitting information. The study aids in the permitting process as well as understanding the initial route and landing location. Changes during this stage of the project related to the landing site, accommodating permitting barriers, selecting marine routes, or terrestrial connectivity to the landing station do not significantly affect the project duration. Contracting for a desktop study prior to the contract coming into force is highly recommended for project optimization. Desktop studies will also state if there are potential weather windows to avoid. Installation should occur when the weather window is most favorable for marine work to avoid downtime.
There are three key steps in preliminary planning. The first critical step is the identification of the system's geographic locations. Once the locations are identified, a brief preliminary analysis of the ability to obtain an operator's license within each country should be conducted. The best approach to obtain this information is to contact local counsel with experience in the telecommunications market. The contact will be able to provide advice on the interval needed to receive a license or if a landing party will need to partner with the owner to land/operate the system.
Once the need for a partnership is determined, the second step-identification of potential landing parties-should begin as soon as possible. When the landing party partner has been selected, the team should proceed to negotiate and sign a landing party agreement as quickly as feasible. In circumstances where no landing party is required, the owner should begin the process to file for an operator's license. This is critical in most countries because operational permits cannot be requested or obtained until the operator's landing license has been granted. This license allows a supplier to begin filing for operational permits immediately after contract signing.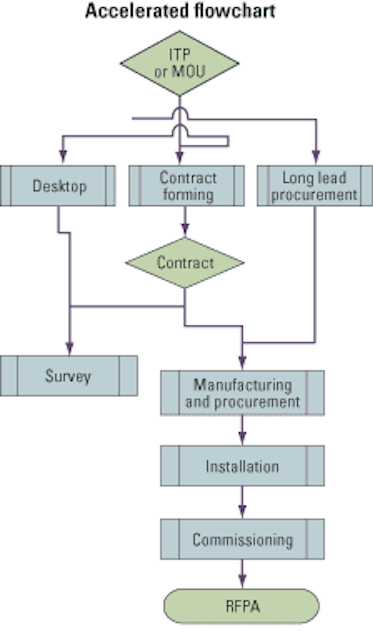 Figure 2. With careful planning and a willingness to start some processes earlier and in parallel, owners and suppliers can work together to accelerate project completion.
The third step in site selection is determining the feasibility of obtaining construction permits, both land and marine. Evaluation of the permits in various municipalities within a given country can determine if the approval of permits will be a three-month or two-year process. If the approval process is too lengthy, potentially due to environmental impact studies, an alternative site may be selected and the system design can be modified to ensure that the key cities are still being integrated.
Despite the best preliminary planning, there will be situations in which a country has a permitting cycle that is so lengthy it threatens to throw the entire project off course. In this case, system owners may opt to install a branching unit, independent of the municipality selected for the landing site, which will eventually enable connectivity into a country whose permitting process is too lengthy. This strategy facilitates generation of revenue on the remainder of the system while awaiting approval to land in countries not initially included. Branching units also shorten the interval necessary to bring these countries online when permitting is approved. Selection of a site that will not change during the implementation of the project, or be burdened with prolonged permit intervals, is critical to maintaining the accelerated schedule.
Finally, preliminary planning of initial capacity (the number of wavelengths and the number of fiber pairs being lit) can reduce the project schedule interval while allowing an owner to turn on the first few wavelengths for capacity sales. The remainder of the wavelengths can be added on an as needed basis. Lighting a single fiber pair with multiple wavelengths rather than one wavelength on multiple fiber pairs will save time on installation and testing.
Project implementation of subsea networks is complex. Reducing implementation time is not an easy task, yet focusing on certain elements can have an enormous impact in shortening time-to-market. These elements are:
• Permitting
• Route survey and engineering
• System engineering
• Manufacturing and procurement
• Installation and testing
As shown in Figure 1, the standard intervals and relationships between the work items can be improved for each of these major categories with cooperative efforts between the owner and supplier.
The implementation phase for the system supply begins with an "intent to proceed" (ITP) or "memorandum of understanding" (MOU) arrangement between owner and supplier. The next one to two months are spent negotiating the details of the contract, technical approach, and overall expectations (contract forming). It is essential to maximize planning during this time, through collaboration between both parties, for any significant interval reduction to be achieved.
The two critical implementation activities to be initiated during this phase-if they have not been completed in the preliminary planning stage-are a desktop study and long-lead material ordering. A desktop study should be undertaken to facilitate route survey and engineering and permitting activities immediately after the contract is signed. Long-lead material orders can be placed during the contract-forming phase if sufficient funds have been provided with the ITP. This enables the purchaser to reserve space in the manufacturing queue at the supplier's factories. Depending on the length of negotiations, this may save one to two months. Figure 2 captures the impact of these actions.
Two other activities depend upon information derived from the route survey and engineering and desktop study efforts: cable manufacturing and system design. Cable armoring and integration can be modified based on the route survey and engineering output. Current technology enables a reduction in the route survey/route engineering interval as route survey data can be processed during the survey and transmitted to the route engineering team for real-time engineering of the system. This can potentially save a month of engineering time after the entire survey is complete. The owner should participate in both the deep-sea and near-shore surveys to ensure that each is engineered and approved in the shortest time possible.
As the project moves into the manufacturing phase, flexibility is important in maintaining interval reduction options. Consideration might be given to staging cable or using freighters to transport and stage cable at or near the cable grounds. Separating the marine program into a main lay and burial program with two different vessels can reduce the overall interval, although the cost of the program would be higher due to an additional transit and mobilization. The burial portion of the program would be installed first because this is typically the longer of the two marine programs. This is particularly relevant for systems with more than 600 km of burial.
Factory acceptance tests are an integral aspect of time-effective practices. Traditionally, purchasers request to witness factory testing on all products. All equipment is tested in the factory and the results are provided to the purchaser. Purchaser-witnessed testing is traditionally a repeat of a majority of these tests and can be eliminated or minimized to one piece of each type of equipment. The initial factory test results can be compared to the customer-witnessed rerun of the tests, ensuring the product performs according to specifications. Purchaser confidence trials during manufacturing should also be eliminated to reduce the project interval. Overall, these measures can reduce the dry plant manufacturing interval by one month.
Dry plant commissioning focuses on each segment as the final splices are achieved and evolve into a parallel effort. Testing intervals can be improved through the elimination of separate purchaser test periods by incorporating these tests into the standard commissioning program. Purchaser representation during the approval of test results is highly recommended because it can eliminate the time required for a separate review period of the results. These efforts can eliminate one to two months in the overall schedule.
Effective up-front planning and initial groundwork, which will minimize change in scope after contract signing, can lay the foundation for a successful implementation. While much will be contingent upon the manufacturing backlog of suppliers, accelerating time-to-market is possible given the right circumstances and cooperative efforts between the supplier and purchaser. There is no doubt that efficient preliminary planning between the supplier and purchaser continues to be the key item in reducing project risk during implementation.
Debra Brask is managing director of project management at Tyco Telecommunications (www.tycotelecom.com). She has been with Tyco Telecommunications since June 1997. In her current position, Brask manages the company's project management, documentation, and training organization. Prior to joining Tyco Telecommunications, she was program manager at Lucent Technologies, where she managed various government programs.