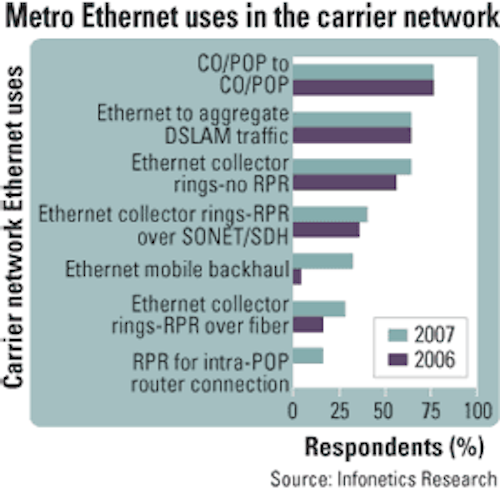 An Infonetics Research study of 25 top-tier service providers in North America, Europe, and Asia Pacific confirms that Ethernet continues to go mainstream and will eventually dominate the metro space, as SONET/SDH slowly but surely declines over the next 10 to 20 years.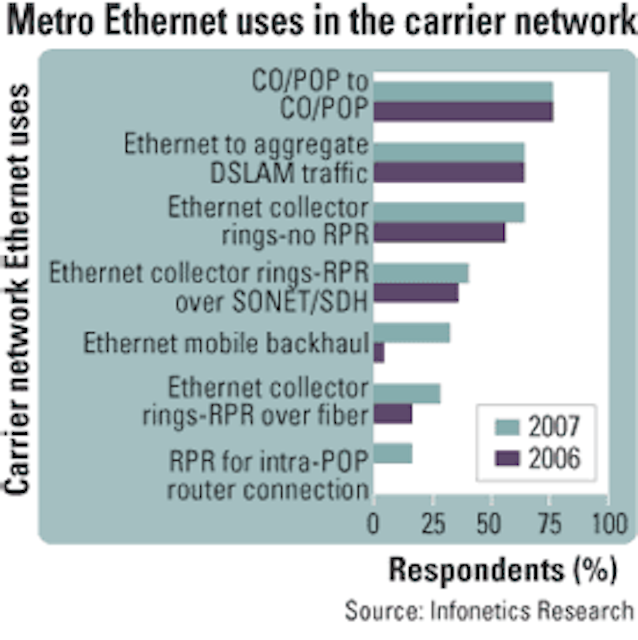 According to the study, the percentage of access or collector rings/mesh that are Ethernet-based will jump from 32% in 2005 to 60% in 2007 and beyond.
"The trend is clear: Ethernet is growing in the access space to the detriment and displacement of SONET/SDH, as service providers continue to look for ways to reduce operating expenditures and enable new revenue streams," contends Michael Howard, principal analyst of Infonetics Research and lead author of the study.
He also says the Ethernet adoption curve is accelerating now that manufacturers have addressed the quality of service (QoS) issue that plagued service providers. "As a result," says Howard, "QoS dropped from the top of the list of technical challenges last year to number seven this year."
The report also finds that the number of service providers offering Ethernet over WDM will increase from 80% in 2006 to 92% after 2007; service providers offering Ethernet over SONET/SDH will decrease from 88% to 60%. Forty-eight percent of providers plan to deploy next-generation hybrid Ethernet-WDM-SONET/SDH equipment.
For more information about the report, "Service Provider Plans for Metro Optical and Ethernet," visit Infonetics Research at www.infonetics.com.