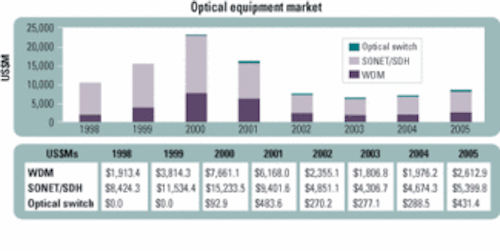 By Shin Umeda
The optical equipment market was the epitome of the technology boom and bust of the late 1990s and the turn of the century. As telecommunications and Internet service providers rushed to construct optical communications networks, they spent billions of dollars on optical equipment to move Internet traffic across the thousands of kilometers of newly laid fiber-optic cables. Sales of optical equipment skyrocketed from the mid-1990s to a peak of $23 billion in 2000, only to plummet to less than one-third that size by 2003.
The collapse of the optical equipment market was part of the chaos that overtook the entire optical communications industry, in which myriad companies shut down and tens of thousands of workers lost their jobs. After three years of declines, the optical equipment market finally stabilized in early 2004. By the end of the 2004, optical equipment sales started to grow and a market recovery ensued.
Demand for optical equipment accelerated in 2005, as service providers around the world changed their approach to investing in their fiber-optic networks. The investment mindset changed from a tactical, business sustenance approach to a long-term strategic view that valued services expansion. This led service providers to direct capital outlays in 2005 to optical equipment, lifting sales in all regions of the world and across all equipment categories. The total optical equipment market increased 22% and surpassed $8 billion.
From a regional point of view, North America registered the highest growth rate in 2005, followed by Asia-Pacific, then Europe.
During the industry downturn, North American optical equipment sales fell significantly as service providers consumed the excess network capacity that resulted from their overzealous network expansion projects from the boom years. By mid-2004, North American service providers had consumed much of the excess network capacity and started projects that would enable the expansion of consumer broadband and high-bandwidth business services. North American optical equipment sales grew a robust 29% over the prior year.
Because European service providers did not build out their optical networks in the boom years to the same extent as North American service providers, the European optical equipment market started improving earlier. Double-digit sales growth in 2005 continued the momentum that began in early 2004.
The Asia-Pacific region experienced strong growth in 2005, due in large part to strong network expansion projects in Japan. Optical equipment sales into China, the largest market in the Asia-Pacific region, grew at a modest low-single-digit rate.
The optical equipment market comprises three technology segments: SONET/SDH multiplexers, DWDM systems, and optical switches. Each of the segments posted double-digit growth rates in 2005, indicating strong demand for equipment deployed in both metropolitan and long-haul optical networks.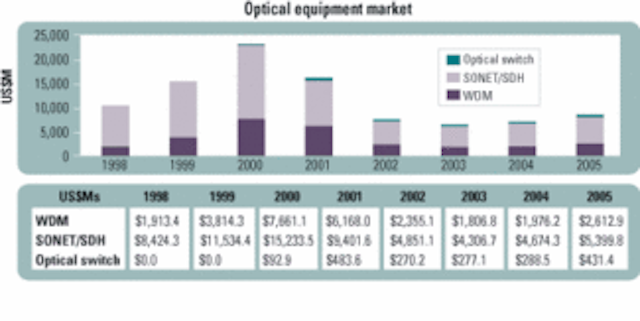 The optical equipment market showed an increase of 22%, surpassing $8 billion in 2005.
The SONET/SDH multiplexer segment accounted for almost two-thirds of the overall optical equipment market in 2005 and grew 16%. Often considered a legacy technology, SONET/SDH multiplexers are installed in virtually all service provider networks around the world and continue to be the technology of choice for metro optical networks.
For the four years preceding 2005, service providers invested minimally in DWDM long-haul networks due to the excess capacity. Sales of DWDM long-haul systems rebounded in 2005 as excess capacity began to diminish, and service providers moved to take advantage of technologies that offer greater transport and operational efficiencies. Sales of DWDM long-haul systems grew last year for the first time since 2000.
The promise of DWDM metro systems has been higher capacities compared to SONET/SDH multiplexers. In the past, high prices and limited network architectural flexibility have prevented DWDM metro systems from replacing SONET/SDH multiplexers at a rapid rate, despite the capacity advantages. In 2005, falling prices and evolving DWDM system technologies such as reconfigurable optical add/drop multiplexers (ROADMs) enhanced the appeal of DWDM metro systems, resulting in 40% sales growth.
Optical switch sales grew at the fastest rate of all segments but represented only 5% of the overall market. Used in both metro and long-haul networks, optical switches are niche products that act as intermediary devices that interconnect networks and subnetworks.
The improved market conditions in 2005 led to improved sales for almost all of the major optical equipment vendors. The optical market is stratified such that leading vendors generally hold a very strong market-share position in one of the major regions but weaker or nonexistent positions in the other regions. For example, Fujitsu, Alcatel, and Huawei held the top positions in the three largest regions, North America, Europe, and Asia-Pacific, respectively. None of these vendors was able to register in the top three outside of their stronghold regions.
The outlook for the 2006 optical equipment market is positive as the demand drivers that sparked the market last year remain in place. The transport of broadband-derived network traffic will continue to drive metro deployments of SONET/SDH and DWDM equipment. Growing traffic on long-haul backbone networks will push demand for long-haul DWDM and optical switches.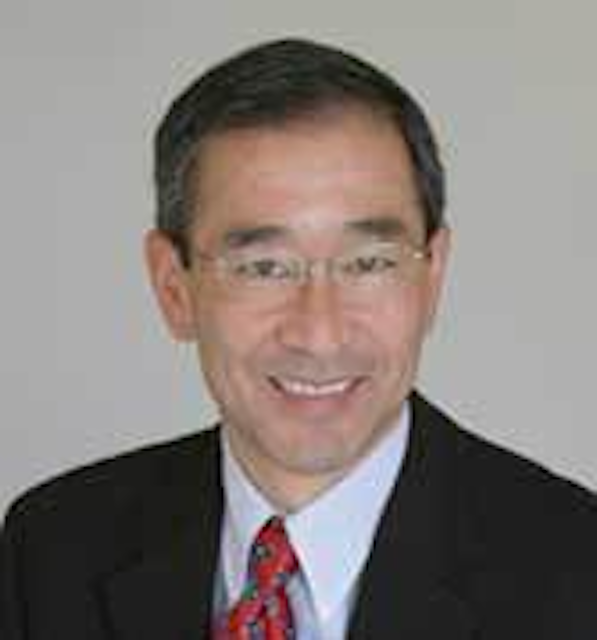 Shin Umeda is principal analyst at Dell'Oro Group (www.delloro.com). He is responsible for creating and managing Dell'Oro Group's optical transport research program and for covering the router market research program.