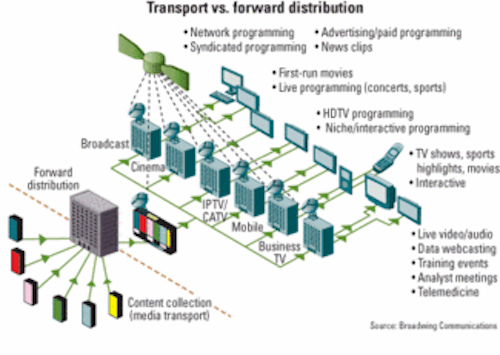 Television broadcasters today are spending roughly $9 billion on satellite services, say industry insiders. While the majority of that cost goes directly toward the distribution of broadcast TV via satellite, about $1 billion is used for "contribution," in which high-bandwidth camera feeds from stadiums, concert halls, and other venues are transported to various production and post-production facilities. A vast majority of this transport could-and should-be done over fiber, say optical equipment vendors. Some service providers have begun to prove them right.
A media transport network comprises two distinct parts: the contribution network and the distribution network. The contribution network connects the sports arenas, convention centers, and other venues with production facilities; it is used to exchange raw video and audio content among broadcasters, news crews, TV stations, and studios before post-production has occurred. By contrast, the distribution network, sometimes known as the forward distribution network, transports broadcast-quality content from the production facility, content owner, or rights owner to intermediary distribution points, such as cable headends, telco IPTV headends, and even satellite uplinks.
Figure 1 illustrates the two portions of the media services network, with the lower left-hand corner depicting the content collection or contribution network. Raw video and audio content is transported to the production facility, after which it is sent, via the forward distribution network (in the upper right-hand corner), either to the content receiver directly or to a satellite, which then distributes the content to the receiver.
While satellite transport is typically used in the forward distribution network and tapes or disks are used to transport content, via courier service, from creation site to production facility, these alternatives increasingly are being replaced with terrestrial fiber-based links. The emergence of high-definition television (HDTV) is driving this migration.
Two recent regulatory rulings have accelerated the use of digital television and, more specifically, HDTV in the U.S. In December of 2005, Congress passed a budget bill, "The Deficit Reduction Act of 2005," which calls for the cessation of all analog TV broadcasts on February 17, 2009. From that point forward, all TV in the U.S. will be digital, and television sets with traditional National Television Systems Committee (NTSC)-defined tuners will be unable to receive over-the-air signals.
Contributing to the rapid deployment of HDTV services is the Federal Communications Commission's (FCC) mandate that all television sets of a certain size must have a built-in HDTV tuner as of a certain date. Since March 1, 2006, all television sets 25 inches or larger are HDTV-compatible, and all television sets, regardless of size, will be compatible as of March 1, 2007.
"Once the competitive market is there, everyone is going to be forced-in order to keep up with the Joneses-to go to this high-definition transmission," contends Max Basch, director of advanced optical and data networking services for Verizon Business (www.verizonbusiness.com), which recently launched a digital video transport service over optical fiber in 13 Northeast and Mid-Atlantic states.
Of course, the migration from analog to digital TV already is occurring-hastened by consumer demand. Last year, 93% of all production was done in digital format versus the traditional analog format, reports Per Lindgren, vice president of business development and cofounder of Net Insight (www.netinsight.net), a Swedish vendor of optical networking equipment focused on media-rich services. Moreover, he adds, more content overall was produced over the last two years than in the whole of the last century.
Not only is there an exponentially larger amount of video content in both the contribution and distribution networks, but an increasingly larger portion of that content is high definition, which increases the bandwidth demand by a factor of six or seven, say industry insiders. For high-bandwidth HD signals, fiber transport is becoming a necessity.
This is particularly true at remote venues where transmission originates. Say a local TV station is broadcasting a baseball game in high definition. The uncompressed signal that comes out of the back of an HD camera is just shy of 1.5 Gbits/sec.
"The basic problem with HD is that the data rate is so high, you can't run very far [from the camera] on what's typically coax cable," explains Mark Benton, director of product development for Stratos Optical Technologies (www.stratoslightwave.com). "You certainly can't get more than a few hundred feet in a building or around a football stadium. You have to go to fiber when you get to HD," he asserts. "You really have no choice, and that's what creates the opportunity at the end of the day."
The problem will only get worse. There are different types of HDTV formats, which require ever-escalating amounts of bandwidth. At the 1.5-Gbit data rate, video can be formatted in 720p (for "progressive") and 1080i (for "interlaced"). In a progressively scanned format, every pixel on the screen is refreshed simultaneously, while in an interlaced format, they are refreshed twice per frame, first the even lines, then the odd lines. 720p features 720 horizontal lines of progressive resolution, meaning that 720 lines are presented to the human eye every 1/60th of second. 1080i also is based on the 1.5-Gbit/sec data rate, and while it features the maximum 1,080 lines of HDTV resolution, those lines are interlaced rather than progressively scanned; only 540 lines are presented to the human eye every 1/60th of a second.
Now, the Society of Motion Picture and Television Engineers (SMPTE), an international standards body, is pushing for the use of 1080p, which is considered true or ultra HDTV. It features 1,080 lines of progressively scanned resolution and runs at 2.97 Gbits/sec, nearly doubling the bandwidth coming out of the camera. "If you think that out over the next three or four years, it's just going to push more and more fiber both into the space and into the equipment that is used in the space just because of the sheer increase in data rate," contends Benton.
Once these new HD signals leave the ballpark or any other remote transmission site, fiber should become equally as critical in the rest of the contribution network. That's because production facilities prefer the signals to remain in an uncompressed format; compression lowers signal quality. "You want to have the highest quality as far and as deep into your network as you can possibly get before you do your compression," notes Brian Wilson, product manager with Verizon Business. "Most HD signals have to be compressed at one point or another, but the further and deeper into the network before that compression, the better the quality is."
One carrier that has taken advantage of this opportunity is Broadwing Communications (www.broadwing.com). The company offers media services delivery over what it claims is the largest Dynamic Synchronous Transfer Mode (DTM) network in the world.
Standardized by the European Telecommunications Standards Institute (ETSI), DTM effectively acts like next-generation SONET. But SONET is relatively rigid, offering 1.5-Mbit/sec T1s, 45-Mbit/sec DS3s, and 155-Mbit/sec OC-3s to OC-192s. DTM is also a time-division multiplexed protocol, but it is less rigid, allowing time to be broken into 512-kbit to 1-Gbit increments. Essentially, DTM enables more efficient utilization of the network.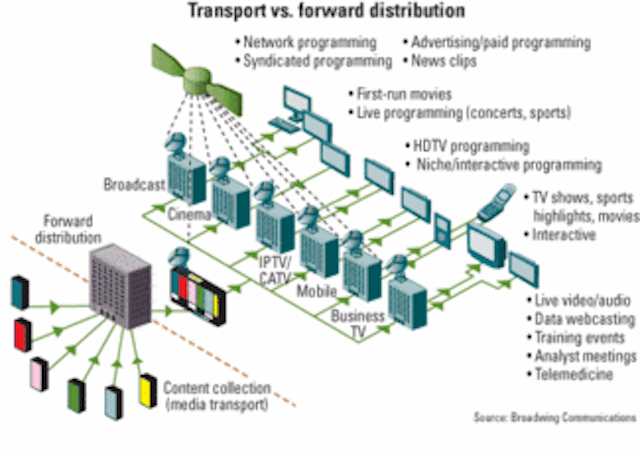 Figure 1. Broadwing's DTM-based media service network handles both contribution, the transport of uncompressed video between remote locations and production facilities, and forward distribution, the transport of video from production facilities to intermediary distribution points.
"The key to it really is that you channelize your optical pipe," explains Lindgren, whose DTM-based products are used in Broadwing's network. "From a service perspective, you get a connection, end-to-end, that is always separated from other traffic. You're always guaranteed that what you put into the network comes out at the other end the same way, more like you have with a telephone service."
Traditional data networks, by contrast, rely on prioritization within the network, which works fine if you don't have too much high-priority traffic, says Lindgren. But if you have a network with 80% to 90% high-priority traffic, you will start getting packet loss and large delays. "You can't have that in a media network," he notes.
As such, DTM has emerged as "the dream protocol for media applications," says Jamey Heinze, director of data services at Broadwing. "The Super Bowl, for example, is as mission critical as it gets."
Since 2004, Broadwing has provided fiber-based transport services in the contribution portion of the value chain, which Heinze says represents "the real low-hanging fruit for us." He confirms that Broadwing has a fiber connection into most Major League Baseball stadiums and National Basketball Association arenas, with fiber into National Hockey League rinks currently in development.
"Once you are built into a stadium where there's going to be game after game after game, the cost can really be justified. We were doing upwards of five or six Major League Baseball games a day across our backbone at the end of the season last year," he recalls, "and that's growing this year."
An additional advantage of running fiber directly to major sports arenas, concert halls, and venues is the ability to deliver a range of services via that single connection (see Figure 2). Broadwing's EventServices platform, for example, enables broadcasters to access long-distance and local voice services, compressed and uncompressed SDTV and HDTV, and high-speed data for large file transfers of graphics and the like.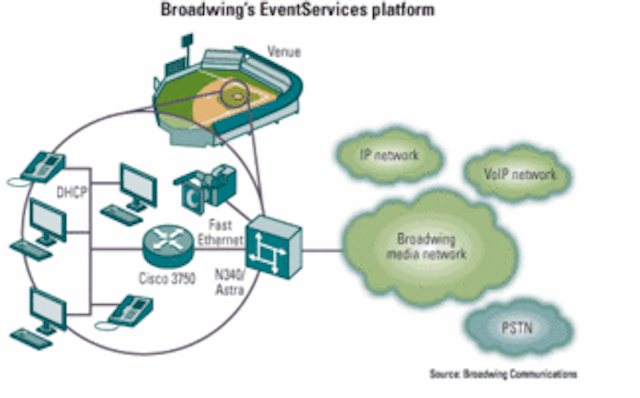 Figure 2. Thanks to a direct fiber connection in most Major League Baseball stadiums, NBA arenas, and other major venues, Broadwing can deliver voice, video, and data services via a single connection to broadcast crews on location.
Because Broadwing is leveraging a fiber infrastructure, it can easily offer a dedicated service option, "which looks a heck of a lot like a private line," says Heinze. "We can scale it asymmetrically and give any granularity of speed and 100% quality-of-service guarantee because it's literally a TDM infrastructure."
What is more compelling, however, is Broadwing's occasional use service. Baseball games, for example, last 3 to 4 hours at a time; it does not make sense for a broadcaster to buy a dedicated private line. For this reason, Broadwing allows broadcasters and content-creation entities to purchase service by the hour, the half hour, or in even smaller increments. Broadwing then schedules, provisions, and monitors the service from its television operations center (TOC) in Baltimore, MD.
The second phase in Broadwing's media services rollout was the forward distribution service, introduced at GlobalComm in June. According to Heinze, both rollouts have been a success, as evidenced by the carrier's steady growth. In 2004, Broadwing had just four DTM nodes in its network. Today, it has more than 100 nodes in 44 cities, making it the largest in the world.
Broadwing isn't alone in its assertion that the media services industry represents a lucrative vertical market. Many of the telephone companies have carried NTSC-based TV1 and TV2 analog video over their networks for years, but now they too are making the jump to HDTV transport. Verizon Business, for example, recently announced a high-definition digital video transport service (DVTS) for broadcast and entertainment companies in 13 states in the Northeast and Mid-Atlantic regions. However, Verizon Business does not use the DTM protocol for its transport.
"Our service is called Serial Component Video Service," explains Wilson. "It's built to transport an industry-standard, video-formatted signal at 270 Mbits/sec. The high-def service that we just launched is an extension of that video transport product line, and it operates at 1.485 Gbits/sec."
Due to regulatory rulings, Verizon is not allowed to process the data it transports point-to-point; it can only do the necessary electrical-optical conversion. The carrier accepts video signals in the approved format for uncompressed HD transport, which is known as SMPTE 299M. This is an electrical signal, which is then converted to optical to be transported over Verizon's fiber network in what the carrier claims is "the highest-quality, uncompressed, real-time video format."
When asked how big the DVTS business could be compared to the traditional broadcast business, Basch admits he's uncertain. "But we believe that every single provider will have to now move in a time frame that is going to be sooner rather than later to this new definition, high-definition TV," he says.
Wilson agrees, noting that Verizon Business developed the service based on customer requests. "We've had customers that have been asking for this on an ongoing basis, if we were going to develop uncompressed, high-def transport services," he reports. "The industry is looking for this type of service, and Verizon is providing it."
Traditional telecom vendors also are getting in on the media services opportunity, adapting their existing technology to suit the needs of production-quality video transport. For them, broadcast television transport has become another vertical market segment, like the healthcare or financial services industries.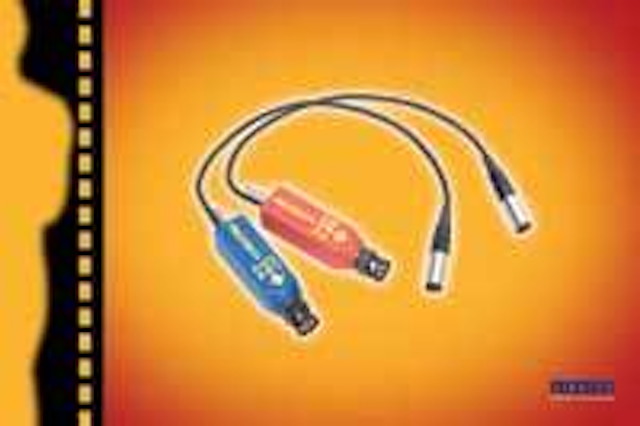 Stratos Optical Technologies' HDTV-optimized media converters, connectors, and transceivers were used to deliver this year's Oscar telecast and the recent PGA Tour and U.S. Open golf tournaments, and are currently in use in the BBC's largest television studio.
Stratos Optical Technologies (www.stratoslightwave.com), for example, decided to leverage its transceivers, connectors, and media converters for use in the broadcast TV industry following the bursting of the telecom bubble. While they still represent a fraction of the company's $80 to $100 million/year business, media services are "a strategically growing part of what was the traditional transceiver business," reports Mark Benton, director of product development at Stratos Optical Technologies.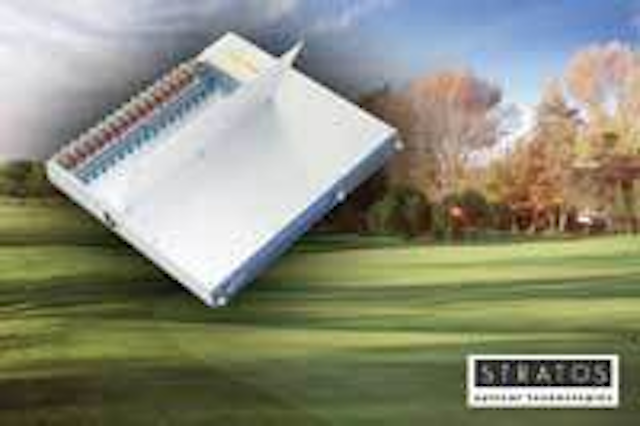 The company's optical products have been used in the delivery of a number of major televised broadcasts, including the Super Bowl, the Rose Bowl, the Athens Olympics, presidential inaugurations and State of the Union addresses, and even the "American Idol" TV program.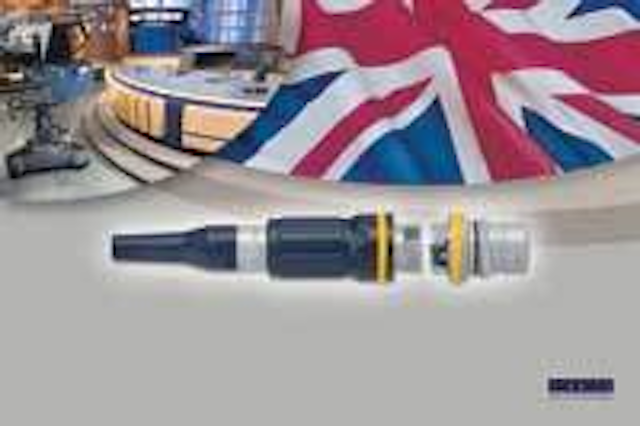 Last spring, MRV (www.mrv.com) introduced a family of digital video small-form-factor pluggable (SFP) transceivers that enables the transport of uncompressed high-definition (HD) video over existing fiber backbones. Each SFP features a coaxial cable connector that takes the digital signal from the back of a camera and feeds it into an SFP-based system that converts it into an optical signal for transport over dark fiber.
"It really kicks open the door to using traditional optical routes, existing infrastructures, to the point where you can take even 20-year-old plant to directly support high-definition television," contends Tim Smith, optical transport specialist at MRV. "It really circumvents a lot of the data infrastructure that's there."
Net Insight (www.netinsight.net), meanwhile, develops optical network transport equipment focused on media-rich networks. The company's Nimbra platform combines next-generation SONET/SDH transport, Ethernet access, and traditional telecom and native video interfaces for multiservice networks, enabling broadcasters, media companies, and carriers to deliver triple-play services.
Per Lindgren, vice president of business development and cofounder of Net Insight, believes the accelerating demand for high-definition TV (HDTV) will only increase the market opportunity for equipment vendors like Net Insight, MRV, Stratos Optical Technologies, and others. "I know a lot of operators that are very much looking for 'How can I fill my networks?' because they have invested a lot in optical networks, in wavelength-division multiplexing that is not used," he says. "They need to find new market segments where they can increase their revenue, and this is definitely one of those new market opportunities."