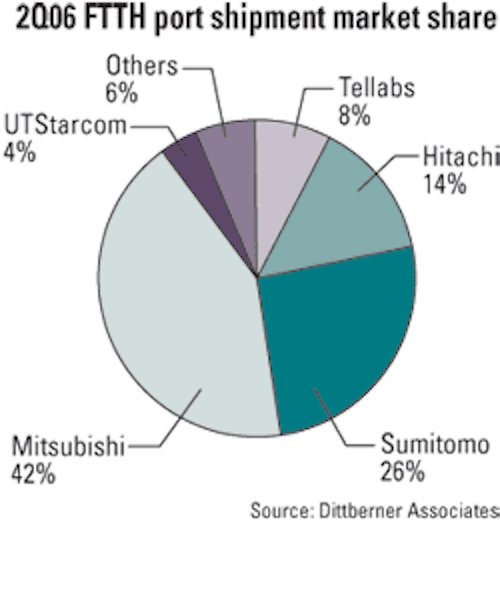 FTTH shipments in the second quarter of 2006 increased 18% from the previous quarter and a whopping 245% from the same time last year, reveals Dittberner's latest "Broadband Quarterly Shipment Analysis." NTT accounts for more than 80% of the total global market, with Verizon's FiOS initiative the only other significant deployment.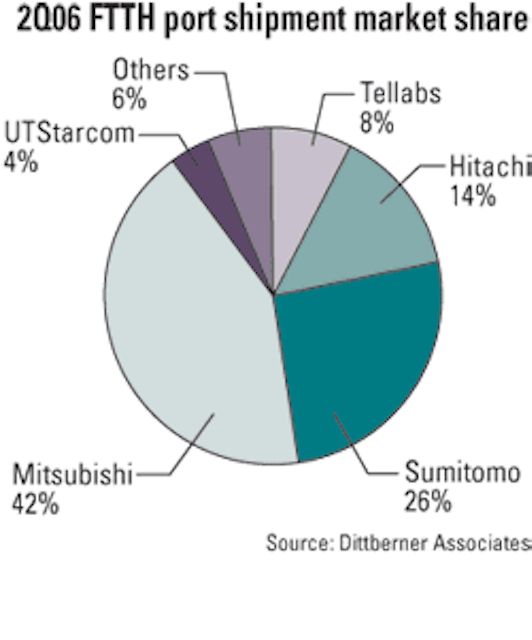 The top three vendors in terms of shipments-Mitsubishi, Sumitomo, and Hitachi-are all main suppliers to NTT. Tellabs, which is Verizon's main FiOS supplier, captured the fourth spot.
Thanks to the continued erosion of wireline telephone subscribers (mostly to the MSOs, says the report), Verizon is accelerating the rollout of its FiOS services. The carrier recently announced that it has 375,000 FTTH subscribers to its FiOS high-speed Internet service, of which 111,000 were added in the second quarter alone.
According to the report, the majority of ports shipped were of the GEPON (or EPON) variety, with BPON composing the rest of the market. GPON, which Verizon will start deploying next year, today makes up just 1% of overall shipments.
Dittberner's "Broadband Study," an ongoing market research service updated quarterly, tracks DSL- and FTTH-based broadband vendors and their market shares. For more information, visit www.dittberner.com.