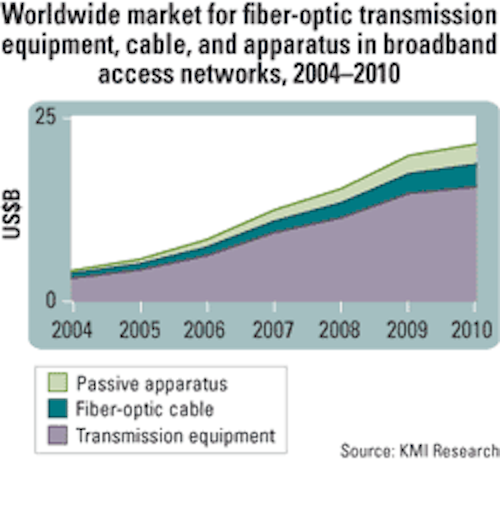 Over the next 5 years, worldwide spending on fiber-optic systems used for broadband access will total $77 billion, increasing from $8 billion this year to $21 billion by 2010, say KMI Research analysts in the firm's new report, "Worldwide Markets for Fiberoptics in Broadband Access Networks." KMI includes transmission equipment, fiber-optic cable, and passive apparatus, such as cabinets, closures, and splitters, in its definition of fiber-optic systems.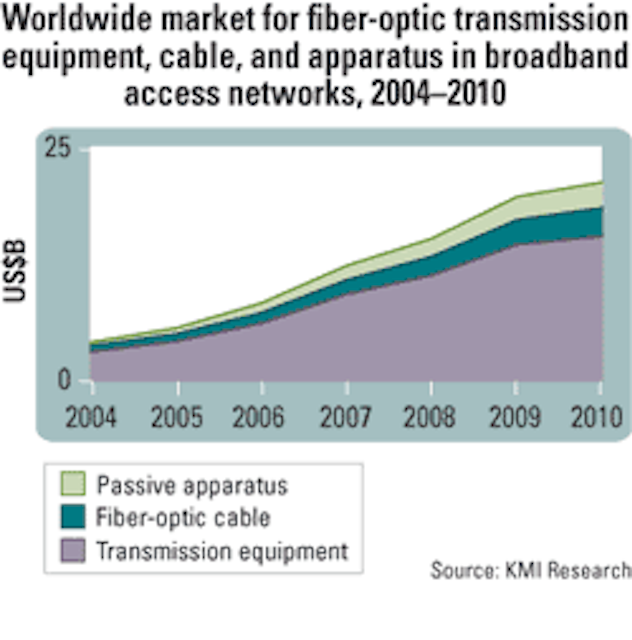 According to lead analyst Richard Mack, all-optical architectures (in which fiber is extended all the way to the customer's building) will serve an increasing percentage of the world's broadband subscribers throughout the forecast period. In 2005, only 7% of the world's broadband subscribers received service via a fiber-to-the-home/building (FTTH/B) architecture, but by 2010, this percentage will have increased to 27%.
Two factors are contributing to the overall increase in demand for fiber-optic systems, says Mack. First, service providers already offering copper-based ADSL will extend fiber further into their loop plant to support higher speeds. Second, service providers offering broadband access for the first time are using fiber, either to enter an established market as a new competitor or to benefit from its cost advantages for bandwidth, distance, and density requirements.
With Korea, Australia, and several emerging markets, the Asia-Pacific region accounted for 70% of the world market. Although Europe and other regions will experience faster growth in the next five years, the Asia-Pacific region will remain 50% of the worldwide market for fiber optics in FTTX networks through 2010.
KMI's new report covers both fiber-fed DSL system architectures, including fiber-to-the-node/curb (FTTN/C), as well as FTTB and FTTP systems. For more information, visit www.kmiresearch.com.