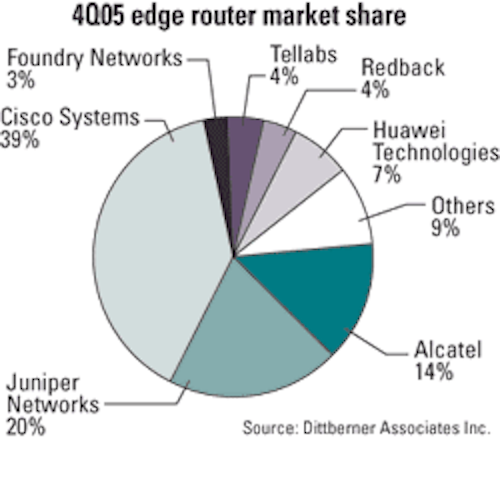 A recent report by Dittberner Associates (Bethesda, MD) finds that the overall market for public network switches and routers increased by 20% in 2005, to reach $7.3 billion. The study concludes that while the multiservice switch market declined by 5% year-over-year to a little less than $2 billion, the core router market saw 16% growth, and the edge router segment grew by 55% to become the largest of the three segments.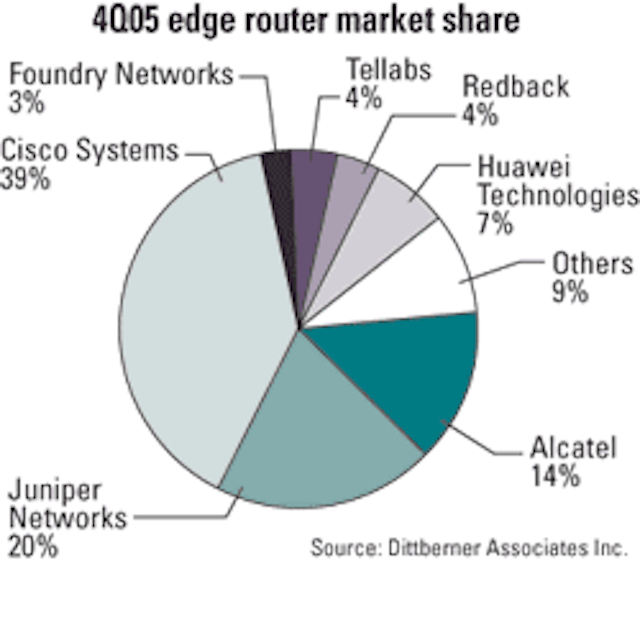 Market share for edge router segment in 4Q05.
The report reveals that while Cisco and Juniper remained the leaders in the router segments, posting 16% growth, both companies saw their market shares erode, particularly in the edge router segment. The study sees growth in this segment being driven by an increase in broadband access subscribers, triple-play services, and wireless backhaul. In the edge router segment, the firm says that Alcatel and Huawei have moved quickly, capitalizing on their leadership in DSL to fuel growth in their respective businesses.
Overall, the report concludes that growth in the edge router market will not abate soon.
"The addition of 40 million new DSL subscribers requires another terabit-per-second of bandwidth in the global access network-couple this with the growth in wireless backhaul traffic, and the edge router segment can be expected to outgrow both the DSL and 3G markets over the next five years," contends James Heath, research director at Dittberner Associates. "The core router segment will not see the same kind of growth, both because the equipment will see higher utilization rates, and also because there are alternatives such as MSPPs and ROADMs that will compete effectively with routers in parts of the core network."
The report predicts that edge router market growth will be further spurred by the replacement of legacy ATM-based DSLAMs with IP DSLAMs. The firm says that Alcatel has positioned itself well for this transition, and interprets Lucent's acquisition of Riverstone's portfolio as an attempt to follow the same strategy. The firm concludes that the growth of the market still provides opportunities for new entrants, while carrying risks for complacent front-runners.
For more about the "Multi-service Switch and Router Markets" report, visit www.dittberner.com.