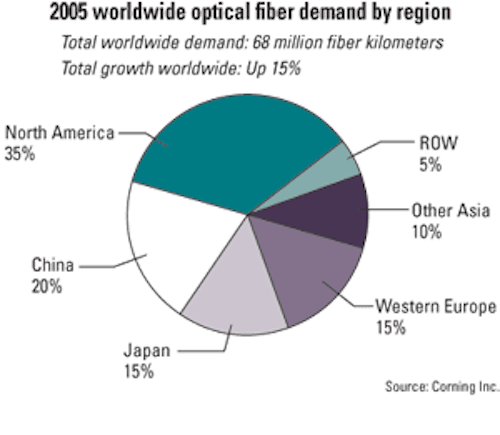 The mood at the Optical Fiber Communication Conference & Exposition and the National Fiber Optic Engineers Conference (OFC/NFOEC), held last month in Anaheim, CA, was generally upbeat, representing a fairly radical departure from the last several years. Attendees and exhibitors alike pointed to the widespread deployment of fiber-to-the-home (FTTH) technology by Verizon and NTT, the growing demand for IPTV and video-on-demand services, and the need for tunability and reconfigurability as key reasons why the telecom winter may be thawing. But analysts caution that while the winter may be over, spring is only just beginning.
During the "State of the Industry: A Wall St./Investor Perspective" panel (part of the "Market Watch" program), Simon Leopold, senior vice president and equity analyst with Morgan Keegan & Co. (New York), offered a sobering observation: The mood on the show floor indicates that things are really good when, in fact, they are just better, he said. The industry may have "bounced off the bottom," as he put it, but we're not yet seeing dramatic growth.
Leopold cited an alarming trend that should serve as a wakeup call for the telecom carriers. The major carriers are seeing a continued decline in wireline access lines, which in itself is nothing new. Access lines have been declining for several years, as consumers drop second lines once used for dial-up access and more consumers go mobile. However, Leopold noted that the decline accelerated in 2005, a strong indication that the telecom carriers are losing customers to competitive voice-over-IP (VoIP) offerings. Verizon, for example, has seen an 8% year-over-year decline in access lines, which may imply that the cable multiple-systems operators (MSOs) are successfully wooing customers away, said Leopold.
As such, Leopold said he is "definitely bullish that carriers will offer video," noting that FTTH makes sense because the alternative is so much worse. The telecom carriers must remain competitive, and to remain competitive they must continue to invest in new architectures that support revenue-generating services.
For this reason, Leopold believes that several markets will experience a positive compound annual growth rate (CAGR) between 2005 and 2008. Next-generation VoIP, for example, should increase 32.4%, followed by FTTH/FTTC, which will register a 15.2% CAGR. The optical equipment market will be up 3.4%, driven by the shift from legacy SONET/SDH to metro ROADM. Data networking gear will increase 2.9%, with IP/MPLS accounting for 7% to 8% of that growth, Leopold reported. Broadband DLC and DSL will increase just 0.8% during the forecast period, while the circuit switch market is expected to drop 11.7%.
Leopold also addressed the impact of carrier consolidation, most recently AT&T's announcement that it would purchase BellSouth for $67 billion. He noted concern among investors that consolidation would be bad for the equipment vendors, but for his part, Leopold does not anticipate a dramatic shift in capital expenditures (capex) as a result of the mergers. The competitive landscape-the battle between telecom carriers and cable MSOs-is driving a certain level of capex spending; therefore, the existing carriers' purchasing power should be roughly the same.
Chris Rust, managing member of US Venture Partners (Menlo Park, CA), sat on the same panel as Leopold and echoed his sentiments regarding carrier capex spending. Less than 20 of the world's largest carriers control 80% of global spending, he noted, and they have stringent requirements-margins between 0% and 40%, sales cycles of one to four years, and costly and time-consuming back-office requirements in the form of OSMINE qualification. But when these carriers buy, they buy a lot.
The large carriers are not going to be early adopters or technology disrupters, Rust admitted, but they will continue to spend because they have to spend. Their MSO competitors have already spent $70 million rebuilding their networks. In 2005, the carriers began to follow suit. Spending was up 22% to $8.4 billion. Perhaps more incredibly, the long-haul market increased 26% to $1.45 billion, added Rust.
Looking ahead, Rust believes telco IPTV will be delayed but ultimately will be successful. Moreover, he contends that Verizon's and NTT's bet on FTTH will prove to be the right call. Carriers who are taking an intermediate step will have to build their networks twice-assuming they get a second chance at it, he added.
The system and component vendors who convened earlier in the week for the 2006 Executive Forum, painted a slightly rosier picture of the market. For some, including Nortel (Ottawa, ON, Canada), 2005 proved to be a very good year.
"The mourning period for optical is officially over," declared Philippe Morin, vice president and general manager of Nortel's Optical Networks Division, at the event, which was presented by the Optical Society of America (OSA) and Lightwave. He noted that every great wave of innovation is followed by a boom, a bust, and then a golden age, and we now are at the outset of the golden age. Nortel shipped more optical ports in 2005 than in 1999, which was the vendor's second biggest year, after 2000. Moreover, said Morin, more fiber was deployed in the U.S. in 2005 than in 1998. Among the growth areas, Morin counted FTTX, fiber for cellular base-station interconnection and backhaul, and storage connectivity.
Joseph Berthold, vice president of network architecture at Ciena (Linthicum, MD), noted that nontraditional customers are beginning to buy optical products. Enterprise customers have become serious purchasers of metro DWDM equipment, he said, and there is a growing market for private optical networks. Simply leasing wavelengths no longer is sufficient for the large financial institutions; they need more bandwidth and must, therefore, invest in their own networks.
Gary Wiseman, general manager of Intel's Optical Platform Division (Santa Clara, CA), offered three reasons to be optimistic: 1) the growth of video services and high-bandwidth applications; 2) the creation of access/home infrastructure to support that bandwidth; and 3) the development of supporting technologies for high bandwidth, including tunable lasers, ROADMs, and electronic dispersion compensation.
By contrast, Wiseman also revealed the top three issues that keep him up at night, including the cost of 10-Gigabit Ethernet, which is the number one priority of Intel's optical division, he said. The market will require a 3x to 4x reduction in cost, but the path to this reduction is not yet completely clear. Margin expectations also keep Wiseman awake, causing him to wonder, "Who pays for the R&D?" Finally, Wiseman is distressed by the lack of high-volume demand and mature manufacturing infrastructure.
Several of the component vendors likely spent a sleepless night after the system vendors' panel, during which Rajiv Ramaswami, vice president and general manager of Cisco Systems' (San Jose, CA) Gigabit System Business Unit and Transceiver Module Group, indicated that Cisco is looking to decrease its supply base to roughly four component vendors. Adding to the component vendors' woes is the fact that price erosion continues, even if revenue is coming back. He, too, lamented the high cost of 10-Gigabit Ethernet products.
The component company executives predicted that Cisco's vision of a four-vendor supply chain was not likely to come into focus. While several companies have either described themselves or have been described by others as a "one-stop shop," the executives admitted that no company was top of the line in all product areas. The diversity of component requirements and continuing innovation from vendors large and small imply that systems houses such as Cisco would find themselves dealing with a variety of suppliers for the foreseeable future.
Which didn't mean that the executives didn't agree that too many companies continue to chase too little business. Giorgio Anania, president and CEO of Bookham (San Jose, CA), was among those who stressed the need for further consolidation. Once the industry is down to a handful of suppliers, he said, standards will emerge. He cites a threefold reason for why the consolidation has not yet happened. First, major players are looking to purchase companies that are making money, or at least breaking even. Second, mergers are more likely to occur in a stable market; now that we are in a growth phase, we may see an increase in M&A activity. Finally, the financial markets wouldn't sponsor a merger last year, but 2006 could prove otherwise, Anania said.
Overall, the immediate future looks bright for the optical communications industry. But the darkness of the recent past may make the current level of brightness seem more intense than it really is.
---
Robust demand for broadband Internet connections was the principal driver of worldwide fiber demand in 2005, noted Eric Musser, vice president and general manager of Corning's Optical Fiber Division, during the company's 25th annual Optical Fiber Briefing at the recent OFC/NFOEC conference. Worldwide fiber demand grew 15% to reach approximately 68 million fiber-km, up from 58 million fiber-km in 2004. However, despite steady double-digit growth in certain geographic regions, Corning is not yet ready to proclaim a full-blown recovery.
Total worldwide fiber demand was up 15% in 2005. For the second consecutive year, North America and China were the largest fiber markets, together representing more than 50% of worldwide demand.
In 2005, the access and metro segments combined to account for roughly 85% of global fiber demand. The access segment alone increased 25% and now represents a full 50% of the total worldwide demand. By contrast, metro fiber demand was up 10%, and long-haul and submarine fiber demand remained flat. According to Musser, the access will continue to be the principal growth segment in the near term.
The North American fiber market grew 30% year-over-year, primarily due to the full-year impact of Verizon's fiber-to-the-premises (FTTP) initiative, other RBOC deployments, and continued activity among the municipalities, whose fiber demand doubled in 2005. Fiber demand among the cable multiple-system operators (MSOs), whose network builds are largely completed, dropped 10% in 2005, but even this decline proved better than their 25% reduction in 2004.
Fiber demand in Western Europe was up 10% in 2005, thanks to increased activity among the PTTs, which must upgrade their networks to keep pace with broadband demand. However, Musser was quick to note that, when compared with North America, Western European fiber demand is constrained by a lack of widespread, facilities-based competition, shorter loop lengths, and a lower demand for video services.
In China, fiber demand increased 10% in 2005 after a couple of flat years. But the China market continues to be challenged, said Musser. Thanks to an excess of optical fiber and cable manufacturing capacity and a centrally controlled tender process, China remains one of the most price-challenged markets in the world.
Strong demand from NTT and competitive FTTH activity by the power utility companies led to a 15% increase in fiber demand in Japan. The country is currently the largest FTTH market, with about 160,000 subscribers added every month, said Musser, who noted that Corning does not expect fiber demand in Japan to return to its peak level of 2002.
Corning defines "market recovery" as widespread access construction, preferably FTTH, by many carriers in many regions-and this has yet to occur. "Although we are encouraged by the broadening of access demand in 2005 after very narrow growth in 2004, there are still just two large operators worldwide aggressively overbuilding with fiber-to-the-home: Verizon and NTT," admitted Musser, "and NTT has just passed the halfway point of its build. This narrow base is insufficient for us to view the growth as a general market recovery."