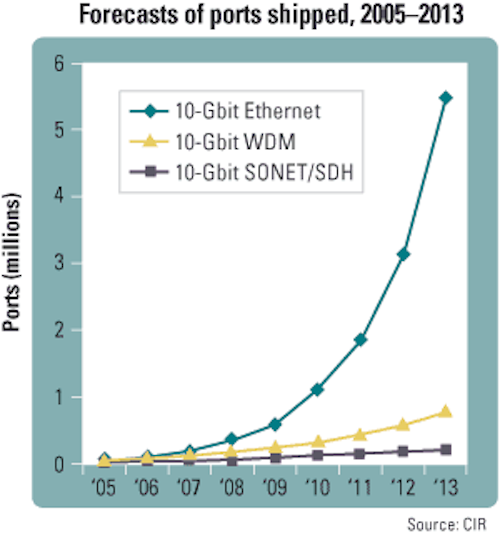 According to a report from CIR (Charlottesville, VA), the market for 10-Gbit/sec ports on telecom and datacom equipment will grow from $2.1 billion in 2006 to $4.8 billion by 2010. The report says this figure will represent growth from 221,000 to 1.6 million ports shipped over the same period, as 10-Gigabit Ethernet follows earlier Ethernet technologies into its "mass market" phase.
The report defines key trends in the 10-Gbit market such as shifting MSAs. The firm says that, starting in 2007, XFP and X2 modules will come to dominate in 10-Gigabit Ethernet port sales. The report cites companies such as JDSU and Finisar as benefiting from being among the first to adopt these emerging MSAs.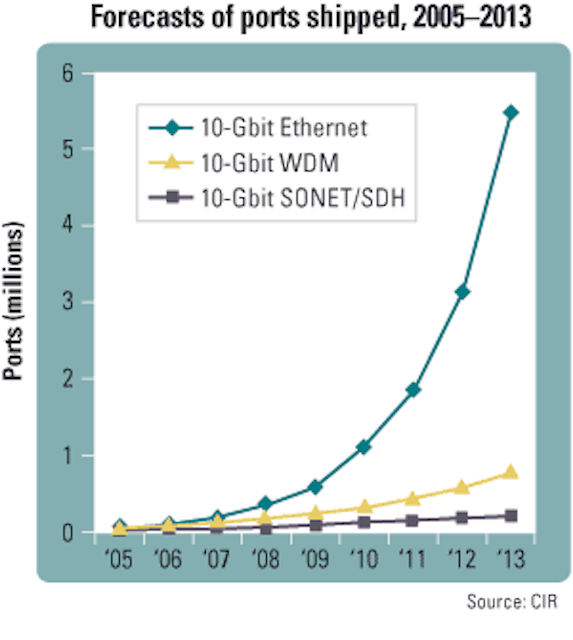 In spite of the 10-Gbit market's rapid commoditization and a massive production transfer to Asia, the firm sees established companies being able to conserve market share through materials and production technology innovations. The report cites particular hope in upgrades to robotic manufacturing processes, as well as in new materials platforms, especially silicon photonics.
Further, noting that to date 40-Gbit/sec modules have been used mainly in R&D and service provider trials, the firm projects that by 2008, 40-Gbit ports will be increasingly found on very large core routers and SONET/SDH add/drop multiplexers. The firm says that many of the technology's "thorny issues"-involving dispersion, new materials, and fiber nonlinearities-will be resolved, resulting in price drops for 40-Gbit modules. The firm observes that, a relative dearth of recent 40-Gbit announcements notwithstanding, some of the major module and component manufacturers have mounted 40-Gbit programs in the past, and could revive them.
For more information on the report, "The Market for 10-G and 40-G Modules and Components: 2006-2013," visit www.cir-inc.com.