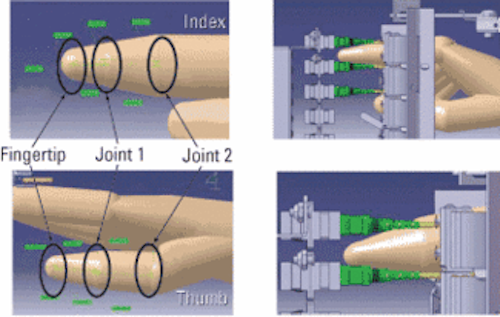 Telcordia (Piscataway, NJ) recently launched its Digital Work Design (DWD) service, a CAD-based design simulation tool aimed at the telecommunications industry. Telcordia says the service incorporates highly detailed graphical simulations, including "human factors" and ergonomics analyses, to test products' usability in a "3D virtual world," before physical prototypes of such products are built.
The service is intended to allow equipment suppliers and service providers to actually see how a product will be used in the field while the product is still in its design phase. FTTH infrastructure supplier Corning Cable Systems (Hickory, NC) was the first Telcordia customer to use the service, to aid in design optimization for the Corning OptiTect Premier Local Convergence Point (LCP) FDH-HDF cabinets.
Corning says its primary design criterion in using the DWD service was to significantly reduce the size and volume of the LCP cabinets while providing technicians with a work area that was large enough to efficiently perform tasks.
"We used Telcordia's DWD analysis to make several design changes as we were going along, to make sure that we were meeting our objectives in terms of reducing size, and at the same time keeping in mind the craft of the technicians who have to work on [the cabinets] on a daily basis," says Ted Messmer, product line manager for Corning's OptiTect line. "There's actually a whole list of areas where, in the first go-around, we failed that analysis, then made changes that actually improved our performance according to the DWD checklist, to make it a 'Pass' according to that process."
The DWD service is a subset of Telcordia's larger Product Lifecycle Management (PLM) platform. "Telcordia has partnered with other companies in bringing to market a collection of tools, one of which is the kind we used with DWD," explains George Collier, chief technology officer of PLM offerings at Telcordia. Such design simulation tools are commonly used in other industries including automotive, aerospace, and high-tech electronics, and so are viewed as "battle tested" for use in large-scale telecom applications, explains Collier.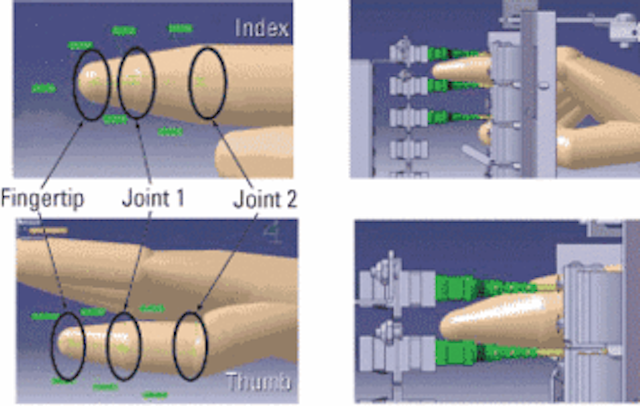 Telcordia and Corning Cable Systems used the Digital Work Design simulation to evaluate several ergonomic factors, including connector space analysis.
He continues, "What these tools are about is creating a platform where engineers can work on all aspects of the design of a product, from the initial lightbulb going on over somebody's head, through bringing a product idea to a detailed design, through planning for manufacturing and how the product will be created, to testing it and designing what'll happen after the product is actually deployed. To cover all that space involves a lot of different kinds of tools, as well as a kind of glue that holds all these tools together."
According to Collier, what this approach translates into for the telecom industry (and for companies like Corning in particular) is that when products are designed, engineers might employ an "as designed" view of what a certain product is going to be like, "but then when they actually build it, they might use slightly different components, or install a more updated piece of software or whatnot, [resulting in] the 'as built' version of that product-and then once it goes into the field it has to be maintained."
Telcordia says that its digital work modeling approach enables telecom equipment suppliers and service providers to move away from physical mockups and field trials to virtual prototypes and virtual field trials. The company says its DWD service identifies design problems early on and can decrease development time and cost for both suppliers and providers. In addition, Telcordia says the DWD services support a centralized database that can be used to create and distribute training materials, design and create new work methods, and disseminate updated work procedures throughout a company.
"Systems like this can keep all that information together," says Collier. "They can be used to provide maintenance instructions; they can be used to help with the repair and troubleshooting of a product."
Through the use of design simulation tools such as the Telcordia DWD service, Collier says that his company believes that this design approach, now prevalent in other industries, stands to become increasingly prevalent in the telecom industry. "As a result, everyone along the value chain will be able to work together in a more collaborative way, exchanging data throughout the lifecycle of the product," he contends.
For the Corning LCP design, Telcordia says the DWD tool employed a database originally used by the U.S. Army that utilizes 16 virtual mannequins (eight male, eight female) representing 95% of the population's body sizes and accounting for measurements such as height, weight, finger circumference, and the length of individuals' arms and legs, in order to identify ideal size and spacing requirements for inside the cabinets.
"Corning's main driver here, based on the information that they told us when we started this analysis, was the size and the weight of the cabinet," explains Bobbi Rentko, senior director of network engineering at Telcordia. "They wanted this box to be able to be lifted, i.e., taken off a truck, by two technicians, so that very expensive, heavy equipment was not required to install the FDH."
Rentko continues, "There's a lot of very detailed anthropometric information within this database. We looked at the spacing in the box, the vision-could the technician see everything that they needed to see in order to perform their work? The posture-what is the most appropriate posture for the technician to take? And fatigue-can they work in a certain position for a certain amount of time? It also has a lot of information about the strength of people and how much [weight] they can lift."
"It's not just a database-because that'll tell you how long a person's arm is-it's having the model of a whole person," points out Telcordia's Collier. "Underlying these figures are actually skeletal and muscular models of people, so when we simulate, we're simulating quite a rich set of [personal] characteristics."
Interestingly, Rentko notes that "Corning knew" that the CAD files initially provided for analysis with the DWD tool described a cabinet design that was too small for a technician to work in. "They gave us the CAD files based on this box being extremely small, and what they wanted us to do was tell them how big it needed to be in order for a technician to successfully work in there." She continues, "There's a lot of connectors in these cabinets and that's really one of the biggest consumers of space, so you really want to have ideal spacing between them. They didn't want the technicians to need special tools in order to grab a connector to remove a customer or install a new customer, so that was one of the criteria-no special equipment, so that [a technician's] fingers could get in there between the connectors."
As a result, says Rentko, using the DWD tool's 3D virtual aspect, Telcordia provided Corning with an analysis of "design inflection points" that specified that the optimal, minimum spacing between the connectors within the cabinets "cannot be any smaller than 'x' millimeters. We gave them those exact measurements-that was a really big finding."
Using the DWD service, Telcordia also notes that Corning was also able to show its customers how technicians might operate the LCP product to gain customer feedback in the early stages of development.
"In this particular instance with the cabinet, there was a lot of customer feedback from many different market segments that was solicited and fed into the results of what the DWD yielded for our design, [so] we didn't have to rapid prototype through 10 iterations of cabinets and waste precious 'man-hours' of research and product development time," maintains Dave Meis, market development manager at Corning Cable Systems. "We very quickly and rapidly honed in on a solution set that was validated very quickly."
Telcordia's Rentko concurs, "The DWD tools are used in that very early stage of the design, before you even build a physical prototype. Once you get out into the product launch phase and you start deploying, it's extremely expensive and very difficult to make changes in the field. We've had discussions with several service providers and they've told us that it's quite common to catch problems after products have been launched in the field."
In such a scenario, explains Rentko, service providers typically require that vendors retrofit the product; depending on the severity of the problem, these costs are passed back to the equipment vendor. "But in the meantime, the service provider's incurring costs themselves, because they're getting trouble reports and so on."
"Certainly in the realm of outside-plant FTTH network deployment, many of the same hurdles and setbacks are associated with every customer, whether it's Verizon [or] perhaps somebody deploying to the smallest development in rural America," concludes Corning's Meis. "Use of the DWD, in conjunction with product development and application requirements, is suitable for the largest as well as the smallest carriers. In most cases, whether it's aerial, below grade, greenfield, overbuild, rural, or urban, it's almost like you have a common set of hurdles to overcome-you can predict most of these things up front."
Matt Vincent is associate editor at Lightwave.