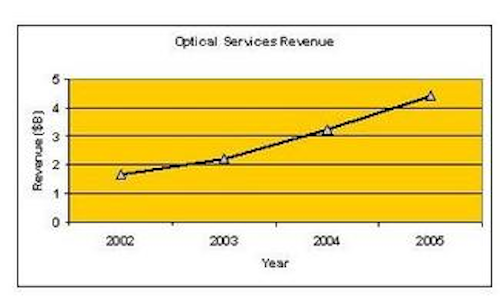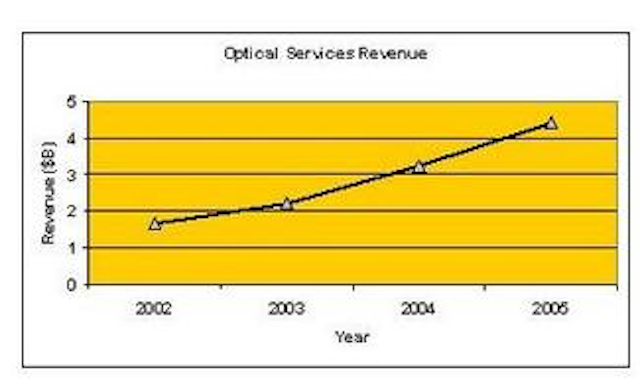 Figure 1. According to CIR, U.S. based revenue for optical services is estimated to be above $4 billion in 2005.
Carriers looking for help extending their metro reach should seek partners who are strong in both the metro core and access spaces.
Boyd Chastant
OnFiber Communications
Despite the slowed economy and general gloom in the telecommunications industry, overall bandwidth usage continues to rise. Gartner Dataquest data for Internet access subscriber growth shows that the number of consumer and business subscribers continues to increase and that enterprises will need to increase network capacity by 14 times or more through 2006 ("Bandwidth Needs of Enterprises, SMBs and Teleworkers through 2006," Gartner Dataquest). Demand for high-bandwidth services for data continues to rise dramatically. These increases will be driven mainly by high-bandwidth applications, multimedia intranets, and video communications.
To meet these increasing bandwidth demands and ensure that a financially viable and stable business can be sustained, service providers must maximize their infrastructures while minimizing the capital outlay required to extend their networks to serve more customers and sites. An agreement with a supplier of metro connectivity services can enable service providers to reach this goal by cost-effectively extending their networks throughout the metro core and metro access portions of major metropolitan areas. Before dealing with the issues of how to select such a supplier, there must be a discussion of the metro access and metro core networks and the market drivers for each.
Within the metro access market, where businesses and enterprises sit at the edge of the network, the "killer applications" that would spur universal adoption of very high-speed services have not yet materialized. Broadly, the bandwidth demand curve may be characterized as being reasonably flat, with the vast majority of businesses below the T1 level.
However, the usefulness of the Internet for daily business activities and the need and the ability to connect to other company sites or those of suppliers and customers via frame relay, private lines, and virtual private networks (VPNs) is driving demand for higher-speed access. For the vast majority of businesses this "higher speed" requirement is fulfilled with a connection of 1.5 Mbits/sec or less delivered via DSL, T1 private lines, cable modems, or fixed wireless/satellite connections.
Rising above this landscape are the bandwidth demand "hotspots," where bandwidth demands peak substantially above T1 speeds. These businesses are focused in industries with intensive data needs that drive requirements to gigabit-per-second levels. Key applications, which encompass requirements at the core of the Internet, include content delivery (portals, gaming, online entertainment), the need for peering connections, and private metro connectivity. Businesses such as financial institutions, entertainment companies, high-tech equipment developers, and wireless providers are some of the entities that are showing the greatest demand for these high-bandwidth services. Because these connections cannot be delivered via existing copper infrastructure, the ability to offer them is limited to sites where fiber is available.
Within the metro core market, where carrier hotels and data centers are linked together with high-capacity networks, there is considerable demand for high-bandwidth services. The aggregation of the circuits in the metro access market is one factor that drives these huge data requirements in the metro core. All those access circuits must be multiplexed, demultiplexed, and switched so that they can be delivered to the appropriate interexchange carrier, Internet service provider (ISP), or other carrier.
Beyond the aggregation of the access circuits, there are customers within the data centers who need to connect to one another and to their chosen service providers. There are also content providers and ISPs that are purchasing services to perform load balancing between sites or to create private peering relationships. Finally, carriers use the metro core as the nexus point where they connect to their partners and customers and load balance between different ingress points to their networks.
The vast majority of high-bandwidth services will be delivered via high-capacity, highly reliable fiber-optic-based services. The market for these optical services is expected to grow dramatically over the coming years (Figure 1).
Metro core avenue
To extend their networks into the metro core market, service providers looking for help from capacity suppliers must find a partner with the deepest possible footprint. With the collocation market extremely fragmented, a service provider's partners and customers may be spread throughout a metropolitan area. It is critical that the service provider select a supplier who has the greatest penetration in the metro core of the target market. This may be determined by identifying the number of carrier hotels and data centers that the capacity supplier connects within a metro region. It should also be noted that within many of these sites, the ability of a capacity supplier to deliver service beyond the suite in which their point of presence (POP) is located is often limited. Furthermore, these inside builds can often be extremely expensive.
Beyond the depth of penetration within individual metropolitan areas, the ability to offer coverage across all major metro areas is critical to increasing the overall addressable market and ensuring that large customers with a national presence can be served. Finally, service providers with a strong presence in the metro core and an ability to extend service into the metro access market will enjoy a key competitive advantage.
Metro access street
To extend networks into the metro access market, where carriers desire to provide services at T1 speeds or less, there is a wide range of choices. The regional Bell operating companies (RBOCs) have their embedded base of copper facilities, what competitive local exchange carriers (CLECs) remain are reselling on that base, and cable companies are beginning to provide some data connectivity services to businesses. Competition in this market should allow carriers to shop for the best values.
It is when the demands of the business customer exceed the T1 level that metro access becomes a challenge. While wireless solutions are available, the most reliable and stable means of delivering high-speed services is via fiber-optic connectivity. Unfortunately, with only approximately 5 to 10 percent of the buildings in the U.S. having access to fiber, it is difficult to find infrastructure providers in the metro access market that can provide a sufficient footprint to cover even a reasonable amount of this 5 percent, much less the ability to expand beyond it.
The RBOCs have the largest available footprint and the ability to deliver high-bandwidth services throughout their regions. The drawback to working with them, however, is the cost and the lack of flexibility of their services. The alternative is facilities-based providers with network construction expertise. These providers will not be able to offer the large geographic footprint of the RBOCs, but their agility will allow them to be extremely responsive and flexible in searching for the most economical solution for high-bandwidth requirements. Extremely knowledgeable providers can utilize available fiber from multiple sources, including their own custom builds, to create cost-effective solutions. The drawback is that many of these providers have fallen on hard times and are constrained by capital controls, which limit their ability to expand their networks even when presented with customers committed to providing revenue.
Crossroads
With the economy in the doldrums and substantial scrutiny being placed on the finances and business of service providers, carriers must cost-effectively serve the still growing demands for bandwidth. The solution is to utilize infrastructure providers who focus on the metro core and metro access markets (Figure 2). These providers allow carriers to extend their networks and increase the number of customers and locations they can serve without the need for capital expenditures. Carriers can therefore harness the bandwidth demand that is present throughout the metro to drive revenue onto their existing network infrastructures.
In selecting capacity providers to supply this metro connectivity, carriers must consider the number of sites the providers serve in the metro core, the ability of the providers to deliver high-bandwidth services in the metro access, the ability to offer a full range of transport services, and the financial position of the companies. Selecting a provider that can provide good coverage in the metro core and metro access markets offers the greatest possible addressable market for sales while also allowing carriers to minimize the number of overall suppliers they use.
Selecting the appropriate suppliers will maximize the reach of a carrier's network and put the company in an ideal position to aggregate more traffic onto their networks, increasing revenue streams as bandwidth demands continue to grow in the metro market.
Boyd Chastant is product manager at OnFiber Communications (Austin, TX).

Figure 2. The metro core is characterized by numerous carrier hotels and ISP POPs, no local access grids, and high-bandwidth optical services to traffic aggregation points. The metro access also has numerous carrier hotels and ISP POPs, but features local loop optical access services.