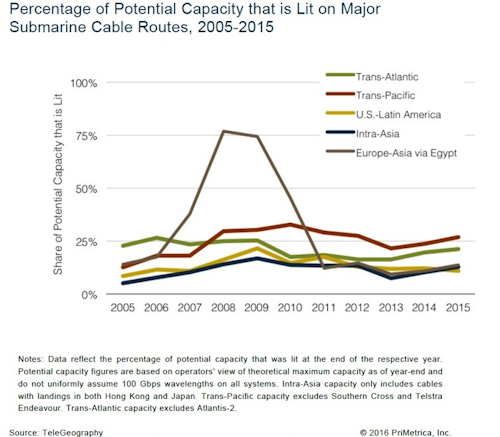 Submarine networks has emerged as one of the most active niches in optical communications. Undersea cable systems have seen a seemingly endless round of upgrades, the latest to add 100-Gbps wavelength capabilities (see, for as just two examples, "C&W Networks upgrades submarine networks to 100 Gbps via Xtera" and "Tiscali taps Alcatel-Lucent for 100G fiber-optic network backbone"). Yet, despite the fact that such upgrades generally have enabled operators to keep pace with the same bandwidth demand catalysts that have driven investment in terrestrial network enhancements, 33 new submarine cable systems are on track to be built over the next three years, according to market research firm TeleGeography. What gives?
The answer to this question involves the emergence of a familiar set of new players and requirements – as well as faith that the current round of new builds won't result in another capacity glut.
Undersea as on land
Many of the factors that have driven submarine capacity investment over the last several years are familiar to those who follow the terrestrial market. These catalysts include a general increase in bandwidth demand, the influence of the desire to meet the needs of financial services companies, and the emerging power of the webscale content providers such as Google, Facebook, Microsoft, and Amazon.
Bandwidth demand has grown steadily and sharply around the world, according to TeleGeography. Every region of the world has experienced more than 40% compound annual growth in used international bandwidth between 2011 and 2015, according to the firm. Africa, Asia, and Oceana have experience approximately 50% growth during that timeframe. Combine the regional demands, and bandwidth use is doubling approximately every two years, TeleGeography suggests.
Despite such growth, upgrades to existing networks have kept pace for the most part. As Figure 1 shows, the percentage of lit capacity versus potential capacity has remained fairly stable, with the exception of a short-lived crunch on transatlantic routes between 2008 and 2010. With the exception of a spike in deployments in 2012, few new networks have been built over the past five years.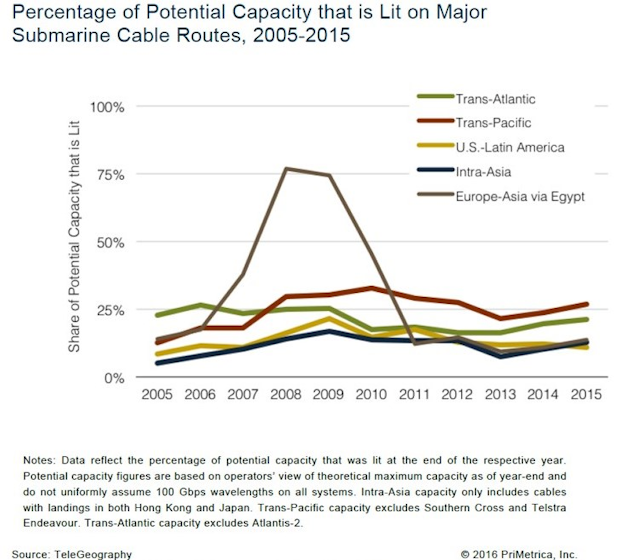 While submarine cable network bandwidth demand has grown aggressively, operators have largely kept pace, with upgrades to existing systems a primary means to this end. (Source: TeleGeography)
Such relative inactivity is about to change, if TeleGeography's prediction of 33 new systems near term is accurate. At least some network operators apparently have concluded that upgrades won't keep the bandwidth flood in check. And much of this belief derives from the emergence of the webscale companies as omnivorous bandwidth consumers. In fact, TeleGeography believes that such companies now consume more undersea bandwidth than anyone else on major routes.
These increasing bandwidth requirements have led several of the webscale content providers to graduate from being submarine cable system customers to owners. Google has taken the lead in this area, with ownership stakes in such systems as the FASTER, South-East Asia Japan Cable, and Unity Cable System in Asia; Monet (U.S.-Brazil) and Junior in South America; and other systems elsewhere. Microsoft and Facebook have partnered to construct the MAREA transatlantic cable system, while Microsoft has an ownership position in the New Cross Pacific system and Facebook owns a piece of the Asia Pacific Gateway network.
These new systems are among the recent and expected new builds. Meanwhile, the extensive bandwidth these companies will continue to consume on cables they don't own has led to concerns among some traditional wholesale customers that they may be left out in the cold. And those concerns naturally have led to additional new cable deployment plans.
Among these traditional customers are service providers who seek to meet the growing need for international bandwidth among financial institutions, particularly traders. As has been the case on land with new regional networks to connect financial centers, lowering connection latency has become a catalyst for new submarine cable builds as well. It's not certain that latency itself has spurred many new projects; but the ability to offer a lower latency figure than current routes support likely has been enough to tip the scales in favor of some new builds where bandwidth requirements offered an uncertain incentive alone.
Similarly, the need for redundancy, particularly in areas prone to earthquakes, also has boosted the new network momentum.
Finally, just as a desire to join the digital age has led some rural communities to build their own fiber-optic broadband networks, developing nations have expressed a desire to participate in the digital economy. Operators in such countries have created consortia to increase connectivity options via new submarine networks at an increasing rate.
But just consider this
With all this momentum behind bandwidth demand, 33 new networks worldwide may even seem inadequate to some. Rest assured that more than 33 are being discussed, as Figure 2 indicates. The figure comes from analyst Julian Rawle (who notes that there are rumblings of even more systems than he's counted here).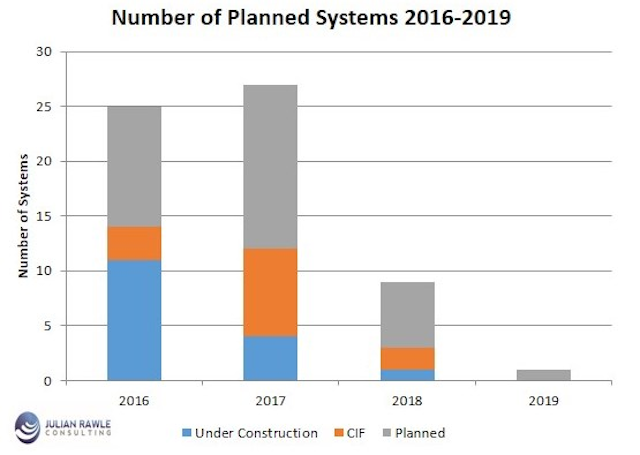 Regardless of the source of the estimate, observers agree that a lot of new undersea cable
builds could happen over the next few years. (Source: Julian Rawle Consulting)
Needless to say, such a spike in new submarine system deployments would be music to the ears of equipment vendors. Perhaps the only people potentially happier about this prospect would be cable suppliers. Rawle has estimated how much cable the currently planned systems would require; Figure 3 displays the results of his efforts.
The demand for submarine cable could outstrip supply next year if every planned system
launches on schedule. (Source: Julian Rawle Consulting)
Yes, that's a lot of cable. Perhaps too much cable, as Rawle estimates that current undersea cable production capacity ranges from 80,000 to 100,000 km annually. Thus, unless significant production capacity came online quickly, 2017 could see a cable shortage. Such an event likely would delay some projects and raise costs for others.
But perhaps the most costly factor that might damage the submarine cable market over the next few years is the possibility that 33 systems aren't too few, but too many. The lessons of the Internet Bubble of the early 2000s haven't yet receded totally from the minds of investors. Any sign that bandwidth demand is slowing – or that prices are falling too quickly – could stop the flow of capital necessary to keep these projects on track.
If operators and suppliers are worried about a glut, they're not talking about it. That means cable laying ships will remain busy for the foreseeable future.