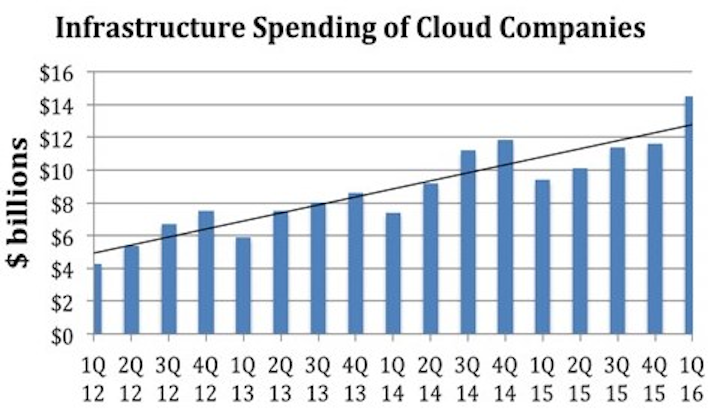 Cloud services and internet-related companies such as Alibaba, Alphabet (Google), Amazon, Apple, Baidu, Facebook, Microsoft, Twitter, and Yahoo spent 54% more on property, plant, and equipment in the first quarter of 2016 than they did in the year-ago quarter, reports LightCounting in its new "Quarterly Market Update Report." Optical technology, particularly 100-Gbps ports, benefited significantly from this largesse.

The market research firm says the companies listed above, along with the rest of the 16 web companies the firm also tracks, spent a total of $14.5 billion on infrastructure during the quarter. Apple, Facebook, and Tencent more than doubled their outlays year-on-year. Microsoft spent a record $2.3 billion. Amazon, eBay, LinkedIn, and Microsoft all increased spending by double digits, LightCounting says.

Not everyone joined the party, however. Alphabet, Baidu, Twitter, and Yahoo spent less during the first three months of the year versus the first quarter of 2015, LightCounting reports.

Nevertheless, the overall trend provided good news for optical technology developers. LightCounting previously had reported record sales of 100G DWDM optics during the quarter (see "Telecom 100-Gbps optical component sales strong to start in 2016: LightCounting"). Among the webscale companies, sales of 10-km 100GBASE-LR4 ports led the way, followed by sales of 100-m, 0.5-km, and 2-km 100 Gigabit Ethernet (100GbE) optics.

LightCounting predicted in its March 2016 "Mega Datacenter Optics" report that sales of 100GbE optics to cloud companies will reach $300 million in 2016. The market research firm says recent interviews suggest continued strong sales in the second half of the year, which the firm says bodes well for its year-long sales prediction.

For related articles, visit the Business Topic Center.

For more information on optical transceivers and suppliers, visit the Lightwave Buyer's Guide.