After the industry shakeout in 2002, market conditions this year will matter more to device vendors than technology and manufacturing advances.
By JAY TITUS, PowerNetix
In the second half of 2002, the laser-pump segment of the optical-component industry began to feel the full force of the telecommunications bubble bursting. Used mainly for erbium-doped fiber amplifiers (EDFAs) in WDM and DWDM systems in long-haul communications and the network "core," laser-pump modules suffered along with the rest of the optical component industry when service providers' capital expenditures (capex) on optical products in the United States dropped from $14 billion in 2000 to $2.2 billion in 2002, according to market researcher RHK (South San Francisco).
The shakeout started to unfold in rapid succession in the third quarter, with heavyweight companies ADC, JDS Uniphase, Agere Systems, Corning, and Nortel Networks among those laser-pump players reporting bad news. Nortel sold the bulk of its optical components business to Bookham Technology plc for roughly $111 million. The sale did not include tunable laser technology. Agere sold a substantial portion of its optoelectronics business to TriQuint Semiconductor for $40 million in cash. ADC decided to exit the optical components business altogether. The company announced the sale of its photonics components operations in Canberra, Australia to Verillon, Inc, in November and ceased operations at two other facilities, Vadnais Heights, MN (pump lasers and micro-optic products) and Jarfalla, Sweden (tunable lasers). In the first quarter of 2003, as if coming full circle, TriQuint announced that it was seeking to sell parts of the optoelectronics business purchased from Agere.
Arguably, the impact of today's market conditions is similar to that of the giant meteorite that struck the Yucatan Peninsula in prehistoric times, the result of which was extinction for the dinosaurs and opportunity for a smaller class of animals: mammals. The downturn is severely battering many larger companies, while at the same time creating openings for others.
Living off lower volumes
However, the outlook for smaller companies isn't particularly rosy, either. The estimated number of small companies still standing at the end of 2003 is scant. Many will not have the resources--financial, managerial, or technical--to survive. Few companies will enter the market due to a scarcity of venture capital. Though 2003 may not be exciting in the laser-pump module arena, it certainly will be pivotal.
In an environment where positive net margins remain elusive, the key to survival by the small and large companies is the ability to garner sales and make margins on much lower volumes. Companies that sacrifice margins to make sales may actually accelerate their demise, as cash outflow increases. In the case of larger companies, their relatively high overhead works against them. The challenge for smaller companies is an inability to purchase materials in volume, which cuts into margins.
Directing research and development into a broad-based effort to get costs out and improve manufacturing throughput is part of today's survival strategy. The net-net of manufacturing and design innovations is to enable optoelectronics companies to deliver enhanced products at cost-effective price points. Cost reduction may involve some long overlooked and in retrospect rather simple design and process modifications. The main thrust is to improve manufacturing yield, while reducing process time. That allows significant reductions in inventory and work-in-process costs. Key steps must be taken toward establishing a just-in-time operation.
One example of manufacturing and design innovation involves the automation of what largely is a manual process, the packaging--alignment of the fiber with the package--of laser-pump modules. This approach delivers a first-pass success rate that far exceeds optoelectronic norms and approaches that of semiconductors. As a result, it is possible to carry out manufacturing on capital equipment that costs far less and requires fewer workers.
In most current manufacturing approaches, the device is limited by the package in which it is housed. In this automated approach to the packaging of laser-pump modules, the package does not limit the functionality of the device.
The specialists
Instead of an industry dominated by mammoth companies that can provide everything from soup-to-nuts to telecommunications customers, there will be more room for "specialists," smaller companies focused on specific processes for a wider range of customers.
A few years ago when venture capital was plentiful, optical-networking companies went about the process of vertically integrating themselves, in many cases through acquisitions. Companies established a presence in multiple "links" of the optical equipment food chain, from laser chips and modules to subsystems and systems.
As a result, several companies purchased laser-pump modules from the same vendors they competed against on a different level in the food chain. As such, many suppliers had no incentive to reduce component prices because it benefited competitors. Similarly, the equipment purchasers were wary of becoming too dependent on vendors that were also competitors. Being on either side of these transactions carried inherent risks.
This scenario is unusual because it does not conform to a basic, proven rule of economics: Pricing in any market is controlled by supply and demand. With the industry booming and demand outstripping supply, optical-networking companies were too busy enjoying the ride to worry. Today, times are different.
During this downturn, the easiest way for telecom service providers to control their cash outflow has been to reduce capital expenditures. This, of course, wasn't always the case. During the 1996-97 time frame, service providers spent capital to build-out their network infrastructures, even though they collectively were not in superb shape financially. They already had their share of debt on the books. Prices for their services, especially voice, were already dropping. Profit margins were low. And a new class of service provider--competitive local-exchange carriers (CLECs)--began nipping at the heels of incumbents.
But telecom service providers spent anyway. The perception seemed to be that to compete, they needed to spend and show immediate returns, or else face acquisition or ruin because they "missed the wave."

Market stimulus
Although the CLECs have largely disappeared, competition is beginning to blossom for last-mile services and products between cable and incumbent carriers. These last-mile services all depend on a fiber-optic infrastructure with sufficient bandwidth and low latency.
In addition to a regrouping of the competition for local access, other factors arguably represent stimuli for the optical-component market:
•Equipment and component vendors will exhaust inventories. During the telecom bubble, vendors ramped up production to a high level to meet what they believed would be continued high demand. Unfortunately, the bubble burst so quickly that many companies were left with plenty of product on hand and very little demand from customers.
•Network traffic continues to increase at a prodigious rate from year to year. Thus, service providers remain under pressure to provide a network infrastructure that satisfies the bandwidth and latency requirements of an ever-increasing customer base. As a result, the pace at which the network of today is moving toward the next generation of the Internet--a global optical network from which bandwidth is available on demand in the quantity desired for a reasonable price--may begin to accelerate.
• The increasing popularity of WiFi or broadband wireless. WiFi technology, in the form of Bluetooth or IEEE 802.11x, offers speeds nearing the rates supported by Category 5 cabling. Companies such as Intel are broadly incorporating this technology into their portable products. Within the enterprise, the multipoint-to-multipoint nature of the technology minimizes the costs of cabling. In mobile applications it allows high speed connections to moving vehicles or personal digital assistants. WiFi is expected to surface as a strong competitor to xDSL and fiber-to-the-home because of its bandwidth, low cost, and multipoint-to-multipoint nature.
•The next big step is revenue-generating content--the ability to offer it and the ability to deliver it securely. Delivering content securely usually means some form of copy protection. With the advent of copy protection, audio content owners are setting up Websites to meet the public demand for MP-3 files. Cable and satellite services already provide video on demand, thanks to encryption and video-disk technology. The broadband local wireless providers are somewhat behind but catching up rapidly.
These factors will lead to renewed capital expenditures by service providers. It is difficult if not impossible to predict by how much capex will increase, but it's certain that the capital markets, which include venture capitalists, will have to recognize the spending.
A pessimist might view this scenario as the start of another trip down the same path that led to the expansion and bursting of the telecom bubble. Hopefully, the excesses will not be repeated.
In 2000, wireline capex in the United States totaled $77 billion, fell to $63.3 billion in 2001, and are expected to decrease to $50 billion in 2002. Optical products (subsystems, components, and subcomponents) accounted for $14 billion of capex in 2000, $6 billion in 2001, and are estimated at $2.2 billion in 2002, according to RHK.
Beyond the core
Laser-pump modules should account for a slightly higher percentage of capex in 2003. Increased spending assumes additional work will be done on the core of the network. Growth of passive optical networks (PONs) and hybrid fiber/coaxial (HFC)-cable networks are also contributing factors. Capex for the core, which is mainly SONET/SDH, are currently low. The edges of the network have been dominated by single-wavelength and multimode optics.
The wheels are turning toward convergence of SONET/SDH, ATM, IP, and HFC architectures at the optical physical layer. Agnostic WDM components are becoming a major force, because the rate of traffic growth makes planning for added bandwidth an integral part of the initial system design. WDM components can be protocol-independent and provide a much more economical and linear upgrade path than adding more fiber or multiplexing to higher rates.
As a direct consequence, the contention here is that there will be strong growth of WDM and DWDM hardware in the last mile and even in the enterprise (the drop in the IT closet or fiber-to-the-curb.). HFC PONs in the last mile will use high-power, high-performance EDFAs. These amplifiers will require pump modules that deliver high power and high signal-to-noise ratios. The signal-to-noise advantages of 980-nm over 1480-nm pumps, combined with rapidly dropping prices, will result in 980-nm pump-laser sales increasing faster than those of 1480-nm pump modules. While all segments of the laser-pump-module market declined in 2001 and will do so again in 2002, the 980-nm pump segment should rebound faster. And increased interest is expected in very high power 915-nm multimode pump modules for double-clad EDFAs.
In terms of technology advances, new thresholds will be approached or attained in 2003. For example, 980-nm pump modules have reached the so-called 1-for-2 power threshold. That means providers of laser-pump modules can routinely deliver 320-400-mW fiber Bragg grating-stabilized pump modules for about the same price that used to buy 120-200-mW units. That is a practical demonstration of Moore's law for optical modules.
Finally, technology advances and manufacturing efficiencies are seldom as important as market conditions and government involvement. How will laser-pump modules do in 2003? The short answer is, reasonably well compared to the last two years. The industry will support fewer participants as a result of the telecom slump, and 2003 will be a pivotal year.
Jay Titus is chairman, president, and CEO of PowerNetix, Inc. (San Jose, CA). He can be reached at 408-383-3100 or jtitus@powernetixinc.com.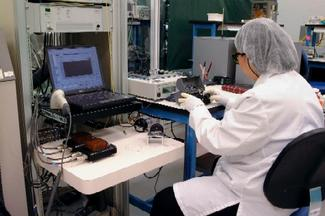 Automating instrumentation to handle simultaneous devices doubles throughput.