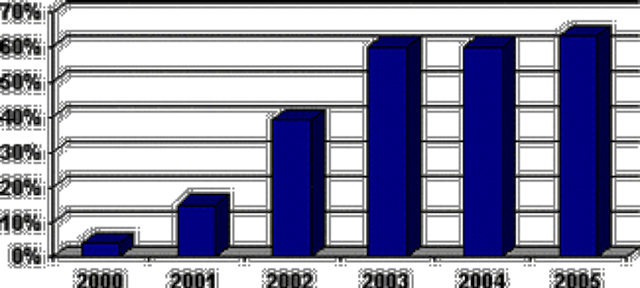 Sales of attenuators for integrated applications, % of total VOA sales
The worldwide attenuator market is expected to jump from its $101-million mark in 2001 to nearly $600 million by 2006, claims a new report from KMI Research.
Though fixed attenuators account for 60% of today's market, Variable optical attenuator (VOA) growth is expected to far outpace fixed attenuator growth. VOAs will account for nearly 80% of the market's value in 2006, driven primarily by electronically controlled VOAs. Manually controlled VOAs will remain stagnant.
The growing trend toward component integration will become a dominant force in the attenuator market over the next five years. VOAs will increasingly be sold to sub-systems vendors for integration into multiplexers and other components, which will provide power and cost savings to end users.
KMI's report, "Fixed and Variable Fiber-optic Attenuators: A Worldwide Market Assessment," examines the current and future markets for both fixed and variable attenuatos and profiles more than 60 companies in various stages of attenuator-product development. For more information, visit KMI's Web site at www.kmicorp.com.