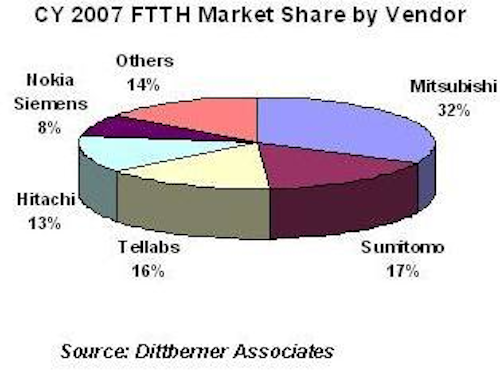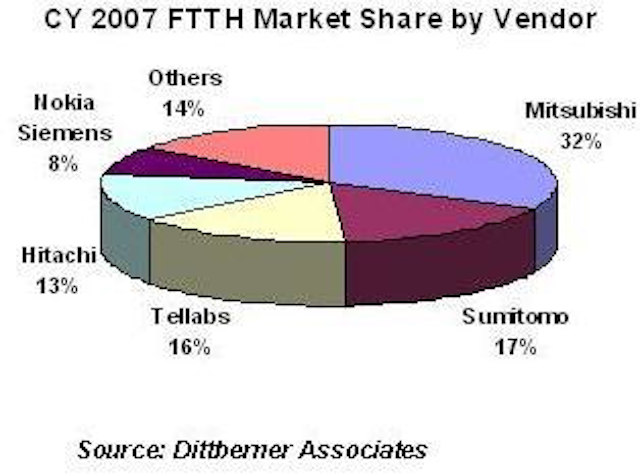 MARCH 13, 2008 -- According to Dittberner's (search for Dittberner) "DSL, FTTH, and FTTB/LAN Shipment Analysis," FTTH shipments rose 5% quarter-on-quarter in Q4 2007 to 1.7 million and 42% for the whole year to 6.3 million. Both were records -- for now.
The FTTH market is still dominated by Japan which had 11.4 million FTTH and FTTB subscribers at the end of 2007. This was an increase of 2.6 million in one year. Not surprisingly, Japanese vendors continued to dominate the market, but growth in North America and Korea reduced their market share (see chart above).
GePON is still the dominant technology but its share of the overall market declined to 67% from 82% in 2006. BPON grew from 15% to 18% over the same year. (See Dittberner's table below.)
With Japan growing at a rate of 3 million subscribers a year, and Korea and the USA both expected to add 3.4 million subscribers, Dittberner forecasts that the market will reach 11.5 million ports shipped in 2008, an 83% increase. Although GePON port shipments are expected to grow by 40% in 2008, their share will decline to 54% of the market. BPON ports will shrink drastically in number and market share as Verizon shifts to GPON. GPON is expected to grow to 38% of the market. The rest will be Active Ethernet, which is seeing slow but steady growth in Europe.
As BPON shipments shrink, it is expected that Tellabs' presence in the FTTH market will shrink as well. The Japanese vendors will remain strong. Nokia Siemens with its GPON successes in EMEA and GePON in Korea will remain in the Top 5. Alcatel-Lucent, on the strength of its contracts with Verizon and in France, is expected to join the Top 5 in 2008. Because the DSL market is being consolidated by Alcatel-Lucent, Huawei, and ZTE, and also because it is likely to slow, the FTTH wave is one that vendors must catch to remain a long-term player in the fixed access market segment, the market research and consultancy asserts.
Dittberner's Broadband Study is an ongoing market research service updated quarterly, designed to track the BBxDSL and BBFTTX vendors and their potential. The study constitutes of business cases, case studies, and market forecast.
Visit Dittberner & Associates
For more FTTH news and resources, visit the FTTX Resource Center