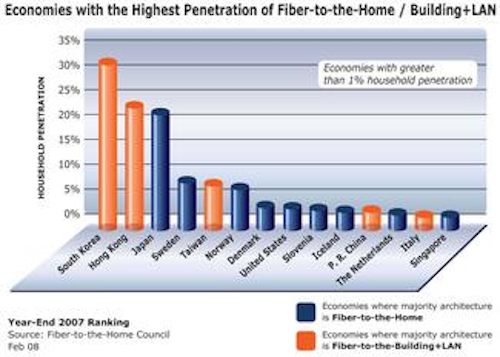 MARCH 4, 2008 -- The number of countries where fiber-to-the-home (search for FTTH) connections are showing significant gains in the broadband services market continues to expand, according to an updated global ranking jointly issued by the Fiber to the Home Councils of Asia-Pacific, Europe, and North America.
The new ranking, based on statistics gathered at the end of 2007, lists 14 economies where more than one percent of households are connected directly into high-speed fiber-optic networks. On the three councils' first-ever ranking, released last July, 11 economies exceeded the 1% threshold. Slovenia, Iceland and Singapore were the new entries on the list.
Globally, 2007 was the best year yet in terms of numbers of new subscribers to FTTH services, thanks primarily to strong growth in Japan, China, and the United States, where a total of nearly six million new FTTH households were added for the three countries, say council representatives.
"What this indicates is the unrelenting vigor of the FTTH industry here in Europe--where we surpassed one million connections--and worldwide," contends Joeri Van Bogaert, president of the FTTH Council Europe. "This phenomenon is driven by something that never slows down, and that is the consumer appetite for ever-higher bandwidth."
The updated ranking shows that Asian economies continue to outpace the rest of the world in terms of FTTH market penetration, with South Korea moving into the top slot with 31.4% of households connected, followed by Hong Kong at 23.4% and Japan at 21.3%.
A large gap separates third-place Japan from fourth-place Sweden, where 7.1% of homes are wired with FTTH, followed closely by Taiwan at 6.8%, and Norway at 6%. Denmark, at 2.5%, occupies seventh position on the chart.
By more than doubling its penetration rate to 2.3%, the United States moved up three places to the eighth position, followed by two of the three countries making their first appearance on the chart, Slovenia at 1.8% and Iceland at 1.5%. The People's Republic of China moved from tenth to eleventh place as direct fiber connections in that country moved up slightly to 1.5%. Netherlands, Italy, and Singapore rounded out the list with market penetration rates ranging from 1.1 to 1.4%.
The three regional FTTH Councils say they joined together last year to create this official global FTTH ranking in order to provide the telecommunications industry, governments, and regulators with a unique snapshot of international fiber access penetration.
 "We're delighted to see the U.S. moving up the global ranking, indicating a good beginning is underway," notes Joe Savage, president of the FTTH Council North America. "FTTH leadership, demonstrated by those leading countries, shows full national deployment is achievable," he adds. "The future belongs to those countries that satisfy the broadband consumer's need for speed. Our members--the FTTH equipment vendors and the service providers--are ready to help make it happen on a wide scale across North America."
"It is no accident that Asia-Pac continues to be the fastest growing region for FTTH in the world, with more subscribers connected on fiber than all other regions combined," maintains Schoichi Hanatani, president of the FTTH Council Asia-Pacific. "The rollout of FTTH has been encouraged by forward-looking governments and regulators in the Asia-Pac region for several years now. They understand that FTTH is a key strategic national infrastructure."

Visit FTTH Council Europe
Visit FTTH Council Asia-Pacific
Visit FTTH Council North America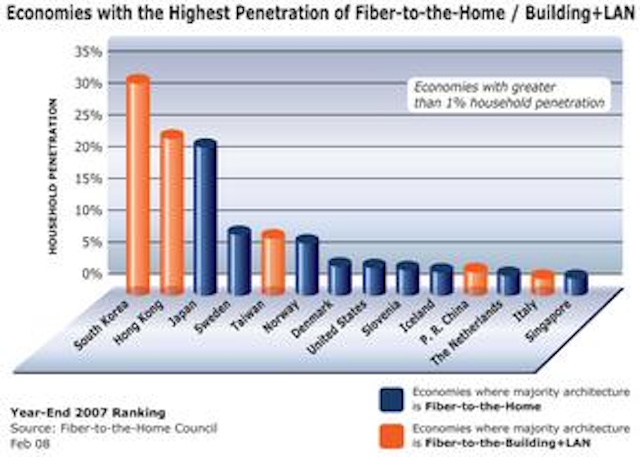 Based on statistics gathered at the end of 2007, there are 14 economies with more than one percent of households connected directly into high-speed fiber-optic networks.