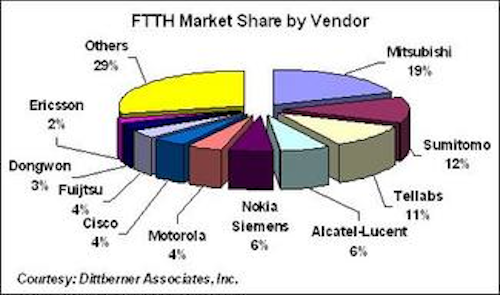 OCTOBER 20, 2008 -- FTTH shipments jumped 22% to almost 2.7 million ports in 2Q 2008, which represents a 56% year-over-year increase, reveals a new report from DITTBERNER (search for Dittberner), "DSL, FTTH and FTTB/LAN Shipment Analysis."Â With this increase, growth is on target to reach 11.6 million ports shipped in 2008, which is a little higher than the 11.5 million ports forecasted in January 2008 by Dittberner.
The Japanese market showed its strength and took up some slack in the North American market. NTT and KDDI added almost 1 million subscribers in the quarter, which was over half of all new FTTH subscribers, contends the report. This allowed Mitsubishi and Sumitomo to grow their market share. 
Sumitomo reclaimed second place from Tellabs, both because of the strong growth in Japan and because of Verizon's transition away from Tellabs' BPON products. Alcatel-Lucent, who is Verizon's main GPON supplier, and Nokia Siemens, who is the main supplier of GEPON/EPON equipment to Korea Telecom, rounded out the top five spots.
 
The Japanese market is entering a more mature stage, evident by the increase number of suppliers of CPE equipment. In the early stages of an access market, the CPE and the central office equipment tends to be supplied by the same manufacturer. Perhaps the CPE may eventually become available directly from a consumer electronics store, notes the report.
Japan is the largest installed base, with 7.6 million homes and 2.25 million apartments connected with fiber. Japan's strong growth propelled EPON's increase in market share to 62%, while BPON and GPON both decreased. Point-to-point Ethernet also saw strong growth, and combined central office and CPE ports shipped exceeded both BPON and GPON port shipments, bolstering the argument that PON is not always the best choice for a service provider. Cisco is the leader in P2P Ethernet, along with Ericsson, PacketFront, and Iskratel. This technology shows enough promise that Alcatel-Lucent has recently entered the market also.
DITTBERNER's Broadband Study is an ongoing market research service updated quarterly, designed to track the broadband xDSL and FTTX vendors and their potential.

Visit DITTBERNER
Find more FTTx news at Lightwave's FTTx Resource Center.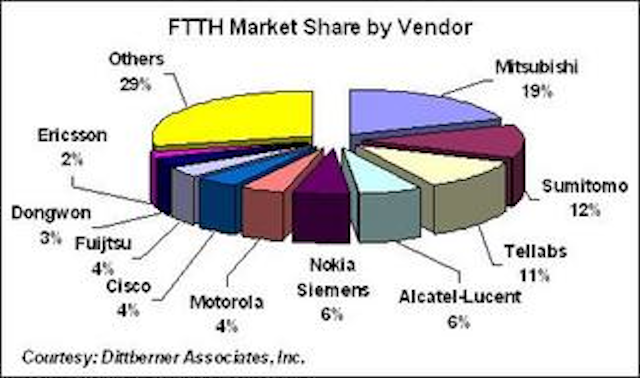 FTTH market share by vendor