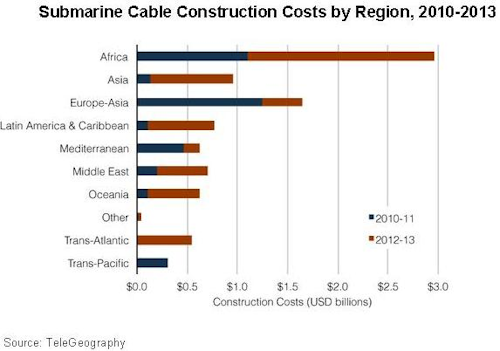 TeleGeography's Global Bandwidth Research Service reports that in 2010 and 2011, consortia launched 19 submarine cable systems worth an aggregate $3.7 billion – with 33 additional systems on the docket for 2012 and 2013 at a projected total of $5.5 billion. In light of what the market research and consulting firm describes in a press release as "tremendous untapped potential capacity on many existing submarine cables," is the undersea cable space getting too crowded?

Not necessarily, Telegeography believes. The rationales for many of these projects extend well beyond increased capacity, says the firm. Additional goals frequently include:

route diversity
latency reduction
strategic advantage
"the lure of relatively high price margins."

Nevertheless, the pace of submarine cable system construction could slow after 2013, Telegeography suggests. The company notes that multiple trans-Arctic systems and four cables between South America and Africa are now in the planning stages for post-2013 construction. However, Telegeography believes it is "very likely" that several of these systems will never be built.

Until that time, business is booming for submarine cable installers and technology suppliers, as the chart below suggests.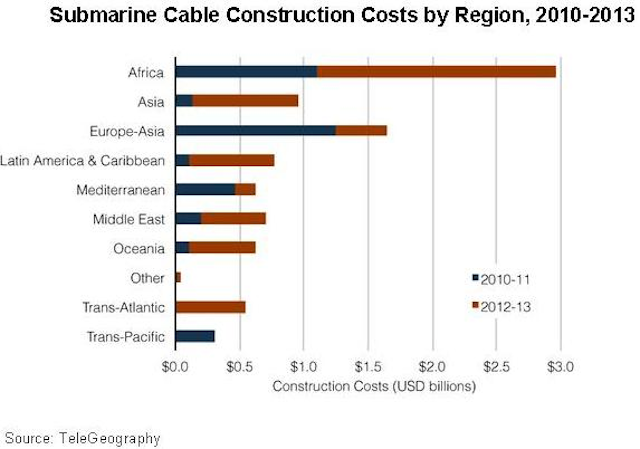 TeleGeography's Global Bandwidth Research Service provides data on long-haul networks and the submarine cable industry, including analysis of network operators, supply, demand, costs, and wholesale prices. Quarterly updates on network deployments, upgrades, acquisitions, and planned submarine cables are available, as is a searchable database of carrier networks and undersea cables.