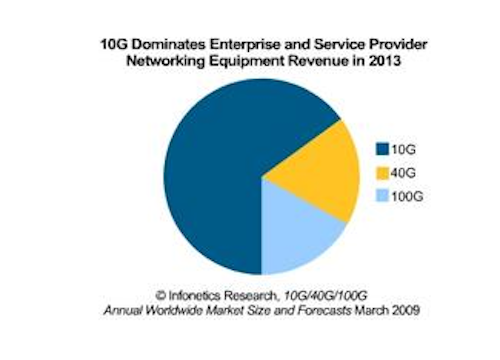 MARCH 20, 2009 -- Market research firm Infonetics Research (search Lightwave for Infonetics) has released the 2009 edition of its 10G/40G/100G Market Size and Forecast report.
"From our conversations with service providers around the globe, a majority are planning to invest in 40G until the 100G market arrives. Some are hoping to leapfrog straight to 100G, but we don't see that being a viable option because unrelenting traffic increases are already surpassing current capacities. More importantly, 100G pricing won't be what most are willing to pay until about 2012 or 2013. 100G Ethernet will be a long-lasting 'next big thing' when it arrives; in the meantime (and beyond), the 10G and 40G markets will continue to thrive," says Michael Howard, Infonetics Research co-founder and principal analyst.
Co-author of the report Matthias Machowinski, directing analyst for enterprise voice and data at Infonetics Research, adds, "Downturn or not, network traffic continues to increase and enterprises are responding by building out their networks. Case in point: the Ethernet switching market, where overall port shipments grew only 2% last year, but 10G port shipments grew 78%. The downturn might temper some of this growth, but the fundamental trend remains, and we expect enterprises to continue making investments in their network cores to avoid congestion."
Annual shipments of 10G and 40G optical carrier and Ethernet ports on enterprise and service provider networking equipment jumped 86% in 2008, nearing 2 million, providing manufacturers $10.8 billion worldwide in 2008, up 45% from 2007, according to the report. The vast majority of ports shipped in 2008 were 10G speed, although the burgeoning 40G market nearly tripled. The first pre-standard 100G port shipments are expected to begin by late 2009.
Combined worldwide sales of 10G, 40G, and 100G ports on networking equipment will be strong over the next 5 years, says the market research firm, with enterprises and service providers expected to spend an accumulative $105 billion between 2008 and 2013. Enterprises are pushing to deploy 1G to the desktop, which will require 10G Ethernet uplinks at the network edge to enable aggregation of traffic to the network core; this is expected to result in sustained and steady growth over the coming years.
The majority of service provider high speed ports are Ethernet based, growing in 2008 from 67% of total service provider high speed port shipments to 80% in 2013. The report also states that in 2008, average revenue per 10G Ethernet port on service provider equipment is more than 10 times that of enterprise equipment.

Visit Infonetics