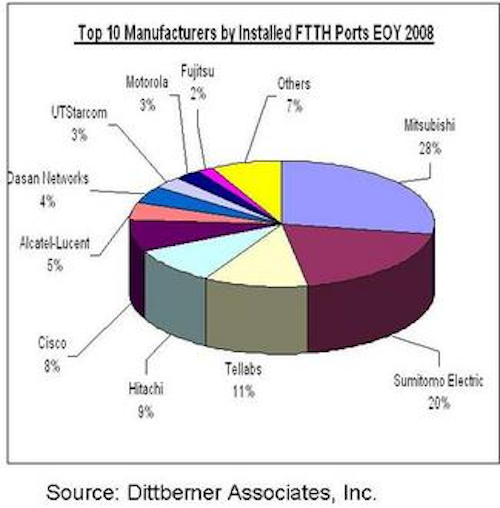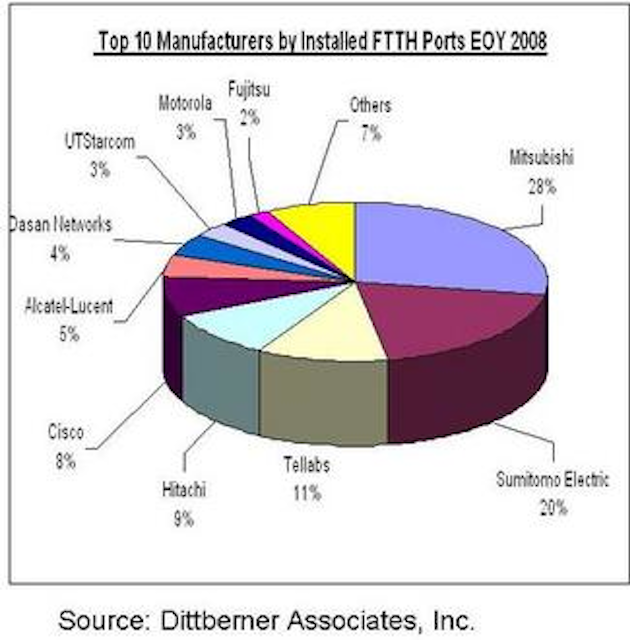 MARCH 19, 2009 -- According to Dittberner's "Broadband Access Installed Base" report (search Lightwave for Dittberner), total FTTH ports shipped to service providers has reached 26.6 million.
The top two vendors by installed base are Japanese manufacturers, which is not surprising given that the number of FTTH/FTTB subscribers exceeds 14.5 million in Japan (see chart above). Cisco, who supplies point-to-point Ethernet equipment to NTT for its MDU installations, is in fifth place. The next largest FTTH PON network is Verizon's and its main supplier, Tellabs, is fourth and has overtaken Hitachi. However, with Verizon's switch from BPON to GPON in early 2008, Alcatel-Lucent and Motorola, Verizon's GPON suppliers, have moved up in the standings.
The report tracks shipments to over 300 service providers and their subsidiaries worldwide. Equipment deployed is classified by ADSL, VDSL, FTTH, and FTTB/LAN. DSL ports installed are reaching 500 million and Alcatel-Lucent is the leader in that market with 37% share. Huawei and ZTE follow.
The report shows opportunities in maintenance and equipment upgrades. Although the markets outside of APAC are seeing subscriber growth slowing, the report details the pace of equipment upgrades.
Visit Dittberner
For more FTTH news and resources, visit the FTTX Resource Center