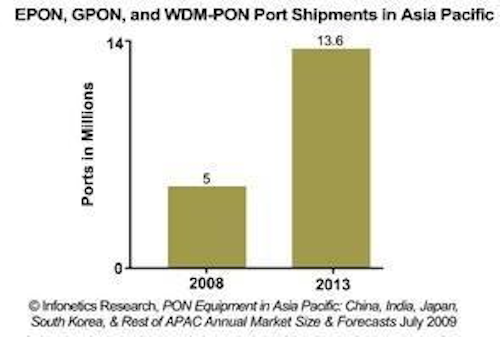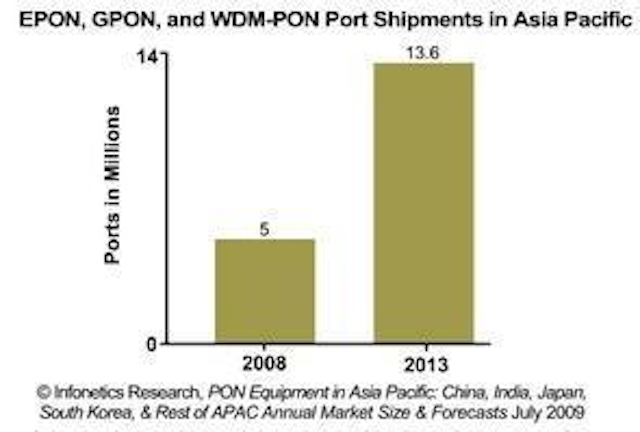 AUGUST 7, 2009 -- Market research firm Infonetics Research (search Lightwave for Infonetics) has released a new report, PON Equipment in Asia Pacific, which tracks EPON, GPON, and WDM-PON equipment vendors, ports, and revenue in the major markets of Asia Pacific: China, India, Japan, South Korea, and the rest of Asia Pacific as a group (including Australia, New Zealand, Singapore, Indonesia, Taiwan, Malaysia, and Vietnam).
"Asia Pacific is by far the most dynamic PON market in the world. The early BPON and EPON rollouts in Japan and South Korea are quickly being eclipsed by China Telecom, China Unicom, and China Mobile's extensive EPON and GPON rollouts for FTTB, FTTH, and mobile backhaul. Though EPON dominates Chinese deployments today, there is no question that the Chinese operators will deploy GPON. The only question is: how much?" said Jeff Heynen, directing analyst for broadband and IPTV at Infonetics Research.
Report highlights include:



Asia Pacific is the hotbed for PON technology, accounting for 55% of worldwide PON equipment manufacturer revenue in 2008.

Service providers in Asia Pacific, like providers elsewhere in the world, are building out PON-based FTTH and FTTB networks to better compete for subscribers by offering faster, cheaper, more synchronous broadband connections.

These drivers will fuel PON equipment manufacturer revenue derived from service providers in Asia Pacific to well more than double between 2008 and 2013.

Japanese and Chinese EPON vendors dominate their homelands, with Mitsubishi the 2008 revenue market share leader in Japan, and ZTE, Huawei, FiberHome dominating in China.

Alcatel-Lucent is the revenue market share leader for GPON equipment in Asia Pacific.

49% of Asia Pacific PON equipment revenue came from Japan in 2008 (down from 81% in 2007). This will change significantly by 2013, as China becomes the dominant PON deployer.

While EPON technology represents the largest revenue opportunity in Asia Pacific, GPON is the fastest growing, with revenue expected to increase at a 139% compound annual growth rate from 2008 to 2013 in Asia Pacific.

Infonetics' Asia PON report tracks EPON, GPON, and WDM-PON OLTs and ONTs split by FTTH and FTTB in China, India, Japan, South Korea, and the rest of Asia Pacific, as well as the total Asia Pacific region. The report provides market share, market size, forecasts, and analysis by country and region.
Visit Infonetics Research
For more FTTH news and resources, visit the FTTX Resource Center