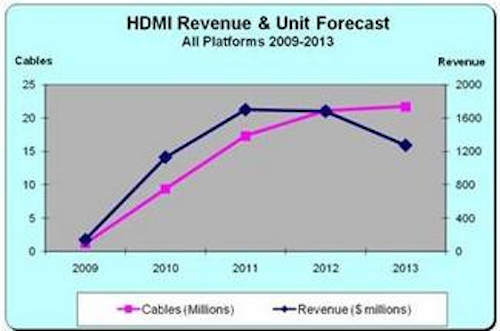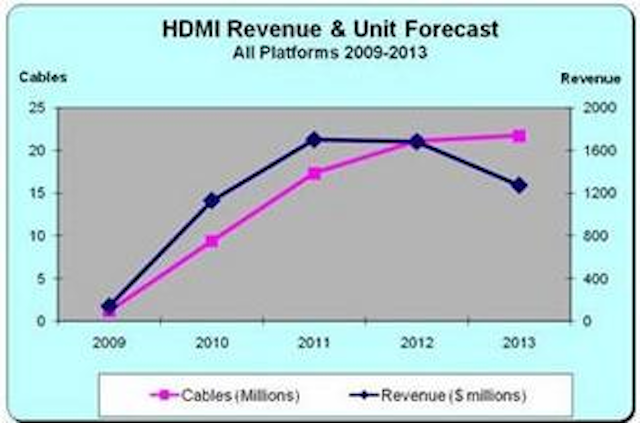 Source: Information Gatekeepers
JUNE 5, 2009 -- According to Information Gatekeepers Inc. (IGI; search Lightwave for Information Gatekeepers), the HDMI-based active optical cable (AOC) market will grow from $140 million in 2009 to over $1.7 billion by 2011. During this period, early OEM providers will enjoy excellent average selling prices (ASPs) compared with the cost of building these cable, IGI says in its AOC Market Report 2009.
IGI also forecasts that the materials costs for HDMI-based active cables will decline, enabling the leading cable providers to realize "excellent" product margins even as they grow their sales volumes. ASPs will remain above $100 in the earlier years covered by the report, then swing down to the ~$60 range by 2013 as output volumes surge significantly, IGI adds. OEM cable providers who concentrate on keeping their materials costs in check can still thrive during this period of time, the report asserts.
Today's HDMI specification is at a V1.3 level, providing ~10 Gbps data transport. At this speed, HDMI copper cables are effective only out to 2-3 meters. Over the next two years, IGI expects to see a newer version of HDMI known as V2.0 come forward with higher bandwidth (up to 20 Gbps) in support of devices with resolutions higher than today's 1080p. As bandwidth support reaches these higher levels, tradeoffs on speed and cable thickness will need to be made for copper HDMI cables.
At 10 Gbps, many consumers are finding copper cables attractive only at shorter distances such as 2 meters, the report states. However, customers are finding high-end copper cable providers charging $200 or more per HDMI cable even at lengths in the 2- to 5-meter range, thus creating a significant market opportunity for AOC OEM providers, in IGI's opinion. At these price levels, customers may find the cable contributing to 10% or more of their total kit price for a new installation, the research firm states.
IGI identifies the target user base for HDMI-based AOCs as follows:



large-screen high-definition televisions

high-definition projectors (ceiling mounts)

digital signage applications

media center personal computer applications, especially those involving HDTVs

high-definition media players such as BluRay disc devices operating with uncompressed formats

any HDMI application where effective extended reach is required and large, thick, bulky cables are not an option

With key materials costs declining rapidly, AOC OEMs can deliver much more competitive offerings than in previous years, IGI says. HDMI AOCs provide a far more effective option in a significantly smaller cable, the company adds. Distances up to 50 to 100 meters are possible using the same architecture and physical designs as shorter cable versions. IGI's materials cost analysis for an HDMI AOC indicates it can be built and sold for less than $100 for a 3- to 5-meter version, with longer versions adding ~$2 or $3 per meter of cable length.
The report provides AOC-related forecast analysis for the following:



revenue

number of cables sold

expected length of optical fiber and cable jacketing

number of connectors, including segmentation by application and interface type

VCSEL counts, including breakout by VCSEL speeds

Visit
Information Gatekeepers