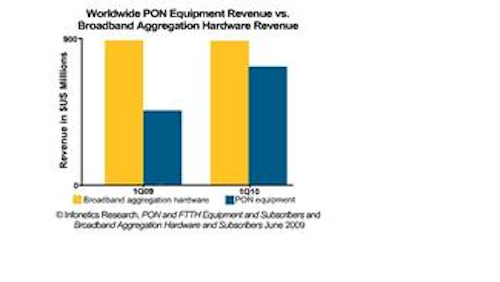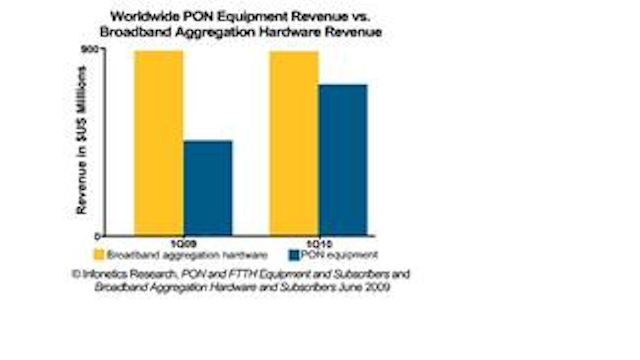 JUNE 12, 2009 -- In its recently released 1Q09 editions of its Broadband Aggregation Hardware and Subscribers and PON and FTTH Equipment and Subscribers reports, communications market research firm Infonetics Research (search Lightwave for Infonetics) forecasts total worldwide PON revenue will grow to $4.6 billion by 2013.
"In the PON market, operators took a break from purchasing in the first quarter to ingest capacity and focus on subscriber acquisition. Periodic dips like this are normal in the PON market, especially following periods of sustained OLT deployments," says Jeff Heynen, directing analyst, broadband and video, Infonetics Research. "The continued shift from copper- to fiber-based broadband access will drive growth in the PON market around the world. Meanwhile, this shift continues to take its toll on the broadband aggregation market, a market that enjoyed solid growth for nearly a decade. Between the current economic climate, the shift in subscribers' preferences for mobile broadband connections, and slower subscriber growth in mature markets, the broadband aggregation market will continue to feel downward pressure."
PON and FTTH market highlights
Despite a 12% increase in worldwide GPON manufacturer revenue in 1Q09, the firm says, the overall PON market dropped 14% from 4Q08, dragged down by significant declines in worldwide BPON and EPON revenue. However, year-over-year from the first quarter of 2008, the overall PON market is up 38%.
In the dynamic GPON market, Alcatel-Lucent and Huawei again increased revenue share in 1Q09. Alcatel-Lucent, Huawei, and Motorola are expected to continue to pull away from the pack over the next couple of quarters, according to the analyst firm.
Worldwide Ethernet FTTH equipment revenue decreased 40% quarter-over-quarter and ports decreased 30%, as municipal and competitive operators in EMEA and North America hit the brakes on their Ethernet FTTH rollouts.
The PON report tracks BPON, EPON, GPON, and WDM-PON equipment, FTTH and FTTB OLTs and ONTs, and FTTH and Ethernet FTTH CPE and service provider equipment, as well as ports (PON, POTS, Ethernet, DSL).
Broadband aggregation market highlights
For the first time ever, Huawei surpassed Alcatel-Lucent in DSL revenue and ports shipped (Huawei also surpassed Alcatel-Lucent in optical network hardware revenue in 1Q09). Huawei's DSL shipments reportedly were buoyed by domestic Chinese operators focused on rolling out premium broadband services and by growth in emerging markets.
The macroeconomic slowdown impacted broadband aggregation DSL port shipments (from DSLAMs, NGDLCs, and MSAPs) this quarter, down 7% sequentially, as operators chose to sweat their existing DSL infrastructure assets and postpone or even cancel planned upgrades.
With most developed world countries at or near the saturation point for DSL subscribers, growth is expected to come from emerging markets, primarily the Middle East, Central and Latin America, Russia, and Eastern Europe, says Infonetics.
VDSL port shipments are expected to grow steadily over at least the next few years, as operators deliver higher-margin premium broadband services to subscribers to support IPTV, VoIP, and online video services.
Rural operators planning to deploy broadband aggregation equipment in the first quarter were forced to postpone their purchases until the rules and definitions of the $7.2 billion US Broadband Stimulus Package were clarified.
The broadband hardware report tracks MSAPs, next-gen DLCs, ATM and IP DSLAMs, ports (ADSL, G.SHDSL, VDSL, PON OLT, Ethernet OLT, and DS0s), and DSL subscribers (ADSL/ADSL2+, VDSL/VDSL2, and G.SHDSL).

Visit Infonetics
For more FTTH news and resources, visit the FTTX Resource Center