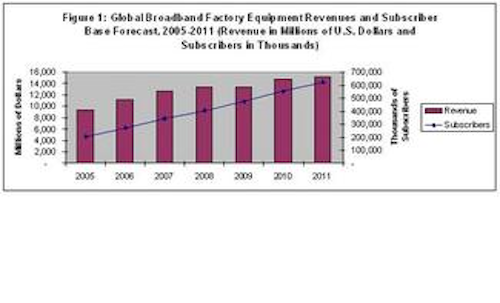 APRIL 11, 2007 -- The global broadband market is expanding at a rapid pace, with both equipment revenue and global subscribers expected to increase robustly during the next few years, contends a new report from iSuppli Corp. (search for iSuppli).
Broadband equipment factory revenue is set to rise to $15.1 billion by 2011, expanding at a compound annual growth rate of 6.2%, up from $11.2 billion in 2006. At the same time, global broadband subscribers will grow to 622.7 million by 2011, more than double the 270.4 million in 2006.
"ADSL remained the leading broadband technology around the world in 2006, with 72% of the subscribers, while cable modems ended 2006 with 22%," reports Steve Rago, principal analyst with iSuppli. "The ADSL market is headed for a major inflection point when existing subscribers begin to upgrade to higher-speed services. This has happened in Japan already, as many service providers have migrated to fiber-to-the-home [FTTH] technology, which offers consumers a 15 times increase in bandwidth compared to ADSL," he notes.
France Telecom and Free/Iliad of France already have announced plans to deploy FTTH, while other operators are evaluating this technology as well as deep-fiber with VDSL to provide the final broadband link to consumer residences. This bandwidth upgrade will help keep broadband equipment sales on the rise for the next five years, says Rago.
 
One of the most significant developments in today's high-speed Internet-access market is the penetration of broadband in global households. Household broadband penetration is expected to exceed 50% in the United States and Japan for the first time this year and will do so in Europe in 2008, predict iSuppli analysts.
Broadband technology has become a major area of focus for many Internet service providers, telecommunications firms, and cable companies as they fight for supremacy in the market for so-called "triple-play" services, i.e. packages offering a combination of Internet access, voice, and television.
Each of these groups of companies wants to use broadband pipes to deliver value-added services to consumers in hopes of changing the way users receive entertainment and other services. This, in turn, will open the door to numerous opportunities previously unavailable to these companies.
For more information about the report, "Broadband equipment market running full stream ahead," visit www.isuppli.com.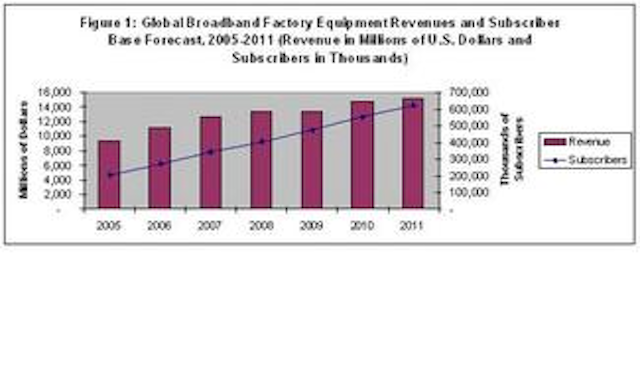 iSuppli's forecast for broadband equipment factory revenue and subscribers for the period of 2005 through 2011