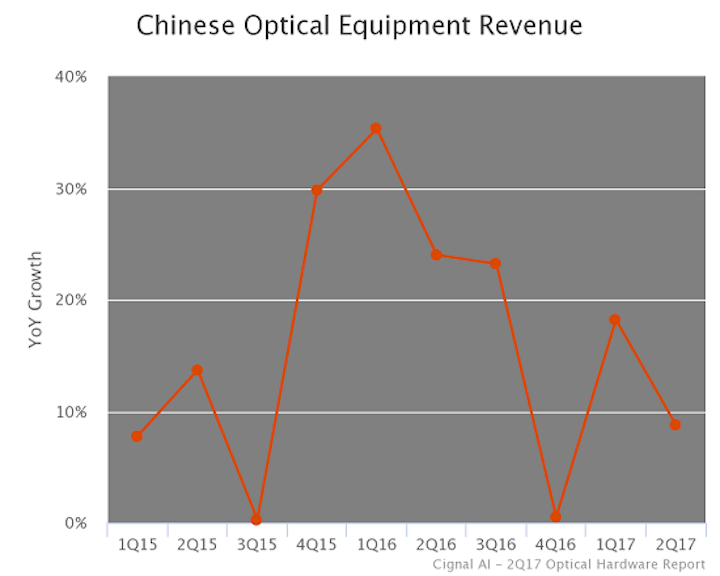 Contrary to what you might think if you've been listening to some optical component and subsystems vendors, spending on optical transport equipment in China continues to grow, according to Cignal AI. In fact, the market research firm states in its second quarter Optical Hardware Report that revenues from optical network hardware sales grew 13% year-over-year in the first six months of 2017.
Huawei and ZTE saw record shipments of 100-Gbps coherent portsin China during the second quarter of 2017 as well as strong sales in general throughout the region, reports Cignal AI. So what accounts for sour grapes from optical component houses? Inventory corrections at Chinese systems vendors, particularly Huawei, according to the research firm.
"Demand for optical hardware in China is not slowing down, and equipment vendors are universally providing positive guidance for North America during the second half of the year," said Andrew Schmitt, lead analyst for Cignal AI. "Operators around the world are shifting spending from long-haul to metro WDM, though this shift is materializing into gains for only a few vendors."
In North America, Ciena and Cisco are among those "few vendors," with Ciena's North American optical equipment revenue jumping 21% year-on-year. Other pockets of growth include India, where Reliance Jio has tapped Ciena and Nokia for optical transport systems in support of4G LTE expansion in the country ("Reliance Jio Infocomm taps Nokia, Ciena for optical transport systems for 4G network support").
Meanwhile, the EMEA market continues to sputter. Revenue in the region dropped sharply thanks to steep declines in the long haul WDM and submarine systems markets. Revenues from metro WDM gear remained flat year-over-year.
Overall, the growth in metro spending has increased demand for data transmission rates beyond 100 Gbps. In fact Cignal AI see port rates evolving from 200 Gbps to as much as 400 Gbps later this year.
Cignal AI issues its "Optical Hardware Report" quarterly. The report examines optical equipment revenue across all regions and equipment types, including shipment information and guidance from individual equipment companies. Forecasts are based on spending trends in each region and the equipment types within those regions.
For related articles, visit the Business Topic Center.
For more information on high-speed transmission systems and suppliers, visit the Lightwave Buyer's Guide.