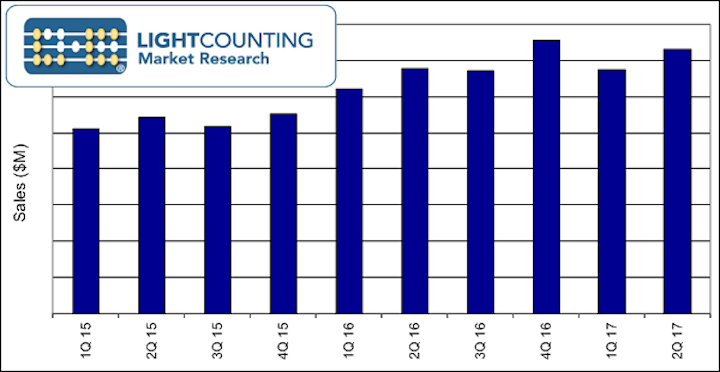 While demand from China remained disappointing, sales of optical transceivers rebounded from their first quarter 2017 problems to return to sequential and year-on-year growth in the second quarter, according to the most recent "Quarterly Market Update Report" from LightCounting. The market research firm points to strong demand for Ethernet and DWDM optical modules, particularly 100 Gigabit Ethernet (GbE) QSFP28 and 200-Gbps CFP2-ACO (Analog Coherent Optics) devices.
For example, suppliers shipped more than 600,000 QSFP28 transceivers during the quarter, more than twice the number of such 100GbE modules delivered during the previous three months. Interest from operators of mega data centers in these optical modules surpassed the market research firm's expectations by about 10%. Meanwhile, the quarter marked the first time DWDM CFP2-ACO shipments exceeded those of DCO transceivers, LightCounting reports.
The "Quarterly Market Update Report" presents an analysis of the revenue and spending trends of top-tier communication service providers (CSPs) and internet content providers (ICPs), financial results of telecom and datacom equipment vendors, and the market shares of the leading suppliers of 100G and 200G DWDM transport equipment. The report also includes analysis of the recent financials of major communication semiconductor vendors. Meanwhile, LightCounting's quarterly sales database, released along with the "Market Update Report," analyzes sales of 100G DWDM, 40GbE, and 100GbE optics in the first two quarters of 2017 as well as all quarters of 2015-2016. The database includes historical data on quarterly shipments and pricing of more than 100 products in the Ethernet, CWDM/DWDM, SONET/SDH, Fibre Channel, FTTX, wireless fronthaul, EOM, and AOC market segments.
For related articles, visit the Business Topic Center.
For more information on optical modules and suppliers, visit the Lightwave Buyer's Guide.