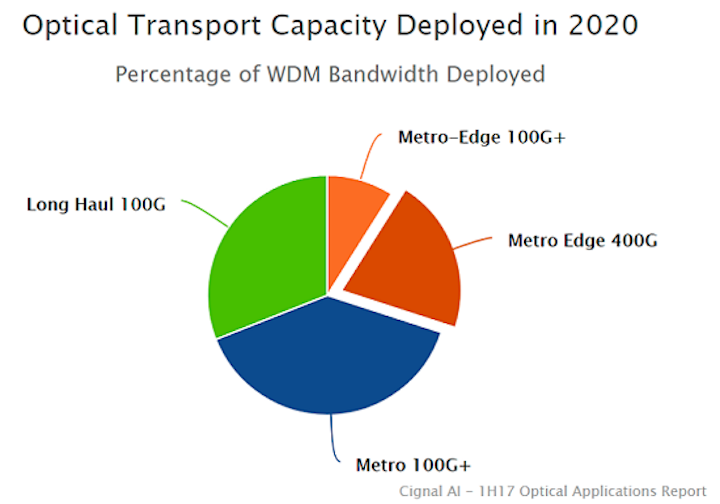 Market research firm Cignal AI predicts that deployment of 400-Gbps coherent transmission technology will begin to ramp this year and grow rapidly. The technology will account for a quarter of the WDM capacity deployed in 2020 – and effectively kill the market for 10-Gbps transmission, Cignal AI states in its recently released "Optical Applications Report."
Ciena Corp. (NYSE:CIEN) will lead the coherent 400G deployment charge this year (see, for example, "Vodafone New Zealand deploys 400 Gbps between data centers"), with other suppliers following six to nine months later, according to the report. "Pluggable 400G ZR modules should enter the market by 2019," adds Andrew Schmitt, lead analyst for Cignal AI. "And they will be the final nail in the coffin for 10G WDM networks." Coherent 400G, alongside 100G, will take hold first along the edge of the network, Schmitt believes (see chart above).
The latest in the semi-annual "Optical Applications Report" examines market share through the first half of 2017 and provides forecasts in 100G+ coherent WDM, compact modular equipment used for data center interconnect (DCI), and advanced packet-OTN switching hardware. Cignal AI predicts significant growth for the compact module systems category, which it sees reaching $1 billion by 2019. The fact that such platforms will find use outside of the DCI space for which they were originally designed will help drive this revenue expansion, the market research firm explains. Sales of these systems more than tripled in the first six months of this year versus the first half of last year, with Ciena, Cisco, and Infinera benefiting the most.
Meanwhile, packet-OTN systems sales increased by double digits in the first half of 2017 compared to the same timeframe in 2016, according to the report. Large incumbent operators are driving deployments.
For related articles, visit the Business Topic Center.
For more information on high-speed transmission systems and suppliers, visit the Lightwave Buyer's Guide.