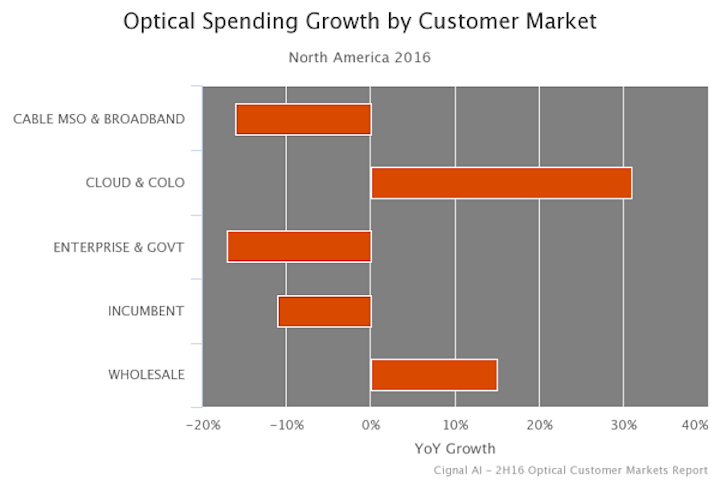 Increased spending on optical network equipment for cloud and colocation applications, alongside continued strong demand by Chinese incumbents, will offset continued softening in purchases by North American incumbents through 2021, predicts Cignal AI. The market research firm says in its newly released "Optical Customer Markets Report" that wholesale service providers also will prove steady customers.
"The composition of optical equipment demand has changed dramatically over the past five years, as cloud companies such as Amazon, Google and Microsoft have become the predominant source of growth in optical transport equipment purchasing," said Andrew Schmitt, lead analyst for Cignal AI. "In 2017, we expect cloud and colo customer demand in North America to exceed that spent by all the cable MSOs."
Incumbents in general remain the largest portion of the optical network hardware market, reports Cignal AI. However, their dominance will lessen over the next several years. For example, North American incumbents represented half the market in 2014. The report suggests that spending from such incumbents "will drop considerably by 2021." Meanwhile, Chinese incumbents will continue to buy large quantities of optical systems, but their portion of the overall Asia Pacific market share will decline.
That's because cloud, colocation, and wholesale services companies will continue the current uptick in spending, according to the report. Cloud and colo spending growth currently is seen most strongly in North America, but should extend into EMEA and Asia Pacific this year and through the 2021 forecast period. The demand for more optical transport systems will come as a result of traffic and content increasingly moving from incumbent networks to those cloud and wholesale companies operate.
Optical transport systems vendors such as ADVA Optical Networking, Ciena, Infinera, and Nokia have benefited most from the current trends, reports Cignal AI. The market research firm tabbed Ciena and Nokia as sales leaders to the cloud and colocation market. However, ADVA's revenues from such customers increased more than 40% in 2016, faster than any other vendor in Cignal AI's estimation.
Cignal AI publishes the "Optical Customer Markets Report" twice annually. The report tracks optical equipment spending by end customer market type and provides forecasts based on expected spending trends by customer market on a regional basis. Deliverables include an Excel file with complete data set, PowerPoint summary, and Cignal AI's "Optical Equipment Active Insight" analysis bulletins.
For related articles, visit the Business Topic Center.
For more information on high-speed transmission systems and suppliers, visit the Lightwave Buyer's Guide.