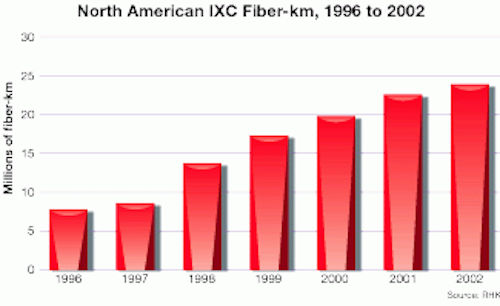 are you heading for BANDWIDTH BLOAT?
As traditional long-distance carriers and emerging network providers race to create fiber-optic backbones to support today`s converging communications technologies, is a capacity glut on the horizon?
BY KATHLEEN RICHARDS
The capacity issue is the chicken-and-egg question that haunts carriers in the long-haul fiber network industry. Which comes first: Increased network capacity, which then enables the development of previously unforeseen applications that take advantage of this greater bandwidth? Or an unbridled demand--today`s Internet scenario--for bigger and faster pipes?
As the transmission of data, voice, and video traffic over the same networks continues to gain momentum, the demand for higher bandwidth on backbone infrastructures is keeping pace. Applications virtually nonexistent five years ago--the Internet, intranets, e-commerce, and multimedia--are driving these capacity needs.
At the same time, a race is underway among traditional and emerging carriers to build, buy, trade, or lease capacity on terrestrial fiber-optic networks supporting voice and data transport. Interexchange telecommunications carriers (IXCs) are facing new competitors, new customers, and an avalanche of data traffic. Emerging network providers, lured by an accelerating demand for data and voice networks, include companies like Qwest Communications International Inc., Williams Communications, IXC Communications Inc., and Frontier Corp.
Regional carriers, such as Caprock Communications Corp. (Dallas, TX) in the Southwest, Interstate FiberNet (West Point, GA) in the Southeast, and Touch America (Butte, MT), a subsidiary of the Montana Power Co., with partners Enron Communications Inc. (Portland, OR) and Frontier (Rochester, NY), are building out their fiber networks into adjacent states.
But as carriers scramble to build or acquire capacity, will they overshoot the market? Will bandwidth demands continue to skyrocket, or do carriers run the risk of stranding investment in fiber or capacity-enhancing dense wavelength-division multiplexing (DWDM) equipment once the current bandwidth tide subsides? These questions have been asked before in the last few years--and bandwidth demand has continually proven to be a bull market. But this run can`t last forever--can it?
Scramble for capacity
Carriers are certainly building fiber networks as if the good times will roll well into the next century (see Fig. 1). How much fiber is going in? According to estimates from market research firm KMI Corp. (Newport, RI), carriers installed 2.7 million km of fiber in the United States last year. During the five-year period from 1993 through 1998, the compound average growth rate of fiber-km in the United States was 58%. "We were at a level of less than half a million in `93 and `94," says Richard Mack, KMI vice president. "It spiked to well over 2 million in `98, so it`s happened in `96, `97, and `98."
Another market research and analysis company, ElectroniCast (San Mateo, CA), reports comparable data. In 1997, the most recent year for which data is available, IXCs deployed 2.56 million fiber-km in the United States.
Still, prudent network planners base their build-outs on anticipated customer demand--and anticipation carries a component of uncertainty. "What happens in the near future as these new networks, like ourselves, start to light fiber?" asks Ron Harden, vice president of sales and marketing at Williams Communications (Tulsa, OK). "Twelve months from now are we going to have a glut of bandwidth?"
The answer is complicated, especially when today`s market dynamics and emerg ing optical network technologies that can increase a network`s ultimate capacity are taken into consideration. Some carriers expect new applications to emerge as long-haul fiber capacity increases. Other carriers, although optimistic about market opportunities, contemplate the possibility of a capacity glut.
"Two years ago, people asked that same question," recalls Harden. "Everyone said, `Gee, we`ve got these new builds coming by 1998. We are going to have a glut of bandwidth.` Well, we don`t. You can`t get a DS-3 [44.736 Mbits/sec] from some of our major competitors, depending upon the location. We have some locations where we have to go off net as well, of course, but that is all predicated on our build--when it turns up and where the need is.
"Long-haul capacity today is very limited and spotty," continues Harden. "What you have is limited-supply, high-demand applications just starting to scratch the surface of all possible applications, and pricing spiraling downward. [The market] makes no economic sense."
Anthony Palma, vice president of carrier marketing at network provider Frontier, echoes Harden`s view of the market. "We`re not the only game in town," says Palma, "and we struggle to keep pace with demand. We have not reached a point that we foresee where we will have idle network capacity that we can`t fill."
Frontier started with a 13,000-route-mi plan in 1997, which has since been extended to 20,000 miles. Today, 70% of Frontier`s network is lit or in service, supporting up to OC-48 (2.5-Gbit/sec) transmission rates. The carrier is installing a DWDM system from Pirelli that can deliver transmission rates of OC-48 and OC-192 (10 Gbits/sec). "Basically we are readying the network for OC-192 capacity," says a Frontier spokesperson.
"Looking out three to five years, could there be a situation where there is more capacity than there is demand?" asks Palma. "I don`t know because what usually happens with technology--voice over IP, video, all those things--the way that it`s used and transported can change the way a network is utilized. It is very hard to speculate on that," he says.
"There are two major dynamics working in the long-haul fiber market," says Mike Guess, vice president of engineering at emerging carrier IXC Communications Inc. (Austin, TX). "More houses and businesses are connecting to the Internet, fueling an exponential growth right now in the demand for long-haul capacity. And greater capacity is becoming available to many households. So instead of a 28.8- or 56-kbit/sec modem, now you can get 1.5 Mbytes/sec from your cable company or from your digital subscriber line provider.
"The biggest challenge all of the emerging and existing carriers are going to have is keeping up." Adds Guess. "Fortunately, technologies are evolving quickly, both on the transport side with DWDM and on the switching side with very large-scale routing gear. It`s a very interesting footrace right now to keep up with that demand."
Emerging network provider Qwest Communications International (Denver, CO) expects greater backbone capacity to drive application development. "One of the things that Qwest has been able to do is change the Internet designer`s thinking from operating in a bandwidth-constrained environment to a bandwidth-plentiful environment," says Gregory Michael Casey, senior vice president of broadband services at Qwest. "The applications and the kind of bandwidth we have enable more use of bandwidth. We liken it to when the North American dialing plant system came into effect in the early part of the century. Internet addresses are kind of the same thing. Telephone traffic grew exponentially then; Internet traffic has grown exponentially today. It is a similar phenomenon."
Frontier`s Palma agrees that widespread use of the Internet will continue to increase bandwidth demand as new applications that use the technology emerge. "As long as the Internet continues to transform the way that people do business, I think the demand [for capacity] will exceed the supply," asserts Palma. "One of our largest resellers is working with us on a dedicated Internet application as a way of streamlining their sales force. They use agents today and they are going to use the Internet to communicate with their agents, to distribute commission payments, and to monitor the agent base. It is a technology that didn`t exist before."
It should therefore come as no surprise that Internet service providers are among the biggest customers for fiber bandwidth providers. "Every Internet company that I`ve talked to projects huge growth over the next few years," says Qwest`s Casey. "And I think the statistics are proving them right. At least the demand, from our standpoint, is proven out--we`re getting a lot of people asking for big pipes."
View from the outside
Yet while industry insiders say they can`t provide bandwidth fast enough, analysts contend that long-haul network build-outs may soon slow to avoid an overabundance of fiber. But if a glut in long-haul network capacity does occur, it would affect the market only in the short term as competing carriers establish their market niches.
"You could clearly have parallel networks being profitable," says KMI`s Mack. An example he cites is AT&T (Morristown, NJ). The telecommunications provider had a virtual monopoly on the long-distance market in the 1970s. Despite losing a significant share of its long-distance business to competitors since then, AT&T has never had negative growth in sales.
"That same type of situation can continue well into the future with new carriers," says Mack. "They`ll grow and they may get their piece of business, but that doesn`t mean that no one else is ever going to come along and start a new network."
Still, Mack concedes that network build-outs may slow in the short term: "It might be the case for the foreseeable future--the next two years, the end to a temporary flurry of business. If no one else does come along, and we reach a point where we are sort of filling up these networks and reaching a saturation, demand for fiber will roll off after 2001 and start to drop down."
Telecommunications market researcher RHK Inc. (San Francisco) has reached a similar conclusion based on recent studies. "This is a new build cycle, and it will probably end about 2001, 2002," says Dana Cooperson, RHK senior analyst (see Fig. 2).
Stephen Montgomery, president of ElectroniCast, agrees. "Local deployment is really bigger than the interexchange," he says. "The backbone tying each city and region together as far as fiber optics is concerned is pretty much taken care of. You can always go ahead now and use WDM or increase the OC level to OC-192.
"If you follow Qwest and others," says Montgomery, "the reason they are [building] is to anticipate the explosion in the metro access. The bottleneck in terms of the backbone isn`t there because the [metro] infrastructure right now isn`t there yet to provide that problem. In the next three to five years, metro access is really going to take off and then [carriers] have to anticipate that the backbone is going to have to be faster or fatter."
Overall, however, backbone network developers have done a good job of calibrating their deployments. "We don`t really see a glut. If there is for some small period of time an over-capacity, people will figure out how to use it," says RHK`s Cooperson. "We think building up capacity makes a lot of sense."
Increasing the capacity of existing networks
At one time, lighting new fiber adequately satisfied demands for additional bandwidth. Several of the major emerging carriers have installed high fiber counts for just this reason. For example, Qwest and Williams Communications, on average, have fiber counts of 96 per long-haul cable in anticipation of future bandwidth demand. Other carriers plan to deploy 144 fibers per cable. Metromedia Fiber Networks Inc. (New York City) has used 432-fiber cable in its New York to Washington, DC long-distance route. Metromedia leases this fiber to communications carriers and private enterprises (see page 9).
In a pure-fiber scenario, the percentage of fibers or miles in a network that is lit or in service is a key consideration in judging potential capacity glut or shortage. Some carriers have reported a high percentage of lit fiber, in the 70%-to-80% range, notes KMI`s Mack. "That`s basically one of the key drivers behind the market for WDM equipment," he says. "You don`t need to fill a network to pay it off. There is some doubt now with the way these things are being designed, what `filled` is anyway. With WDM technology, you have the ability to extend the capacity [of a network] for a long period of time by adding wavelength channels."
Thus, long-distance carriers with existing infrastructure are investing in DWDM equipment to improve their network capacity, rather than lay new fiber. Many IXCs also are planning or building long-haul fiber networks that will support OC-192 (10-Gbit/sec) capacity. Spending by IXCs for sonet/wdm systems will increase from about $3.4 billion in 1998 to $4.2 billion in 2002, according to RHK forecasts.
Montgomery foresees this type of spending continuing in the future. "I think the WDM part of increasing the transmission speeds to have a nationwide OC-192 network is going to accommodate the near-term metro access. The second thing is to take those OC-192 lines and upgrade them to OC-192 with WDM. After that, there are two options: You can increase your WDM by adding channels or go to an even higher transmission rate, OC-768, basically 40 Gbits/sec. "ElectroniCast expects SONET OC-768 transmission in 2004 or 2005. The first applications will be in North American terrestrial lines.
"The last option is to start digging more trenches," says Montgomery. "We feel that there is actually no problem with the supply [of capacity] right now. I think the guys who are planning these networks are very smart; they wait until there is a demand before they actually power up these networks, or they have a financial reason for operating a link at a loss. The nature of a network is that you can always upgrade it, you kind of grow as you go."
It seems reasonable to conclude that future expansion in long-haul optical network capacity will largely be a matter of upgrading electronics, rather than laying new fiber. That doesn`t necessarily mean the end of fiber demand, however. The advent of WDM equipment and SONET systems has raised the possibility of a future where carriers can not only provide but also manage or route optical capacity on a per-wavelength basis.
When that happens, more customers--particularly large corporations--may prefer to lease dark fiber for their own networks. So carriers who do find themselves with an overabundance of fiber may find a way to turn that potential liability into an asset.
Short-term scenario
Rapid growth in data and voice traffic is fueling demand for terrestrial long-haul fiber networks with bigger and faster pipes. To meet this demand, existing and emerging long-distance carriers are busy buying, leasing, and building-out networks to establish nationwide long-haul infrastructures. This build cycle may taper off in 2001 or 2002 if market saturation occurs, say analysts.
While the possibility of a capacity glut is fervently discussed in all corners of the industry, most carriers, faced with the challenge of meeting current demands for greater bandwidth, are investing in SONET and DWDM electronics to further extend the capacity of their long-haul networks.
Analysts contend that a capacity glut, if it occurs, will be a short-term scenario. Most likely, demand for greater capacity on fiber-optic backbones will continue to accelerate, as the fiber and digital subscriber line infrastructures that support metro access are put into place. Thus, carriers competing for market share today will continue to strengthen the fiber-optic infrastructures that will allow them to succeed as long-haul network providers.£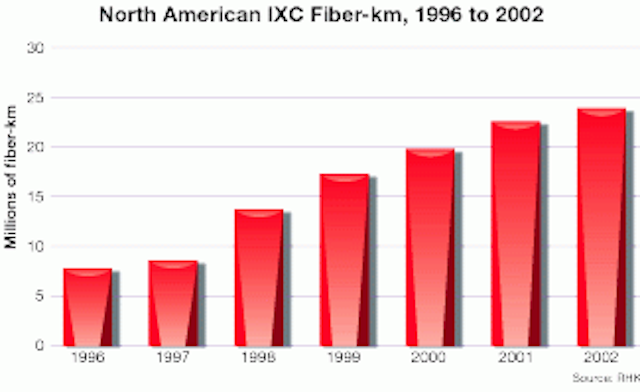 Fig. 1. North American fiber deployment in the early part of the next century will be three times that of 1996, according to some estimates.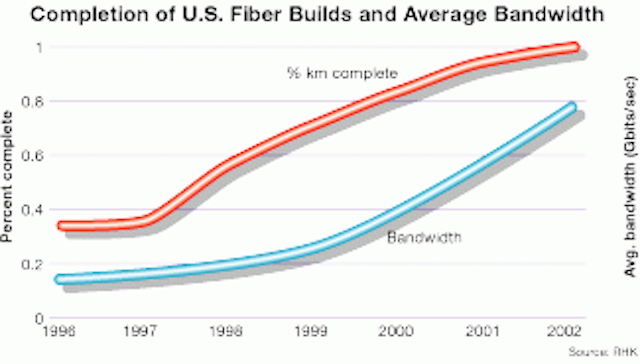 Fig. 2. While both fiber deployment and bandwidth are increasing, RHK Inc. forecasts that deployment will level off early next century. The scenario will be similar to the early part of this decade: The carriers added a substantial amount of fiber to their networks in the mid-1980s, then tapered off until a second major build. That second build represents the current fiber boom.