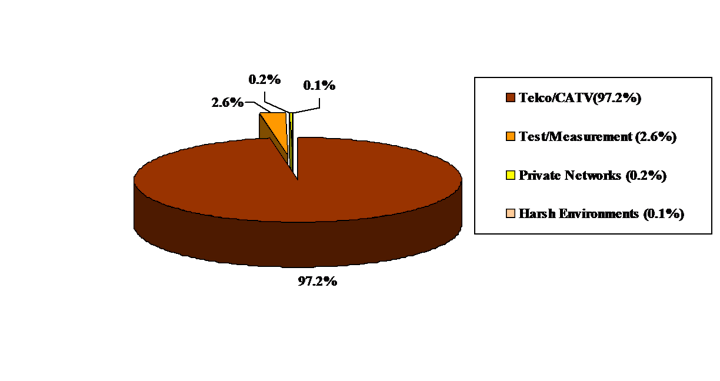 Worldwide PLC bare fiber splitter market share (%) in 2017, by application (compact devices, consumption volume/quantity, 32.8 million units). Source: ElectroniCast Consultants
ElectroniCast Consultants has released its report on the 10-year market forecast of the global consumption of planar lightwave circuit (PLC) splitters used in fiber-optic communication networks. In 2017, the worldwide consumption volume of PLC component-level (bare-fiber) splitters reached approximately 32.796 million units, according to the market review and forecast report.
PLC splitters distribute optical signals from an input optical fiber port to multiple optical fiber output ports. ElectroniCast anticipates that by enabling a single passive optical network (PON) interface to be shared among multiple subscribers, PLC component splitters will remain a key contributing factor in deploying optical fiber closer to the subscriber via fiber-to-the-home (FTTH), fiber-to-the-building (FTTB), and fiber-to-the-premises (FTTP).
PLC splitters are available in several configurations, and there are various piece-parts required to generate a conventional PLC splitter, along with the housing/exterior package. This ElectroniCast study report provides market data on 11 separate configurations (by port-count) from 2017 through to 2027. It also quantifies PLC splitter compact devices (bare fiber PLC components) and PLC splitter devices used in factory-installed/fabricated PLC splitter modules, such as ABS Box modules and other types, in turn.
PON, FTTx, and other telecom network applications continue to be the dominant markets for PLC splitters (see "ElectroniCast: Telecom dominates PLC splitter market"). In 2017, PLC splitter compact devices used in FTTx, PONs, and other telecom (and CATV) service provider network applications dominated in global consumption volume, accounting for 97.2% relative market share, or 31.878 million units, reports ElectroniCast.
The market research firm predicts that PLC splitter compact devices used with testing and monitoring applications will reach 1.24 million units in 2027, up from last year's 841,000 units.
For related articles, visit the Business Topic Center.
For more information on test equipment and suppliers, visit the Lightwave Buyer's Guide.