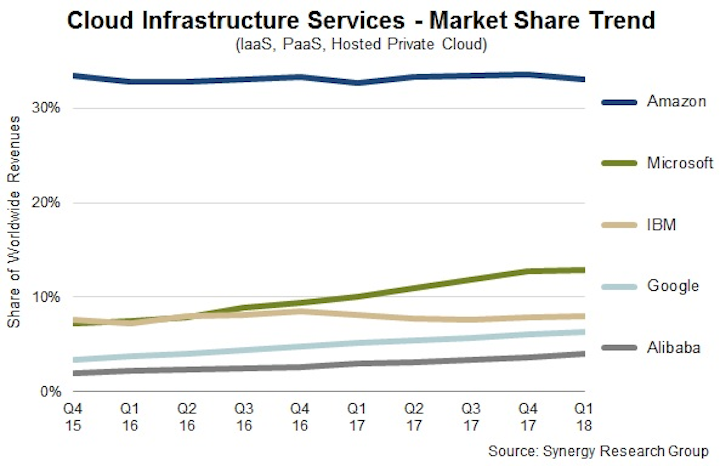 Yes, more businesses are moving their operations to the cloud. Demand for cloud infrastructure services grew a whopping 51% year-on-year in the first quarter of 2018, according to Synergy Research Group data. Amazon Web Services (AWS) led the way, but Microsoft, Google, and Alibaba also enjoyed hefty growth. The major players are increasing market share at the expense of smaller players, the market research firm adds.
Quarterly cloud infrastructure service revenues (including IaaS, PaaS, and hosted private cloud services) reached almost $15 billion in the quarter, Synergy Research estimates. The quarter's 51% growth rate not only topped that of the year-ago quarter but the full-year 2017 growth rate of 44% and the 2016 growth rate of 50% as well. Public IaaS and PaaS services, which make up the majority of the market, grew by 56% in the quarter. AWS enjoyed revenue growth in the first quarter it hadn't seen since late 2016, according to Synergy Research.
"Cloud growth in the last two quarters really has been quite exceptional," said John Dinsdale, a chief analyst and research director at Synergy Research Group. "Normal market development cycles and the law of large numbers should result in growth rates that slowly diminish – and that is what we saw in late 2016 and through most of 2017. But the growth rate jumped by three percentage points in Q4 and by another five in Q1. That is good news for the leading cloud providers, whose historically high levels of capex are helping to ensure that they are the main beneficiaries of that exceptional market growth."
Meanwhile, the dominance of the top five providers in the public cloud space continues to grow, as they control almost three quarters of the market. Overall, AWS has seen its market share leadership in overall cloud services remain steady over the past 12 quarters at 33%. IBM has managed to hang onto an 8% share, thanks to is leadership in the hosted private cloud services niche. However, Microsoft, Google, and Alibaba have seen their market shares expand, mainly at the expense of smaller cloud services providers, according to Synergy Research.
For related articles, visit the Business Topic Center.
For more information on high-speed transmission systems and suppliers, visit the Lightwave Buyer's Guide.