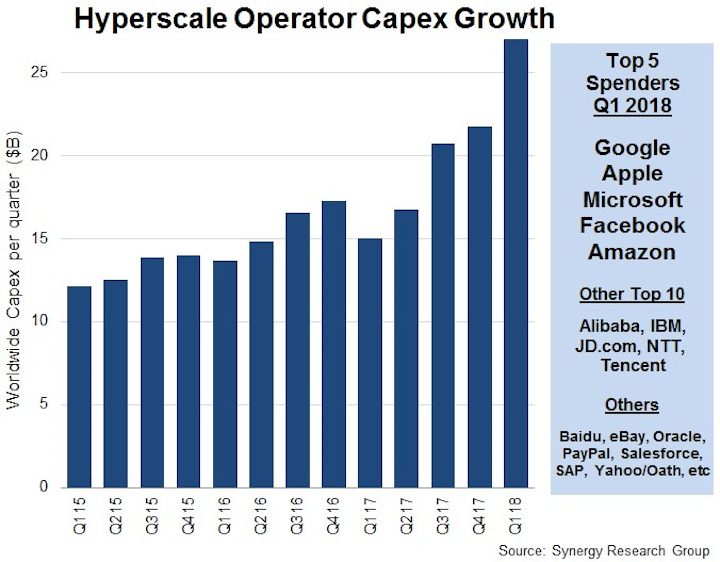 Hyperscale operator capex grew to $27 billion in the first quarter of 2018 and exceeded previous spending levels, according to Synergy Research Group data. Sequential growth was more than 20% and led to capex that was 80% higher than the first quarter of 2017. Following a seasonal high in the fourth quarter, capex typically drops in the first quarter, making this growth notable. This would have been a record-breaking quarter, even after accounting for a large one-off item at Google, the market research firm adds.
Capex levels at four of the top five spenders were at an unparalleled high in the first quarter. According to Synergy Research, Google, Microsoft, Amazon, Apple, and Facebook make up the top five, despite changes in relative ranking each quarter. In aggregate, this group accounts for more than 70% of hyperscale capex.
A majority of hyperscale capex is for large data centerbuilding and expansion, which have reached more than 420, says Synergy Research. Total hyperscale capex was $74 billion in 2017, making the 1Q18 $27 billion in spending even more notable.
"2017 was a standout year for hyperscale capex, but 2018 has started out with some staggering numbers," said John Dinsdale, a chief analyst and research director at Synergy Research Group. "Our detailed quarterly market tracking has consistently shown strong growth in cloud services, SaaS, hyperscale data center footprint, and spending on public cloud data center hardware, but even so these capex numbers took us by surprise. We have long said that this is a game of scale in which most service providers cannot hope to compete; here is some of the clearest evidence yet."
The firm's research is based on analysis of the capex and data center footprint of 24 key cloud and internet service firms. Large operators in IaaS, PaaS, SaaS, search, social networking, and e-commerce are among these major global players.
Alibaba, IBM, JD.com, NTT, and Tencent were among the other leading hyperscale spenders in the first quarter, while Baidu, eBay, Oracle, PayPal, Salesforce, SAP, Yahoo Japan, and Yahoo/Oath were some of the significant players outside the top ten.
For related articles, visit the Business Topic Center.
For more information on high-speed transmission systems and suppliers, visit the Lightwave Buyer's Guide.